A master class A handicraft article Decoupage Modeling and construction IMITATION of wood structure from plastic
As the saying goes, "a clever trick is a tricky one". Well, I had no wooden workpieces, but my hands itched to do something. I've been working with PVC plastic for a long time, my husband owns an advertising firm. Yes, yes, that PVC plastic from which various stands make and advertising signs. A lot of scraps remain. And as a result, that turned out. The process of making the workpiece from PVC well maybe a little different from the manufacture of wood, and the decor process is all the same favorite decoupage and aging. The workpiece turns out quite strong.
So, let me show you an example of how to make a blank for a napkin holder. Here is the piece of plastic I got. Remove the protective film. PVC plastic comes in different thicknesses (like plywood).
The napkin holder has the necessary dimensions with a ruler.
We take a common office knife with a sharp blade and at an angle of 90 degrees and spend the first time, as if labeling the cutting line, then the planned conducts with a lot of pressure 1-2 times, without hurrying and strongly holding the second hand ruler. Of course we do everything on the ground, which will not be sorry in case of something to cut.
We drew roundings accurately with a knife about lines. We cut through.
Further we mark our planks, on the equal distance a knife do not make slits not deeply on both parties of preparations.
Next to the kerf at a distance of 1 mm make more kerf on the same depth.
Now at an angle of about 45 degrees we make cuts on one and other side of each line.
These are the grooves you should get on both sides of the blanks. YES. Did not say this: simulate planks, so both on one and the other side of the workpiece stripes should match. Otherwise it's not going to work.
Next, we take sandpaper large and small and metal comb.
Coarse sandpaper ruthlessly grind blanks on both sides, comb give the texture of wood plastic, the edges of the workpieces work fine sandpaper.
The comb once again lead through the grooves to highlight the "gaps" between the "planks" more vividly.
All sides are ready.
I take a special glue for gluing plastic. I have one of these. You can take "Cosmophen", it is sold in many construction departments. Glue is second, so you need to work with it carefully so as not to spoil the clothes and not to stick itself.
Applying glue strictly along the edge with a thin "spout" on the tube, glue the workpiece, remembering that all parts are glued at an angle of 90 degrees (you can put an angle piece to check).
After gluing primer. Drying. The workpiece is ready for decorating.
And let your imagination run wild. Decorate according to your own idea. I have olives and scuffs.
Imitation wood texture in 3D printing. Papa Carlo's method
Subscribe to the author if you like his publications. Then you will be notified of his new articles.
You can always unsubscribe from notifications in the author's profile.
Last year, wood-filled plastic printouts were posted from time to time. Here are a couple of interesting pieces: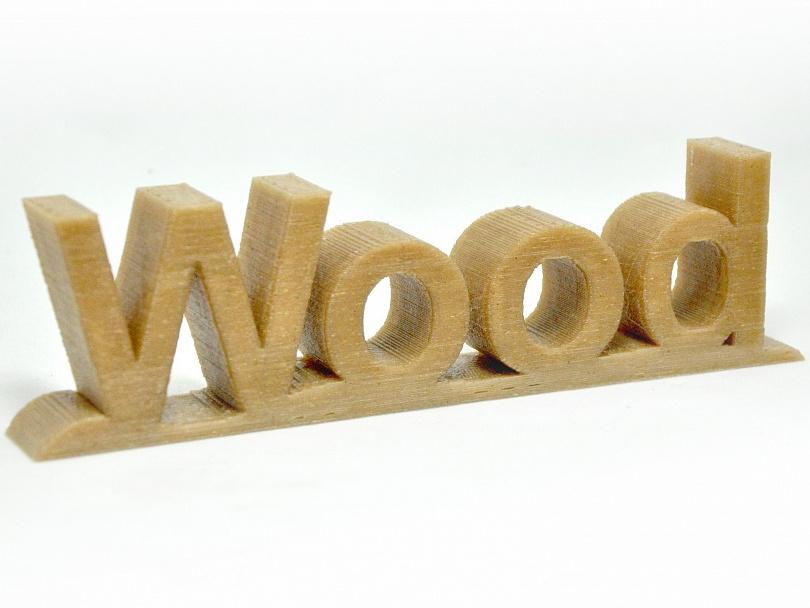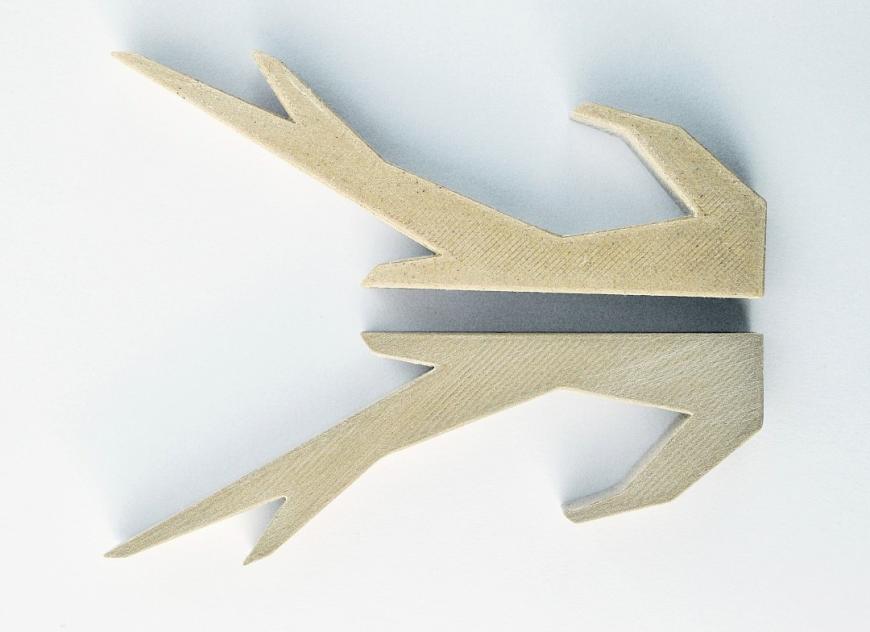 These plastics are designed to imitate wood when printed. But the printouts still look more like particleboard.
The wooden staircase stoppers from comrade eduardo are very believable: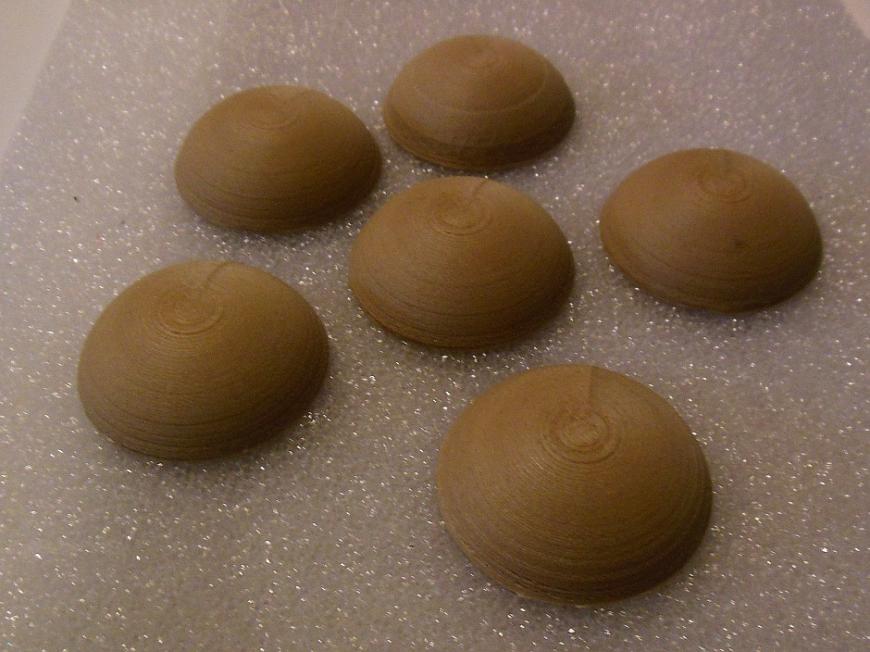 By alternating temperatures on different layers with changes in color, a texture reminiscent of the annual rings of a tree was obtained.
It turns out that for the printout to look like a real tree, you need plastic of two colors (light and dark annual rings). And it would be more logical to draw these annual rings in the model itself, rather than trying to get them by changing the printing temperature.
We are trying to depict a product carved out of wood. Why not take a log with its annual ring structure and draw it as realistically as possible. And already from the log cut out any Pinocchio we need. It is, of course, a tortuous way, but it promises us an interesting result.
So, let's start drawing in Solid Works. I took a little look at what the tree splits look like: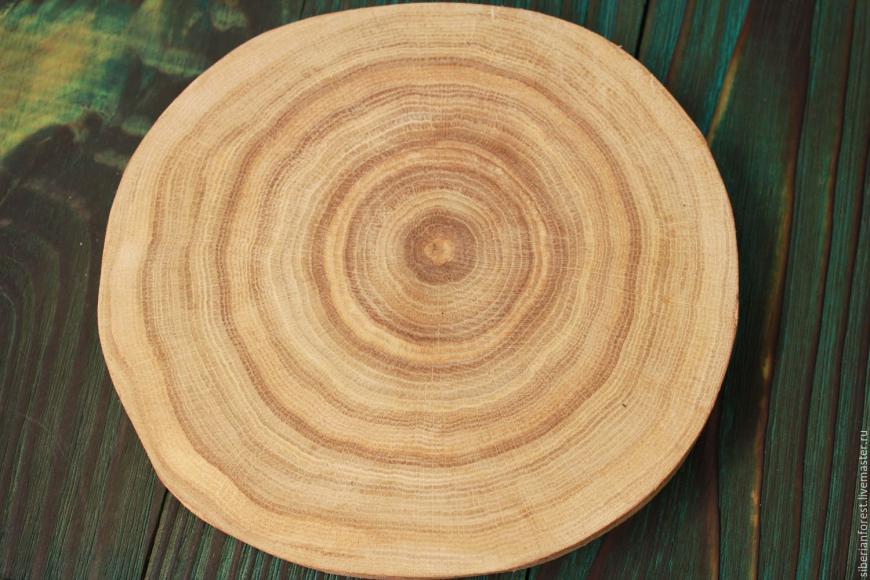 When drawing, it is better to avoid splines and replace them with arcs, otherwise the program can start to slow down desperately.
From this sketch, we draw a bobble along a trajectory. We take a slightly curved line as the trajectory:
You could, of course, use an ordinary stretched boss, but then the pattern would come out unnaturally straight when sliced.
The resulting part of the log is made up of light rings:
The dark annual layers are pulled out, using the same bobbin along the trajectory.
In doing so, use the profile and trajectory sketches from the previous bob (with light rings).
To do this, you need to make them available. You need to right-click on the thumbnails and select "display" (points):
When pulling the bead, select the areas not occupied by light layers. And an important point. It is necessary to uncheck the "merge results" checkbox:
Otherwise all the layers will merge into a single cylinder.
Now we have that log of light and dark layers, and each layer is a separate body:
Now we can cut any shape out of the log by using cutouts.
If you use the usual elongated cutout, you can get a board and even make a sign on it:
In principle, we can create absolutely any shape by applying subtraction operations.
A wide field of application opens up with the imitation "wood imitation" printing. Similarly, you can create models for phone housings, various devices, and even inserts in car dashboards. And anything involving a car can be very promising in terms of modeling and custom printing. Some people like the car more than the wife.
But to print two-color models, you need a printer with two print heads with good print quality, such as the ULTIMAKER 3.
But the vast majority own single head printers. Is it no longer applicable?
If you're not afraid of post-processing, you can get by with a regular one-eyed Chinese.
Let's create something useful…like a door knob or a gearbox handle.
Like this one (one twisted notch on the log):
Now let's remove the dark annual rings (bodies) from the model and fill the formed voids at a distance of 1 mm from the surface (with the help of a rotated boss):
Now we fill the grooves with PLA juice of a different color. I personally smeared with a screwdriver. It is desirable to make the consistency thicker, to reduce the shrinkage after drying. Or we can use a 3D pen to float the plastic. PLA juice has the advantage of being able to more accurately match the color by including several colors in the plastic solution. I ended up with a nightmare like this:
After the PLA-juice dries, we sand away all the excess. For the convenience of grinding provided a socket under the bit for a screwdriver attachment. For shine, we wet the surface with DXM with a brush:
The result, of course, is not perfect. You can also refine the model of the log for more realism, add a lacquer coating with the right shade. Also the use of plastic with wood filling would have added naturalism. But overall, in my opinion, it turned out pretty good. Something reminiscent of the texture of pine. By the way, PLA sap contains a lot of bubbles in the mass after curing, which also adds to the feeling of a porous structure.
Using this approach, you can create such models in other programs as well.
Here is a model of a door handle: http://3dtoday.ru/3d-models/for-home/kitchen/dvernaya_ruchka_pod_derevo/
Bye everyone! Take care of yourself and your loved ones.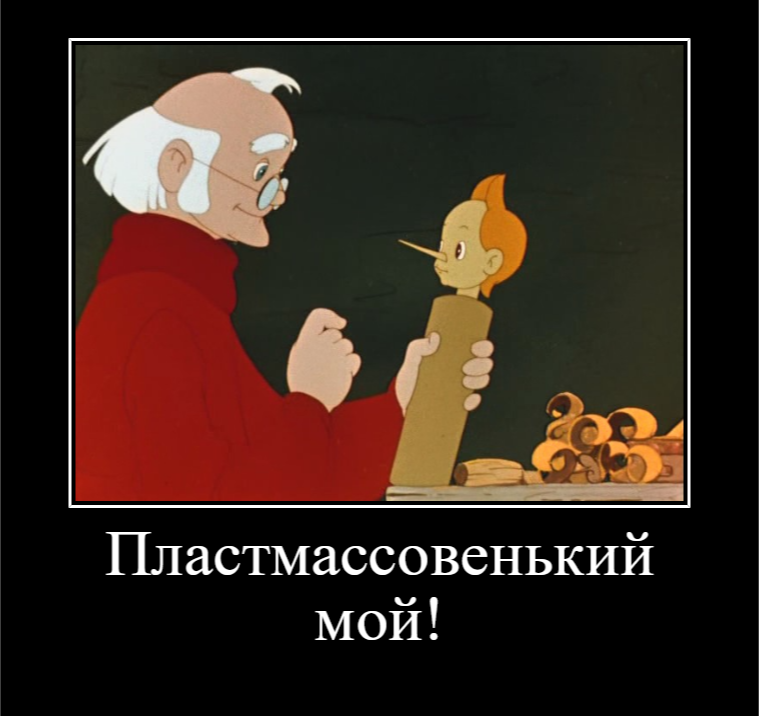 Sign up for author
Subscribe to the author if you like his publications. Then you will be notified of his new articles.