Replacing rear brake discs and shoes VW Passat B6
Replacing pads and discs on VW Passat B6 and CC when they are worn out requires the connection of a computer with diagnostic program. In the absence of such a possibility, you can do without a special program, how to do it according to the regulations and bypass, we will tell in this article.
The same replacement of rear brake shoes and discs is done for VW PASSAT CC – from 2009; VW PASSAT – from 2006.
Regulation on brake mechanisms wear checking: According to ELSA program permissible minimal thickness of a pad is 2 mm (without taking into account thickness of the bearing plate), i.e. if the thickness of friction lining of the pad itself is 2 mm and less, urgent replacement of brake pads is required. The permissible thickness of the disc from the nominal value – 2 mm, ie, if the nominal thickness of the brake disc is 22 mm, and when worn it is 20 mm or less, you need urgent replacement of brake discs.
Reason for replacing discs and pads: wear of the listed items.
Before replacing the rear pads, it is necessary to unseat the electric calipers, for this it is best to use a diagnostic program. If this is not possible, you can apply voltage to the caliper directly. It will depend on the polarity in which direction the pistons of the electric actuators will move. Before such actions, be sure to install any insert in the caliper, as it is easy to squeeze the piston from the caliper, which is not very good. Just dilute the rear brake pads can be using VCDS, how to do it is written in this manual.
We will use the diagnostic program and the order of replacement in accordance with the manufacturer's regulations.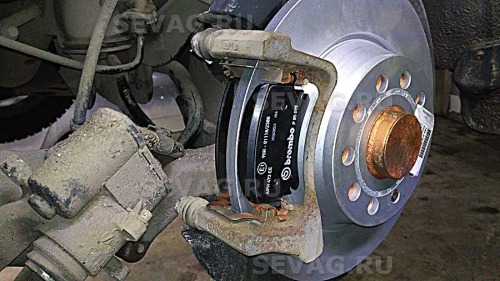 Procedure for replacing the rear brake discs and pads Passat B6
List of required parts can be found here.
List of necessary tools here.
The cost of work to replace the brake discs and pads.
Order of performance of work:
Use the program to dilute the pads.
Procedure when replacing the brake pads with VCDS (Vasya):
Разводим суппорта: Блок 53 «Ручного тормоза»-> 04 Базовые настройки-> Выбираем группу 007-> Click Next/Run.
После выполнения вышеописанных работ сводим суппорта: Блок 53 «Ручного тормоза»-> 04 Базовые настройки-> Выбираем группу 006-> Click Next/Run.
Следующим шагом Адаптация ручного тормоза: Блок 53 «Ручного тормоза»-> 04 Базовые настройки-> Выбираем группу 010-> Click Next/Run.
Replacement parts list:
| Name | OEM number | Quantity | Price, units. |
| --- | --- | --- | --- |
| Brake pads 1 | 3C0 698 451 C | 1 | 3,300 rubles |
| Brake disc | 1K0 615 601 AD | 2 | 2 500 rub. |
| Shoe pads | 1K0 615 231 B | 4 | 180 rubles |
| Caliper retaining bolt 2 | WHT 003 250 | 4 | 42 rubles |
| Caliper bracket retaining bolt | N 911 689 01 | 4 | 120 rubles |
| Brake disc retaining screw | N 106 483 01 | 2 | 14 rubles |
1 – brake pads, caliper mounting bolts, brake pad plates are included. 2 – are changed according to regulations, but it is not necessary.
Analogues of spare parts (these parts are original ones)
| Name | OEM number | Quantity | Price, units. |
| --- | --- | --- | --- |
| Brake pads BREMBO 1 | P 85 073 | 1 | 1 800 rubles |
| Brake discs BREMBO | 08A20211 | 2 | 1 500 rubles |
| ATE pad plates | 13046002592 | 4 | 570 rubles |
1 – complete with pads, caliper mounting bolts, brake pad plates. The prices are given in 2017.
Topic: Brake disc and pad replacement/upgrade manual for the VW Passat B6. Tips for Passat owners
Brake disc and pad replacement and modification manual for VW Passat B6. Tips for Passat drivers
Current topic HERE
So, due to not quite a slow driving style (sometimes. not always, but it happens) and a chipped motor to 205 ponies, the regular brakes became not enough.
Well enough 3-4 good deceleration from 180 and the brakes go to rest.
I decided to make a little apregrade, and just when the time came – original original shitty pads and shitty discs were finished.
So, were bought:
– Ferodo DS2500 FCP1641H sport pads for track driving, as positioned by Ferodo itself.
– Zimmermann Sport 100.3300.52
High-temperature pads with an increased ratio on the "hot" and perforated discs.
Size is regular 312x25mm.
Discs:
Pads:
I will not describe the replacement process. It is DESCRIBED 100500 times.
But I will add some adjustments that will bring the pleasure of proper wear and proper brake operation.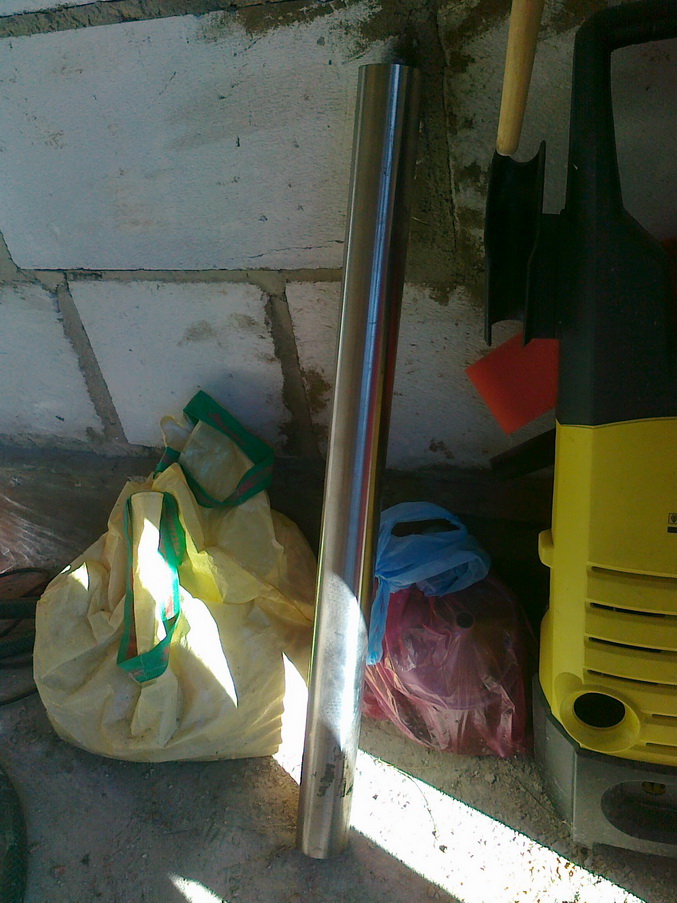 We unscrew everything as usual. I was helped by a meter pipe to get the brackets off
Everything comes off. as usual.
Clean the hub. First with a brush, and then with a sandpaper. So there's no rust or rust residue or dirt. The sandpaper is 160-200 normal.
The perfect thing I found for pushing the calipers in. Literally one or two or three and the caliper is pressed in.
Take the caliper. Look carefully at the places where the pads sit.
These places we clean with a screwdriver, then a sandpaper, then another sandpaper, you can use a brush. In general, they should be perfectly flat and clean. Because any dirt can make it difficult to move your pads, and you will get extra wear and tear.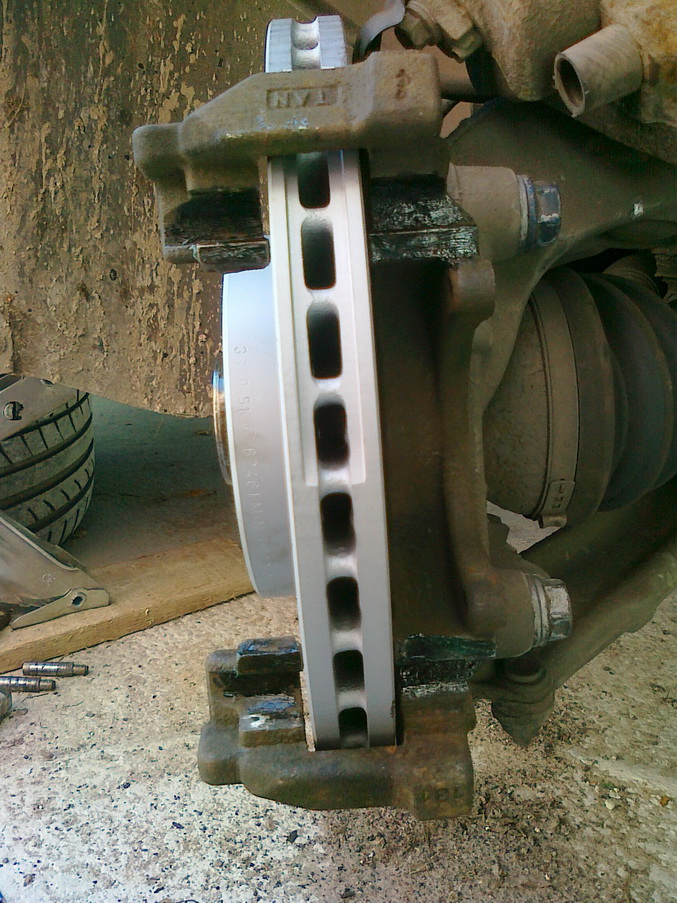 Put the discs on the clean spot. And put the brace. Take the high temperature grease Permatex you bought beforehand and grease these very clean surfaces.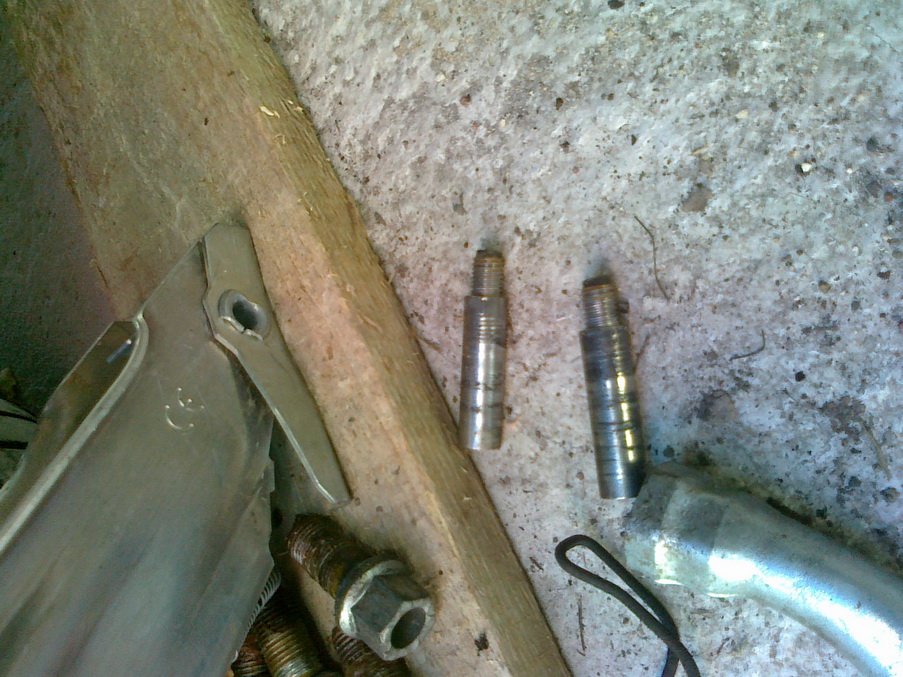 Look at the guides. Mine looked pretty bad.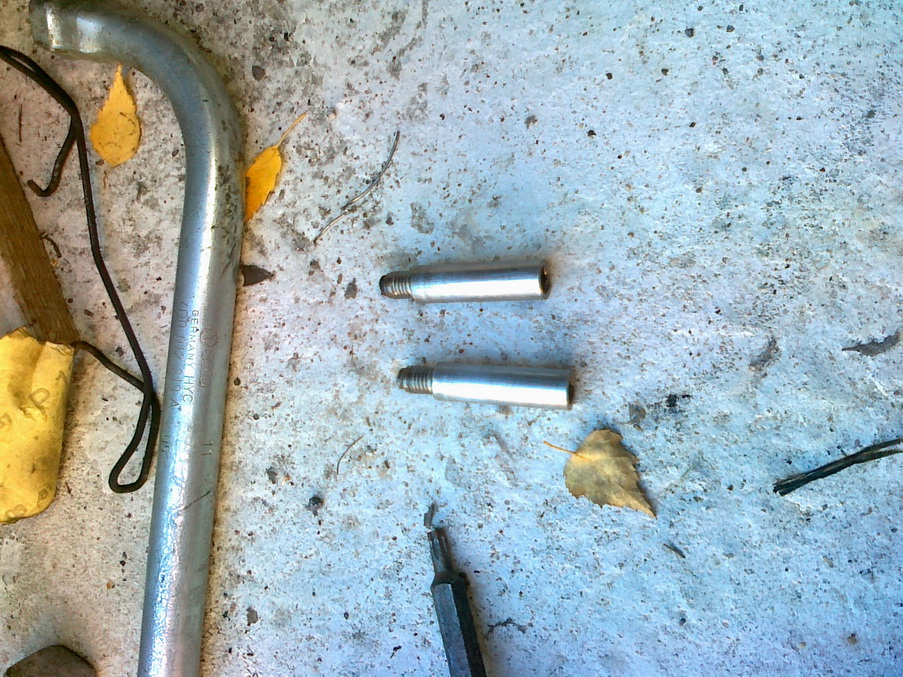 Two types of emery cloth 220 and 1200 work wonders.
Apply a thin layer of grease to the guides. You can also grease the threads, it won't make it worse.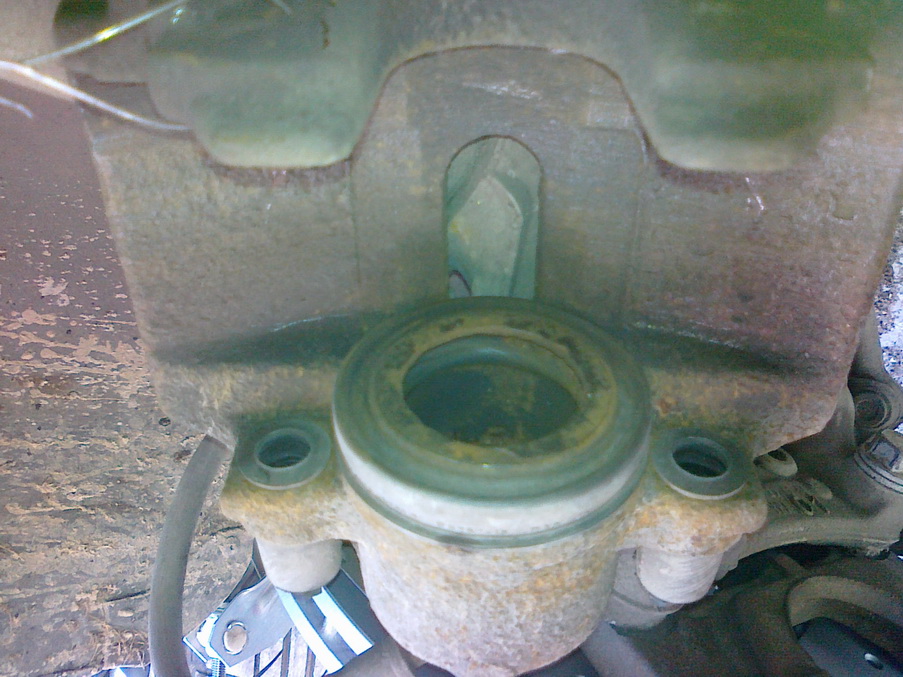 Next, we inspect the piston.
Remove old paint or rust residue with the same abrasive pad. It should be perfectly flat and smooth and a thin layer, WITHOUT TOUCHING THE RUBBER. If you suddenly got grease on the rubber to remove and clean it, a thin layer of grease on the piston.
What does greasing these places do? It helps keep the braking system quiet, protects against corrosion and makes the mechanism softer.
On the pads themselves we also treat the surfaces that will be in contact with the bracket.
Put the caliper on the guides, which are already lubricated and ready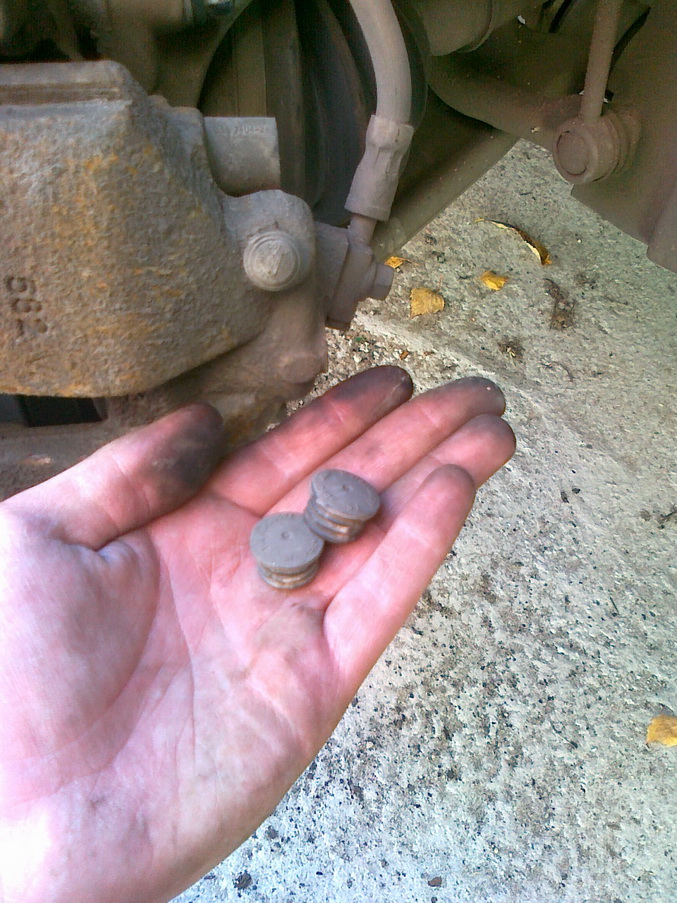 Do not forget about protective caps: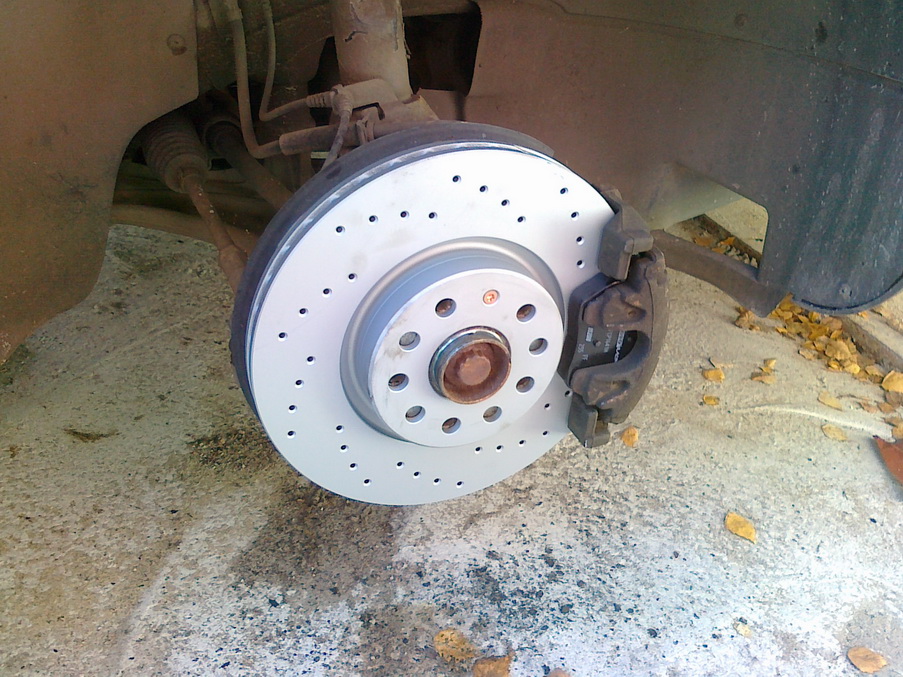 Looks like everything is ready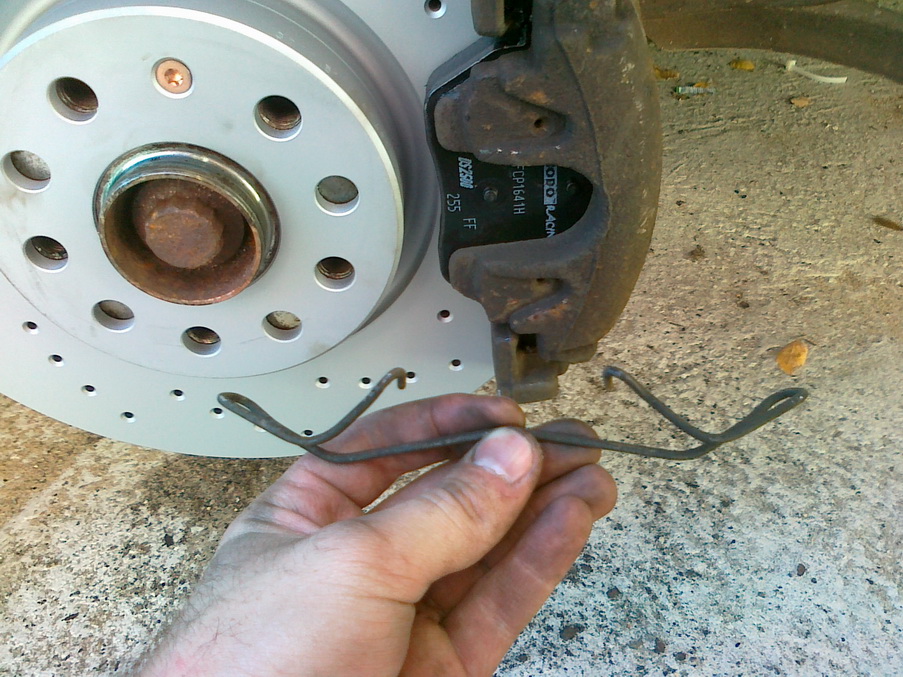 BUT NO. we forgot the spring!
Such beautiful brakes came out!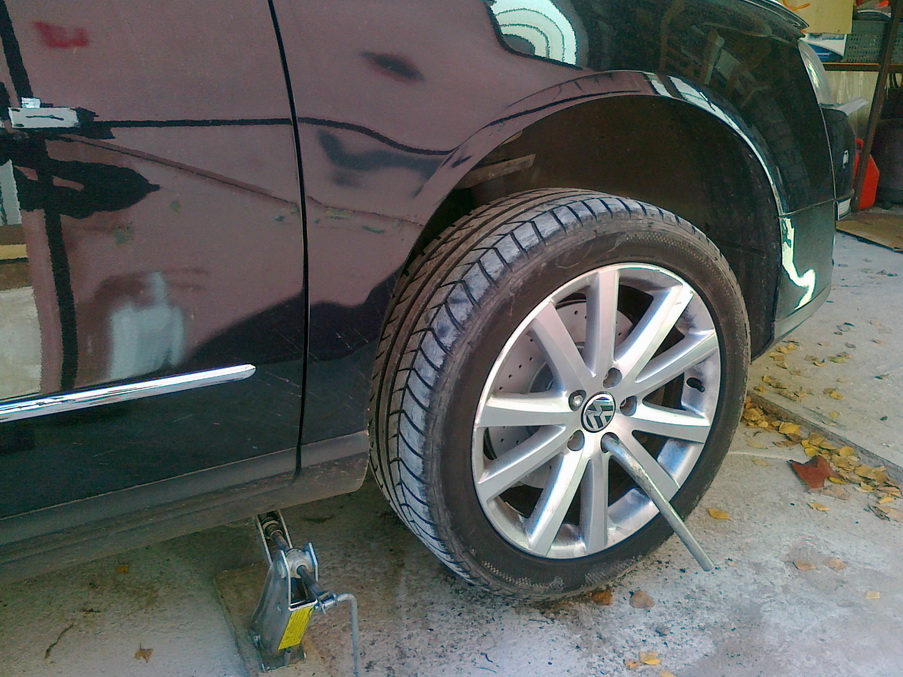 And this is for Scotsman his dream about Passat clearance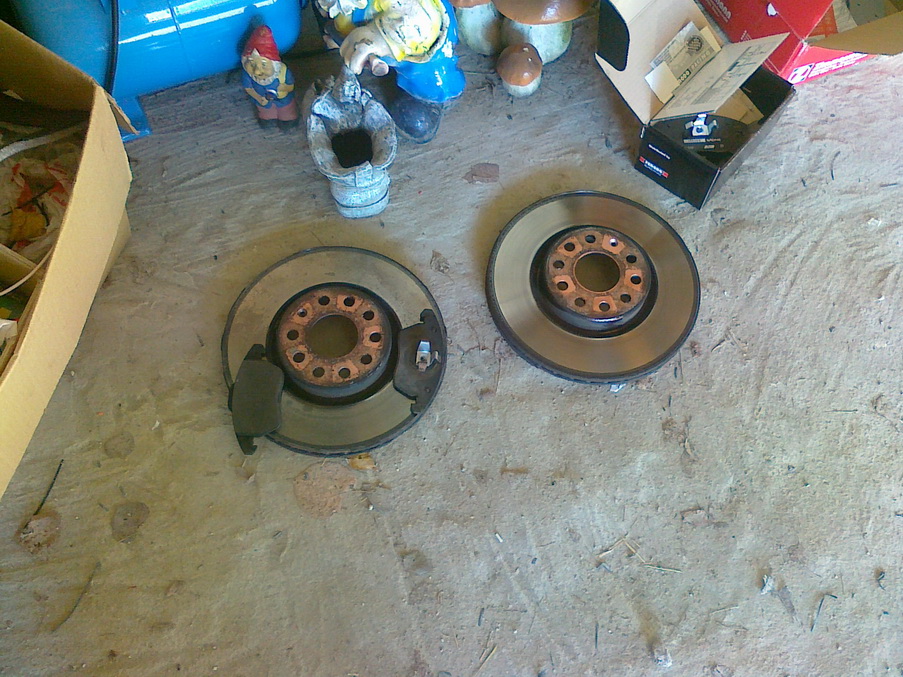 Old junk. It's 24mm thick, anyone want it?
P.S All is exclusively bald IMHO. You can argue, argue you can in another place.
And one more thing I forgot.
New discs and pads should be rolled. At least 500-700 to avoid floor braking and brake overheating.