Home bar with my own hands.
A rare occasion for me when I want to share a topic that has no relation to the car and travel. May all visitors forgive me, but this blog will touch on anti-automotive themes – home alcoholic bar. Maybe someone will like the idea and who wants to repeat it. I will try to tell about all the nuances.
Actually the very idea of buying a bar has long been, for an incomprehensible way for me the amount of fluid has exceeded all conceivable limits and the question arose, where to put it all (well, not to drink it all).
Searches on the World Wide Web have found variant which I liked:
The seller asked for it at the time of 8k + shipping to Russia. We are simple peasants and pay for a couple of boards such amount was considered too much. The same day, I took the measurements and sent it to di-key13 with the original photo and asked: "What can you think of?
"What's there to think about?" – said the friend. "We have to go and buy it!" N amount of time later, the following details appeared at home:
Here comes nuance number 1: size 16 rope was too thick. I should have taken 12.
Nuance #2: It is better to buy a good drill. We chose a mid-price category, and in the process of work, it got considerably dull.
As it happens, I have worked with wood for a long time. Birdhouse at school, and in the village to change the sawing and painting. In general, the experience of 1 out of 10, but I would like it to be good. The material is, it is necessary to collect. I use di-key13 to cut wood and make the upper corner. I don't have such a tool, so if you decide to do something like this, find someone who does and ask them to cut it out. Saves a lot of time. Next, we cut these bars:
and try to make a hole in them:
Nuance #3: Had the rope been 12 instead of 16, the diameter of the hole would have been smaller, which means less chance of those "chips".
Frankly speaking, after drilling these bars, I was ready to give up the idea, because there is a lot of space in the basement, and the bath can put a part … But the desire to rummage in the garage after work took over, and within a week I nazhdachkoy rule all this misunderstanding.
Further there was a process of painting and initial gathering. I did not keep the photo, that is why the result is not very good:
Nuance #4: You need more fasteners. Significantly more.
After the initial assembly the construction was shaky. I had to go and buy more fasteners. In addition we took 70mm and 15mm self-tapping screws and angle bars for the whole structure. In the photo above, I marked the mounting points. Each bar at the bottom is placed on the glue and drilled. In the same way, on the back side (where the rope goes), to give the tension we drill the bar and the rope (18 self-tapping screws per 1 shelf).
Nuance #5: Make a hole with a regular wood drill bit before you drill with the self-tapping screw. If the wood is dry, it's bound to crack in the most inappropriate place. This is probably an obvious fact to everyone, but I personally did not know about it.
After all the manipulation, it turns out like this:
After realizing all the weight that would fall on these shelves, I had to make fasteners in 6 places:
The number of faults (if you look closely) here is uncountable. There are crooked bars, cracked wood, chips on the boards and, in fact, too high a level of ropes. But it was a trial run, and it was a good experience for my future improvements.
By the way the price came out less than 2k:
Bottom line: Is it worth 8k? Taking into account the work and materials definitely not, but if the author came up with this design and it's purely his design (I have only a version of plagiarism), then maybe yes. All with whom I talked is not ready to pay more than 5k.
PS Initial issue with the lack of space this craft has not resolved. Need further work on the 2nd part of the project. While I liked this option:
Mini-bar with my own hands from a canister
To make a mini-bar using a canister, you can do it in a very simple way. It is made from a metal canister of 20 liters – it is better that before it did not store fuel and lubricants.
If you take an old canister, you should definitely wash it thoroughly, using caustic soda and other strong detergents. This way you get rid of the smell of gasoline and oil.
After cleaning the canister to make a marking for the door of the mini-bar, for which you need to step back from the edge of 2-2.5 cm and draw a line with a marker. After that, you need to go along the outlined contour with a cutting disc and make a shallow groove – so it will be easier to work with a grinder.
On the edges of the cover, which we sawed out, it is necessary to pass thoroughly, in order to remove nicks and make the edges smooth. After that, you need to fix a rubber seal on the door and the frame. The door is fixed with furniture hinges. Inside, wooden shelves are installed, taking into account the space for the dishes you will put there.
To make a mini-bar you need to take the following materials: – 20 l canister; – rubber seal; – board 10-15 mm under the shelves; – furniture hinges.
List of tools: – a boron-machine; – a grinder; – a drill; – a screwdriver; – a marker; – a ruler.
Step-by-step description of the process of making a mini bar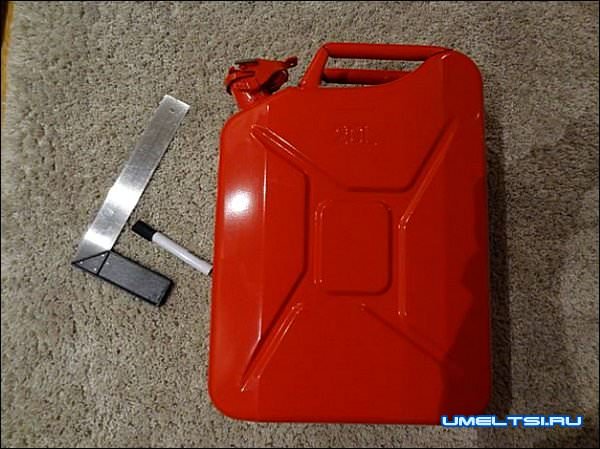 First we take the canister, wash it properly.
Then it is necessary to outline the contour of the door, using a marker and ruler.
After that, you need to glue a painter's tape and draw the line again.
Following the contour, which we have outlined, we pass with a boron machine.
The next step is to cut a groove.
Then it is necessary to saw with a bolt cutter.
We get this picture.
The removed door is machined with a file.
After you need to put the door on the hinges.
After making the wooden shelves, we install them in the mini bar.
This mini-bar is suitable for storing almost any small things. For example, you can put a camera or other electronic equipment in it.