How do garages get broken into? The top methods to protect against burglary
Once upon a time, the garage was considered one of the main options for protecting your car from just about everything. Weather conditions had no effect on the vehicle, no precipitation could damage the paintwork, and in severe frosts the car was stored at a more or less acceptable temperature. But the most important factor was protection against theft or burglary. Powerful garage doors held back the onslaught of almost all intruders. This looks reasonable, but in reality turns out to be quite different. We are hearing more and more about garage break-ins. There are constant attacks on people's property in garage cooperatives and freestanding garages in various parts of the city. The problem is that the garage usually stands in a fairly remote place from people, so at night the thieves have quite a lot of time to take out valuable property. As a rule, the car is not hurt, unless it was the only target of the burglary in your case. But anything of value is taken out for sure.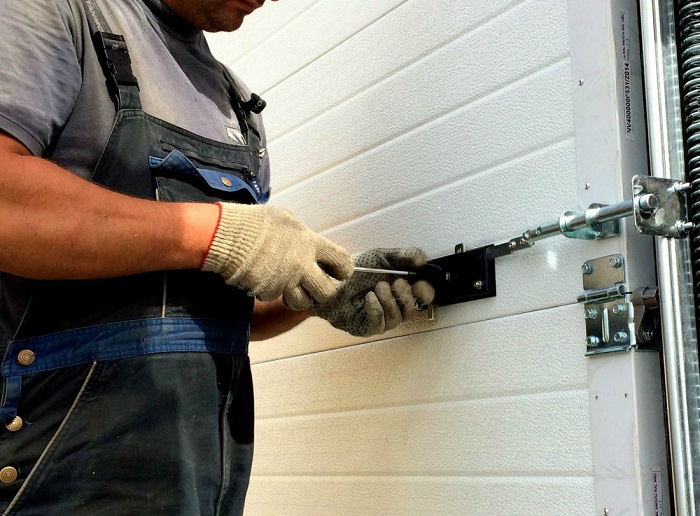 Garage hunters seek expensive tools, tires and rims, bicycles, expensive consumables and spare parts, and simply non-ferrous metals in various articles for subsequent delivery for scrap metal from each facility. The more that is taken out of one garage, the more motivation there is to break into another. It's time to protect yourself from garage theft and do everything you can to prevent such a nuisance. To do this, you need to remember a few important rules. In particular, you should protect your property from all kinds of nasty attempts and theft. Applying a simple lock is practically inviting those willing to clear your garage of valuable and expensive items. It may well be easier to steal a car from your garage than it would be if the car was parked under your apartment windows or even on a busy street.
Putting up a wall is the first popular method of breaking in
If your garage is located in a place remote from public view, and its back wall overlooks a vacant lot or stands close to a blank wall of another structure, you can be sure that this is the method that will try to expose your property. The method is simple – the wall at the back is dismantled, and from the resulting hole elementary take out all the valuable items in a few minutes. A van pulled up close to the wall is unlikely to arouse suspicion even in a busy neighborhood, let alone a vacant lot.
The features of the method are quite simple:
Typically, garages are built with a half-brick wall, and even the brick itself is put on the rib in order to save materials and not to overpay builders for work at the site;
there is also no insulation, since it is not necessary, so it remains a bare wall outside and inside, even a layer of foam insulation is unlikely to complicate matters;
such masonry is broken with a few blows with a sledgehammer or large hammer, and then disassembled to the right size, forming a convenient opening to carry your belongings outside;
the car to load the stolen property can usually be driven right up to the back wall of the garage box, this makes it much easier for the intruders and covers them in case people pass through;
car out of the garage through such an opening will be difficult, but to take out all the other things, including large items, can be very easy, so it is worth thinking about security.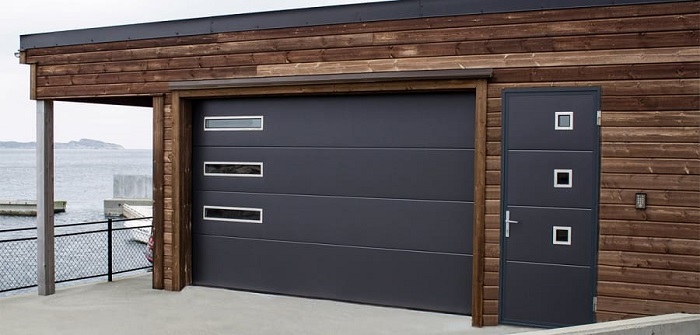 Now you know about the most popular method of theft from garages, so you can protect yourself and your property from theft. Most likely, the protection is better organized with the help of reinforcement for this use metal lattice or profile systems that are installed on the inner walls, welded into a general framework of the garage box. It is also possible to build additional internal walls, including the pouring of reinforced concrete. This will not provide a guarantee of protection, but it will definitely extend the time it takes for thieves to break into the garage.
Opening the gate – the second popular option
It's also quite common for intruders to open the gate locks and take everything they need with a simple method. This happens in garage cooperatives without proper security, when there is no one around at all at night. In such a case, lock openers can handle all the security methods on your garage in a few seconds. This is possible for those who in the past have specialized in opening safes as well as breaking into apartments and houses. Today, many people with criminal backgrounds expose garages specifically.
The features of such a method are clear:
A person with the ability to open locks waits for a time when it is relatively safe to do so, and then uses his skills to open your garage in a couple of minutes;
even complex locks with different secrets of work are opened quickly and without problems, difficulties may present only veiled locks that are not visible to the naked eye;
locks are opened very quickly, no problem for those with experience, usually garage locks do not take even a minute to fully neutralize, if a person knows the basics of bearishness;
then the gate is elementary opened, and all the most important things are taken out, by the way, in this case the car can also suffer, as it is sometimes even easier to open it than to open the garage;
After the crime, the attacker can even close the garage, so as not to attract extra attention, and disappear from the scene, leaving no trace behind.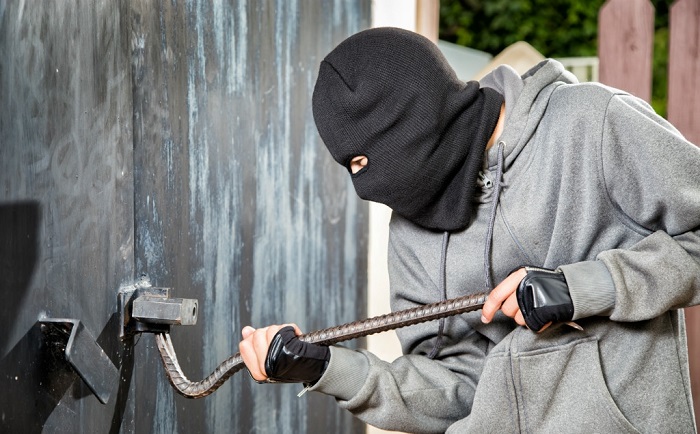 This method is not available to every villain, but it is common among thieves with experience. It is much easier and cleaner to work this way than with the disassembly of the back wall of the garage. Moreover, there is an opportunity to drive up by car directly to the gate and without problems to load all the stolen items. So the garage on the spur is a big problem for the owner. Yes, and let's be honest, to protect yourself from such a nuisance will be extremely difficult. No set of locks and protection factors will give any guarantee against burglary.
Car theft – a separate type of garage burglary
When a car theft is planned, a garage break-in is not a random one, but one that has been watched for days. It's usually impossible to spot surveillance, so it's not worth trying to track it down. The first part of the break-in occurs in the same way as in the previous case. The safecracker picks the locks and also breaks into the car. The alarm system is deactivated in a few seconds, as usually everything has already been studied and planned out a long time ago. Yes, and the alarm system from the garage will not reach the key fob to turn it on and notify you of the theft.
Then the process is quite simple:
Attackers usually don't pay attention to factors other than the car in the garage, so they only do that, don't waste time on various other things on the premises;
on average, it takes an intruder 5 to 25 minutes to break into the car lock and ignition, it depends on his professionalism, as well as on the brand of car and factory protection;
traditional regular immobilizers are also easily disabled, so they certainly will not be a quality factor in protecting your car from theft, but only a little increase the total time of the break-in;
any type of alarm system is studied in advance, intruders can even intercept the signal while you are closing or opening the car, and then make a copy of the key fob;
After the theft, the car is usually taken to a secluded place and immediately sold for parts or prepared for sale after welding in new body numbers and other illegal actions.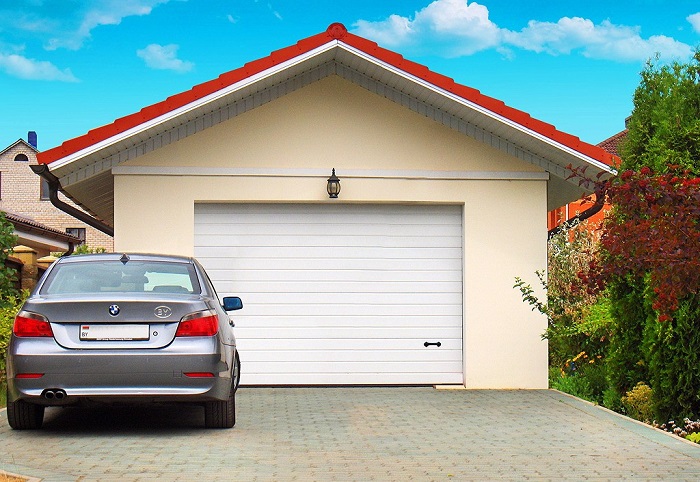 As practice shows, it is almost impossible to find a car stolen by professionals. Only 25% of all stolen cars are really returned to their owners in a normal condition. So it is worth thinking for yourself to protect your property and not to lead to unpleasant consequences. The important thing is not to protect the garage itself, but to ensure that there are no conditions for theft to occur. This is the only way you can completely prevent problems and trouble with a potential theft or stealing.
The main methods to protect against garage burglary – let's take a look at the options
In general, almost all of the traditional tips for protecting your garage from various methods of burglary will not be very effective in today's environment. Attackers come to work with technological equipment, ready for different difficulties, as well as already informed about what types of obstacles they will have to work at your facility. You need to understand that almost all methods of protection are a way to increase the time it takes for thieves to open your garage.
So, popular and effective solutions are as follows:
Creating a metal welded frame on those walls that potential thieves can dismantle, this will make it very difficult for intruders and clearly make it easier for you to sleep at night;
Work with the roof – through it also often get into the garage, since it is only necessary to disassemble the boards, you should think of protection, through which it will be impossible to get into the room;
installation of hidden locks with unusual variants of opening – it certainly will not prevent theft, but will definitely increase the time of opening the gate, if attackers will go this way;
installation of alarm system – it is possible to significantly reduce the risk of theft, it is important to apply GSM-alerting, as well as install the speaker to activate a loud siren in case of burglary;
Installation of video surveillance – today these technologies have become really inexpensive, so you can easily put a good set of video surveillance in the garage.
It all depends on the amount of valuables in the garage, as well as t type of your car. People who steal tools from your garage aren't going to try very hard to walk neatly around your property. The car can be scratched or damaged on purpose, and different situations are possible. If you are afraid of auto theft, it is worth to install GPS tracker to find the car quickly and without problems in the case of theft. Such problems and troubles can be avoided, or rather minimize their consequences.
We suggest you to watch a video about the protection of your garage:
To summarize
Of course, all the advice may not work in your case. It all depends on what kind of abusers you encounter. In one case, it will be the guys who decided to make some money, having no experience. Even a quality lock or solid brickwork will stop them. But people with experience and quality tools are unlikely to stop even the most effective means of protection. Today, thieves have countermeasures for all kinds of protection against breaking into a garage or opening a car. So all the protection factors will help in one thing – increase the break-in time and greatly increase the chances that the intruders will be noticed and scared away. This is important for the garage owner.
If you decide to protect your property by any means, look at modern methods of protection. These include alarm systems, sets of excellent vault safe locks, GPS trackers and other equipment that will not only help prevent the problem, but also reduce the cost of the consequences of an intrusion. You can and should also apply the old classic methods of protection. Most of the time they work well and greatly hinder intruders in their dishonest business. But the whole complex of protection factors will work best. The composition of the actions in this complex strongly depends on the type of garage and its location. And how do you protect your property?
How to prevent burglars in the garage and firmly protect its contents
Receive one of our most read articles in your inbox once a day. Join us on Facebook and VKontakte.
Many motorists are used to using their garages to store all sorts of unnecessary junk, and sometimes the car rarely visits such places for lack of use. And it is true – the yards of modern houses are getting wider, more and more parking spaces, and the popularity of garages more and more rapidly receding into the background.
It would seem that along with the popularity of garages should have decreased and the break-ins of those same garages. But as if that wasn't the case. To this day, in some garage-type premises can be found real treasure troves in the form of workshops with expensive equipment, warehouses of private businesses and even cars.
1. Mechanical ways to protect your garage from burglary
On the one hand, it may seem that it would be right to install more locking devices on garage doors, supposedly this will make life more difficult for burglars. This rule used to work like clockwork, because if there were complicated locks on one garage, you could visit the neighboring one and collect the same "harvest".
But today the rules have changed, and if you decorate your "fortress" with all sorts of locks, it will be a clear signal to the thieves. Believe me, you can pick any locks and empty several garages in one night.
That is why the life of the burglars should be made more difficult, so the work on opening the garage lasted as long as possible and caused as much noise as possible, attracting the attention of others.
So, if your garage still has the old transomatic lock, take the trouble to replace it with a new, reliable mortise lock made of durable steel alloy. This innovation will scare petty thieves, and they will prefer to rob another building.
However, experienced burglars are unlikely to stop even before the best lock in the world, and their prey can be, for example, gate leafs, which are simply unbent with a crowbar. Another option is to put doors more than three millimeters thick, which is very costly.
It is much easier to weld a corner to the pressed sash so that the second door sits exactly on the end of the metal part. For additional protection, weld the wicket door and gate sashes around the perimeter with thick metal plates.
Bend back the sash of such a design will not be able to, but to cut a hole in the iron door – it's easy, especially since there are plenty of examples of this. And if you have not put five-millimeter doors, you will be saved by a metal lining on the inside of the gate. Any scrap metal that can increase the thickness of the gate will do, which will not allow burglars to make a hole in it enough to penetrate.
The more intelligent burglars will not bother to simply saw down the hinges and open the gate naturally. And the absolutely frostbitten ones will try to take out the gate structure together with the frame with the help of a truck.
And there is a solution to prevent burglary. Weld the hinges with thick bars of rebar so that the robber has no desire to take a bolt cutter in his hand. It would not be a bad idea to find carbon steel corners, then the burglary process would be hopeless as far as the hinges are concerned.
But even taking out the frame structure will not work, if you punch a concrete wall above each corner of the gate with a hole punch, put thick anchor bolts in the holes, connect it all with bolts, preloading plates with prearranged holes on the studs so that the edge of each plate is in contact with the frame.
Now the frame, the plate and the bolts themselves should be carefully welded to securely fix the door to the garage façade. If any truck can move the dead structure out of the way, it will only be together with the concrete.
And even if the burglar cuts the wretched hinges with welded on the reinforcement, which is unlikely, you can weld to the back of the gate metal corners so that when you close the doors they went beyond the end of the brickwork, metal frame or concrete facade. Even with the hinges open, it will be physically impossible to "squeeze" such a door.
2. How not to become a victim of garage burglars
While in the past, burglars could break into any garage and get their hands on something tasty, today these visits are mostly targeted and take place by tip-off.
We agree that breaking into a thousand garages to find something of value is a thankless task, so if a thief comes to your garage, he will know for sure that there is something to steal.
Hence the main rule of garage security . If you do have valuable items in your garage, try not to keep its doors open, and don't make close friends with your neighbors or let strangers into your garage.
By the way, brick masonry, all-metal garage and garage made of corrugated steel are considered the most unreliable and are broken into "at once or twice". The most time-consuming will be the process of breaking into a monolithic concrete garage. So if there is a question about the protection of the garage at the stage of its construction – for example, under the same workshop or warehouse of finished products, you must build it from concrete!
Do not indulge in massive padlocks. Firstly, they attract attention, and if burglars have a choice, they will open not the neighbor's garage, but your garage, even if there is nothing valuable there. Padlocks can be used if the garage is stocked with unnecessary items, and the garage itself is not of great value.
If the garage is as valuable as its contents, it should be secured.
The easiest way to know that the garage will soon be opened is the use of GSM-sensors, which can be installed on the back of the lock, under the hinges, in the area of the opening sashes. Sudden change of sensor position will trigger a signal to your phone. Then everything will depend on your actions.
Not a bad siren works, which is able to scare teenage robbers, and even experienced uncles in 90% of cases, prefer another bait, because after the siren may come on the police. The panic button is another effective way to prevent even an attempted burglary.
Very often burglars are deterred by video surveillance. It doesn't matter if the camera is working over the garage or not – most burglars will bypass your garage. However, some will still smash the camera with a stone and try to break in. That is why it is recommended to install a comprehensive security system or hire a full-fledged security guard with a baton if there really is something valuable in the garage.
In addition to protecting your garage from burglars, there are many other car tricks that you will not learn in driving school.