How to adequately assess the value of your car? Deal the car in trade-in or sell it yourself?
Hello everybody! Today we are going to talk about how to properly assess the value of your car when you sell it. You are going to sell your car. How to do it as profitable and fast as possible? How to determine an adequate price and not to underpriced? What do you need to do in order to sell your car faster? So let's go. There are always several main reasons to sell your car: 1. You are going to buy a brand new car 2. You are going to buy another used car 3. You just decided to sell your car and be pedestrian)
There are several popular ways to sell your car: 1. You can sell your car yourself through ads on all sorts of Internet resources. 2. You can give your car to an authorized dealer for trade-in. 3. You can sell your car to any unofficial salon for selling used cars or contact a company for urgent repurchase of your car. 4. You can send your car to a used car dealership or to a private salon. each option has its pros and cons. Let's start with selling the car by yourself.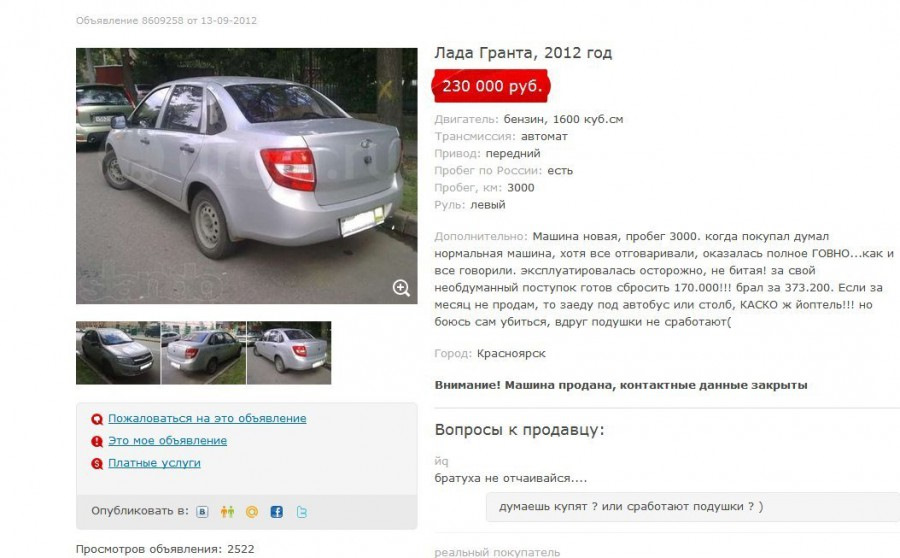 Cons: – Meeting with buyers, sometimes listening to all sorts of nonsense about your car – If you do not know for 100% real condition of your car you can easily begin to dilute the brazen buyers and strongly move the price – You can not adequately determine the price for which the car will be sold – Time lost – sometimes the sale of the car can take a long time – You need to prepare the car for sale Pros: + in 90% of cases you sell the car for the amount you want for it
When you pass the car in trade-in:
Cons: – You get about 70-80% of the real value of your car Pros: + Saving time + You get a discount on a new car (usually 30-50 thousand rubles). + Dealers adequately assess the condition of your car. If you are buying a brand new car and you currently have a car with mileage – this will be the most appropriate solution to surrender your car in trade-in offset of a new and get a discount on a new one. Thus, you practically do not lose money. The loss in value in the sale of your car will be offset by a discount on the new car.
Selling a car to a private salon
Cons: – You will get a maximum of 70%, or even lower of the real value of your car. + You can sell your car very quickly, without any long diagnostics and checks.
Transferring a car on commission is suitable only for those who no longer operate your car.
Pros: + For you will do pre-sale preparation + Can be quickly sell your car (but this is not accurate …) – You can not pick up the car before the stipulated period, otherwise you will pay a penalty (for parking, for pre-production, etc.) – You will need to pay a commission of 10-15 thousand in case of successful sale of your car – After a while you will try to push the salon employees with the offer to lower the price, arguing that there is no demand for cars – Money you can get usually a week or two after the sale of your car If you decide to go this way, you should not bet on it. Never bid on a questionable site. Otherwise you can remain and without money and without a car (such cases are already full: autosmile, fresh motors, etc.). It is better to entrust the sale of your car to official dealer. But if your car is a piece of junk, dealers will not take up selling it. And the private salons do not give a damn what to sell. Basically on these sites and sold cars that owners are ashamed to sell themselves (in EkB a striking and well-known example is the White Tower and Berezovsky Privoz).
Ways of selling like clear. Let's move on.
It often happens that in the process of searching for a car we come across sellers who claim they have called the dealer and the dealer is ready to buy the car from them at about the average market price plus or minus 10%. This is a very big misconception. Never the dealer will redeem the car from you for the average market price. The information the dealer gives you over the phone is preliminary information. After the diagnosis it will be much lower usually by 20-30%. So do not think that your Solaris is not beaten, not painted 1.4 on automatic in 2011 with mileage of 60 thousand, will take in trade-in for 450 thousand. This will not be 100%. At most you will be given 370-380 thousand if the car is really in ideal condition. The main criteria on which cars are assessed in trade-in: 1. The liquidity of the car . This term in this case means whether there is demand for a particular car model in the market, how quickly it can be sold. And most likely it does not even refer to the car model itself, but specifically to the kitting and often colors of the car. Here is an example: Let us say we have two Solaris. One is 1.6 on automatic with comfort and audio package, the other 1.4 on manual. So, the demand on the market for solaris 1.6 will be just several times more than for solaris 1.4. Accordingly, the manager puts a mark that the car is not particularly liquid. Or for example there are two third Focus, in identical complete sets, but with different gearboxes, one has a mechanics, the other a robot. The 3rd Focus with manual is extremely difficult to find, they are quickly sold out, there is a good demand for them, and the robot is full of options, and really cool with very low mileage. People in our country are afraid of robots, so they prefer manuals, thus creating the demand for these cars. This all plays a big role on the final price of your car. So do not be surprised then that you dealers are very cheap price your red Nissan Qashqai 1.6 manual, although you have a car in perfect condition. 2. The number of owners, the original pts, the presence of the service book. This is also an important criterion in assessing the final value of the car. Cars with a duplicate of the PTS, immediately minus 10% of the price of the car. If not more. Some dealers may not even agree to buy your car, if you say that you have a duplicate of the PTS, so be prepared for this. 3. The condition of the car body. The presence of the painted elements, the presence of defects, all this will affect the final price. A car which was in a serious accident or all scratched up in a circle you just will not buy. 4. Investments in the technical part. Minor complaints such as, let's say, sweating of crankshaft oil seal will be equated with the work on replacement of the oil seal. Although with this little nuance, you can ride another 2 years without any consequences) Wearout on the brake discs more than 1 mm on one side, automatically equated to replacement of the brake discs. So be prepared for 50k of the original price at this point alone. 5. Car completeness: car alarm system with car start, winter tires, radio with navigation and so on. All this also affects the final price of the car. 6. Mileage of the car. Exactly the real mileage. A car with low mileage is much easier to sell. Not every buyer can determine the true numbers on the odometer. That is why many resellers and salons sin in this business) In principle, these are all the basic criteria for evaluation of cars.
If you are going to sell your car, run through the list, look at the average price of the car, pre-priced your car. Then there will not be in the future questions: why so cheap estimate, or why so long I can not sell. And a couple of tips for those who are going to sell their car: 1. Bring the car in excellent condition, remove defects in the body, replace the windshield with a cracked new one, eliminate oil leaks in the engine, obvious knocking in the suspension. All that immediately catches the eye even inexperienced buyers. 2. Make a good ad, with a competent description of the car and beautiful photos. Your ad with the description of "The car is in good condition, all questions on the phone" and pictures of a dirty car, made in the evening on an old phone, no one will not cause interest. You will not even be called. Well, do not write general phrases such as oil changed in time, the engine chain, etc., is nonsense complete.
Well and final advice: Always put the price of the car, taking into account the bargaining, be willing to move the price, it is always a huge plus when selling your car. And the buyer will be very grateful to you for the fact that you have made him a discount) Enjoy the sale of your cars! And let's recollect what interesting cases happened to you while buying or selling a car? And let me remind you: if you found a car in Sverdlovsk, Tyumen or Perm regions and you need to check it, so you do not waste your time and travel in vain, we will always be glad to help you! Write in a personal message or call 895055583.
How to estimate a car with a used car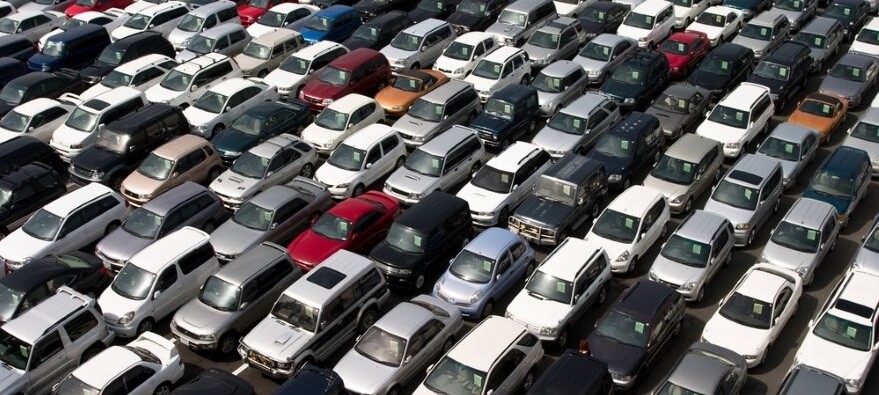 All articles Car insurance On-site diagnosis Car choice How to avoid cheating Search for options Used car purchase: Registration of the transaction Communication with the seller What to do after the purchase How to assess the car Buy a second-hand car in the showroom Technical inspection Used car buying: where to start Tips on buying
How many prices and how little quality offers! That inflated cost for the domestic ten-year "Zhiguli", then, on the contrary: a young and frisky "Bavarian" is given for nothing. Compare prices for used cars at sites of several autocenters. Difference between identical cars with similar complete sets will reach up to 40%! In order not to be confused by hundreds of unreasonable offers, you will have to understand yourself and calculate the cost of used car you are buying correctly.
Contents .
It is possible to determine the real price of a used car in three ways:
independently;
resort to the help of professionals;
With the help of online calculators.
Evaluate the car with used by yourself
None of the independent ways to properly estimate a used car will not indicate the cost of the machine with the package, additional equipment and damage. But they are free.
Visit a car dealership
Visit the nearest dealer center, where you can buy an iron horse using the trade-in system. Pretend to be a buyer of a new car from the salon, talk to the manager and tell him that you would like to trade in your car. As "your" car you name the one that you have already looked at in the online classifieds. The manager will calculate the market value of the car and offer to bring it in for diagnostics. Politely decline, citing a desire to think.
You can safely add about 20% to the amount the manager told you. This will be the cost of your chosen used car. The method resembles the work of a detective: find, visit, pretend to be a buyer, find out the details. You will have to spend a lot of time to find out the market value of a used car.
You will be able to talk to the manager about the details of the chosen car and additional equipment (not all methods allow it).
You can be sure that you will not be cheated, because you got the information by yourself.
The downside of going to a car dealership to determine the market value of the car is a waste of energy and time: first, to remember the details of the chosen to buy a used car, and then to play the role of the buyer and owner.
Go to a bank or pawnshop
If you say in any bank or pawnshop that you want to pledge your "swallow" (the one that you looked at for buying), the employees will gladly calculate its cost.
Pros and cons of this method are the same as that of visiting a car dealership in the guise of a buyer.
Become an auto expert
This method is probably even more energy- and time-consuming than the previous one. In order to correctly assess the value of the car you will have to study the literature, drive dozens of different cars, visit a lot of exhibitions, press conferences and presentations. After months or years (it depends on your ability to learn), you will understand how much each brand in all configurations is worth, how much extra equipment is valued and how much money you can "drop" for every scratch and breakage.
This method will suit you if you:
you like to read, you know makes and models, production years, engines and motors, you can attend private events and you have plenty of time;
Do not rush with the purchase of a used car, because you will have to spend more than one day to study all the material.
This method is not suitable if you:
want to buy a car at least by the end of this year;
Are not a car blogger or journalist.
It may be worth saving your energy and resorting to simpler methods of evaluation, but, alas, paid.
Evaluate a used car with the help of professionals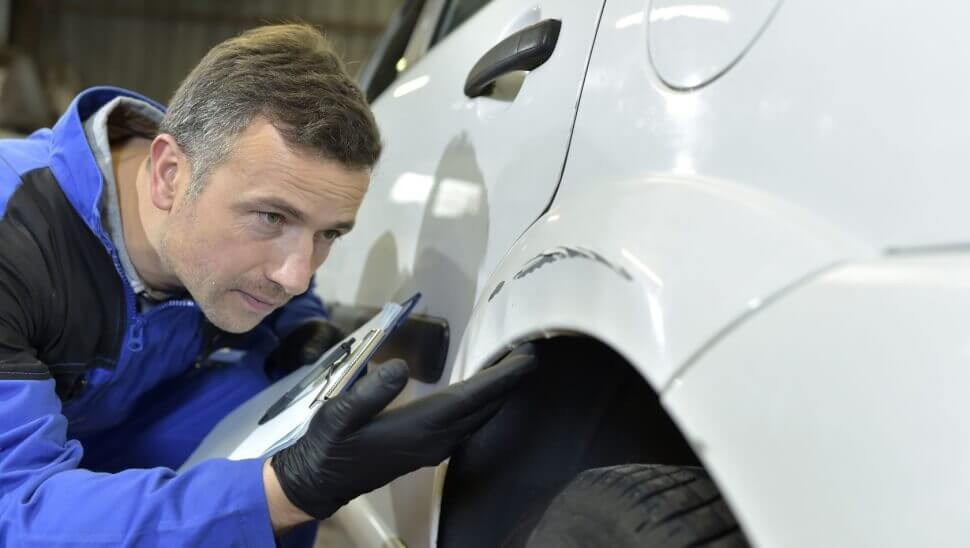 As we have already found out, in order to calculate the cost of the car with used car, you need to know everything about a particular model: from what options the manufacturer has equipped the car, and which of them are additional equipment, to the frequent "diseases" of the model and brand. Special companies that professionally assess used cars know how to determine the wear and tear of a used car and its technical condition.
The appraisal of an auto by an expert takes a few hours and is done in two steps:
Online inspection of the selected used car and collection of completeness data from online sources;
Visiting the car together with you and examining it.
It costs the work of independent experts from 2000 to 4000 rubles, depending on the region and model (the rarer the car, the harder to determine its value).
The work will be done for you by a specialist, you will only have to make a choice.
You do not waste time assessing a used car yourself.
The disadvantage of the method is that you have to pay for the expert's work, and if you choose more than one used car to inspect, you will have to pay for each one.
Online helpers for calculating the value of used cars
Online assessment is conducted on the basis of only a few parameters of the car, which are usually specified in the ad: make, model, mileage, years of manufacture, gearbox. Calculating the cost of used cars by online calculators does not take into account all the nuances of the price, but only gives an approximate idea of the market price, without taking into account the configuration and condition of the car.
assessment takes less than a minute;
free of charge.
The disadvantage of the method is that online calculators do not know how to determine the real price, taking into account kitting, equipment and damage
As you can see, there are many ways to find out the real value of a used car online. All that remains is to choose the right option with a clean history. If you need to run one or more cars, the service "Autocode" will suit you. It generates a report within two minutes and shows problems such as leasing, pledge, restrictions of the traffic police, accidents, use in a cab, and so on. The cost of one check is 399 rubles.
If you need to constantly check a large number of cars, use the service unlimited checks cars "Autocode Pro. Subscribe to unlimited car checks costs 2 500 rubles per month. "Autocode Profi" allows you to add comments to reports, create your own lists of liquid vehicles, quickly compare options and store data on cars in an ordered form.