Installation of regular seat heating. + seat heater in the car seat
Hello all! I want to share my story about very necessary in the Siberian area option, seat heating. Since the installation was about a month, to write a report, too, had to tune in)). And to check everything.
I've been studying this question for probably two years. I read reports, thought about it, tuned up, even bought some components, but still could not make up my mind. I either wanted to do it all right or not at all. Once, even decided to give up the idea, even put on sale buttons, pads and a control unit for the heating. There was no understanding or desire to get into the story.
But. time passed, summer came, I decided to return to this issue, studied everything again and began the process.
At the outset I would like to express my HUGE THANK YOU to the person without whom this would not work! Michael (Cafari), thank you! Misha helped me to understand everything, guided me where I needed and answered "silly" questions))))
And now to the point. With help of Michael's reports, I bought all the necessary components and studied the process.
Mats heating, now almost impossible to find, or the price of space. Therefore, I took the second way, found and bought seats with pre-installed heating. Mats decided not to move, since the seats are in excellent condition and the same color, just did dry-cleaning and moved. Since they were sold as a set with the rear couch, I have a set of seats for sale (front/rear) , anyone who needs one, please contact me)) !SOLD!!!
The hardest thing for me, it turned out to go into the scheme and lack of understanding of what should happen as a result, where the wiring will be, the length of the wiring, the places of connections, cross section of wires and other things. Although there was a report before your eyes, a ready-made picture, but when you start to collect everything for the first time, from scratch, believe me, there will be a lot of questions and nuances. If you do not want to understand, to save time, money and nerves, I recommend to buy ready-made kit from Michael. It is worth it! If I knew in advance what I would do, I would buy ready made)))). But on the plus side, I learned a lot for myself and gained invaluable experience)))
I will not duplicate the original source, I will post a couple of pictures of the process of assembling the wiring. Wires all crimped. I tried to do as on the pins, neatly and qualitatively. I was doing my own schemes for myself, in so many wires it is hard to figure out how to do it)).
Wrapping by the way, also takes a crap-load of time and then the hands to wash off the tape …)) The picture above was made from beginning to end, for about 2 weeks. I will explain why.
1. I decided not to hurry, so as not to look for faults. I got tired / bored / did not understand – postponed to tomorrow. 2. During the process, I had to buy more wires, various pins and other goodies, when you do it for the first time, it is inevitable. There will be mistakes and other nuances. This is normal. I had to look for some pins for a long time, so I had to wait for them to arrive. 3. (I worked in my spare time, did not sleep at night, and did not neglect my family)). (I worked a lot in my spare time, so I didn't have to sit up all night and pay attention to my family.)
Next, the nuances of installation. Perhaps the information will be helpful to someone
– I took the power from the fuse box, where it should be, according to the circuit. No connection to the cigarette lighter, well, away from harm's way.
– Block VSM I have the easiest, but in fact, and according to information from the Internet, even the most truncated support heated seats. Accordingly connection is made through high-speed wireless system.
– I wired it in one bundle and connected it in place on the steering column.
– I tried to run the wiring through the regular wiring, where possible.
– The block is installed on regular place, near steering column. There is a "spider" of wires going in different directions.
– The wiring to the seats, was laid under the sills, on the original braid.
– The plus of the pictograms illumination, took from the light control unit, 14 pin. Crimped the wires with a new pin and put it in place. When you turn on the lights, there is a plus. You can also take from the neighboring buttons.
– Alternatively, you can connect the wires with heat shrink tubing and solder. This makes a good, solid contact. It is convenient to connect several wires of different cross-section. Also, one of the big pluses is that the connection is quite flexible, unlike soldering. Much safer than twisting and other "machismo")). In any case, everyone decides for himself, how to do, most importantly qualitatively, your safety depends on it.
– Heating is activated only when the car is running. Works in 2 modes. After about 15 minutes, you will automatically switch from 2 to 1. Completely, automatically does not turn off.
In the process of installation:
Well, the bottom line of this whole story.
Until the last, I did not believe that all this will work. To assemble with 0 braid of wiring, combine everything into a working scheme and connect, a task for me was difficult, such experience was not available. The first time I turned it on, the minus terminal was not screwed on and I remembered where the fire extinguisher was, just in case ;)))). But it worked fine, thanks to Michael again, thank you!
Winter is coming, heater is ready)))
The entire process lasted for 3-4 weeks, searching for and purchasing of parts, assembly, etc. etc. The report, of course, is condensed and does not reflect the emotions, swearing, "square head" and … ;)))
And by the way, I made a heater for my son. Bought a heater for a child car seat "Emelka" from the manufacturer "Teplodom". It is installed under the casing of the child car seat, it is not visible, plugs into the cigarette lighter. Checked, heats well, has adjustable degree of heating and protection from all sorts of trouble)).
Now everyone will be warmer and cozier in the winter)))
Thanks for your attention! I wish you luck and patience, those who want to install heating!)))
Original installation of seat heating in the Trend

Hi all! After two years of driving, decided it's time to do something in the car besides the Chinese gimmicks and basic things like stereo and service. It was in July 2015, remembering our winters and oooh very long heating of the polis, I thought about installing a heated seats. As usual, perekuriliv Internet, wrote out what will be needed and along the way realized that the budget comes out not weak with the ruble exchange rate, because I decided to do everything according to the original scheme. After gathering all the information it was clear that you can save a lot of money on the heating elements of the seats. So I needed: 1. Heating elements EMELA UK-1, need 2 sets, bought at a local auto store, with a discount came out 2200r. If you need the original, then the backrest 6RU963557, seat 6RU963555 Analogues as of VW seat 6RU 963 555 U, backrest 6RU 963 557 U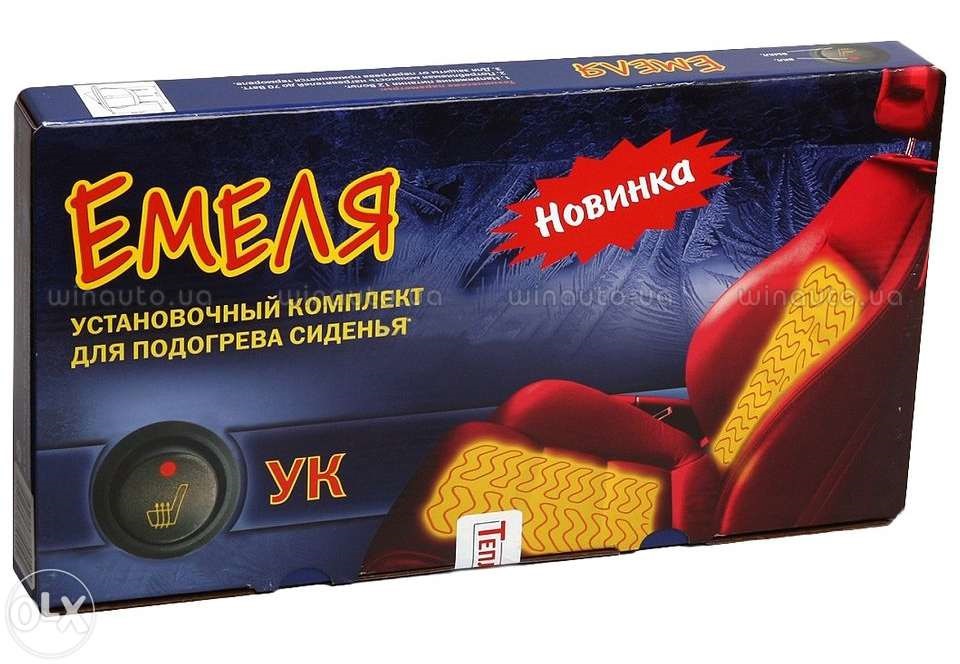 2 . Buttons original left 6R0 963 563 A, right 6R0 963 564 B, need six-pin, look out there are five. I ordered here on the drive, came with the transfer of 1200r.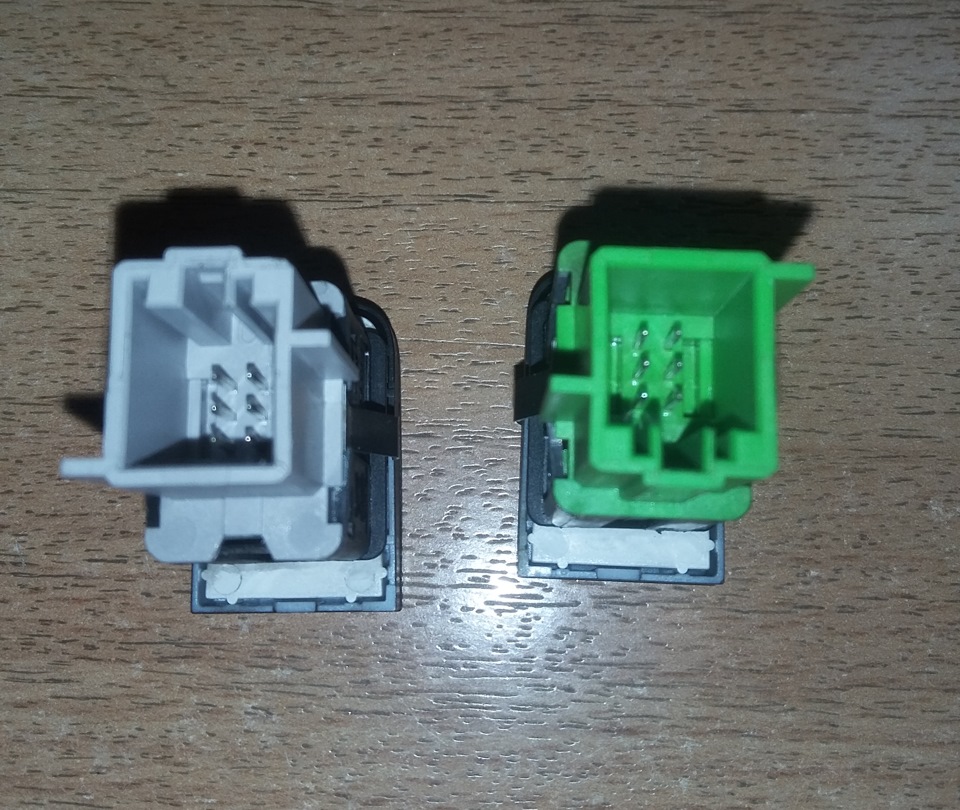 3 . Mating chips to the buttons 6-pin. right 4D0 971 636 A, left 4D0 971 636 B. Ordered in autodoc, the cost of 300 with something p. per piece (no photo).
4 . Pins in the chips for the buttons, N90764701 need 12 pcs. I ordered in autodoc, the cost 9pc/pc.
5 . Control unit heated seats 6R0 959 772 A. Ordered here on the drive used, the cost with shipping 2100 p.
6 . Connector for the control unit heated seats 6Q0 937 713 . Ordered in autodoc, the cost in the range of 100 p.
7 . Need pins in this case, but not all, 4 power and 5-6 small. Power N90684505 – 4 pieces, small N10335807 . I ordered in autodoc, came out within 300r.
8 . If you do until the end of the factory, you need a block VSM at least from the comfort or higher, you need it for what would be when you turn on the heating gave the command to increase engine speed. I do not bother to replace, and so the power is enough.
9 . Did through the fuse at 25A, put in the block at number 37, plus wired to the main plus, which comes to the block (thick red wire this). Pin to the fuse block N 907 326 03 – 2 pcs (no photo).
10 . Also you need brains, straight hands, patience, wires, electrical tape, soldering iron, tools for disassembly and a good mood.
All work was done in two stages. The first thing I took off the seats, seat covers and … I wondered if the factory heater is between the foam and upholstery seats, but my seat covers also have foam, which means that the waiting time heating up significantly increases with a sandwich. I don't need it and the covers never come off, so I decided to put the heater on top of the upholstery and the covers on top. Part of the wires with the button that comes with the EMILY kit is not needed, so untying the bundle and removing unnecessary. All assembled, we put seats in place, wires up (it's better to solder everything), wrap with shaggy tape and put under the side sills, lead behind the radio. At this point part of the job is done. The second part was completely assembling the whole circuit. I must say at once that in p.10 in some moments I could not have enough brains or patience, therefore a skilled assistant was necessary, such through good guys was quickly found and after a call I rushed to him. We went to him, discussed the nuances, and on the appointed day the work began. At first I showed him the three schemes by which everything was supposed to work: