Equalizer in the headlights with his hands
I decided to make the equalizer in the headlamps, just for fun, turned out pretty good craftsmanship. One may ask why I need it, well, everyone has his own little trick, someone makes strobe lights, someone VIP-signal, and I got interested in equalizer, and so that everyone saw …
How to make a circuit board What materials for this we will need:
– Single sided fiberglass (size 10×15) – Chlorine iron – Lamond 120 or 140g/m² glossy photo paper – Glycerin – Acetone We will make the board using the laser-outsource method. Thanks to the high temperature toner will be fixed (with photographic paper) on the foil textile, which will protect the copper from poisoning by ferrous chloride. The necessary materials are purchased, let's get to work.
Then we are going to download the circuit board design in *.lay format and the scheme… DOWNLOAD… [222,09 Kb] (download: 237)
Print the board. This should only be done on a high precision laser printer. In Sprint Layout we remove the caption layer and the tracks must be black. Print it out mirrored. Try not to touch the print itself to avoid leaving greasy marks.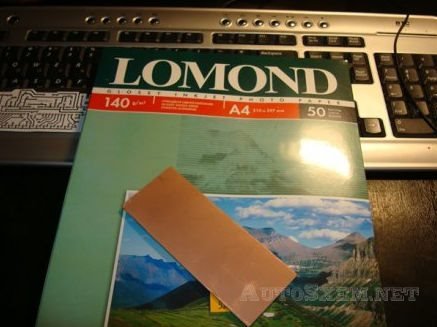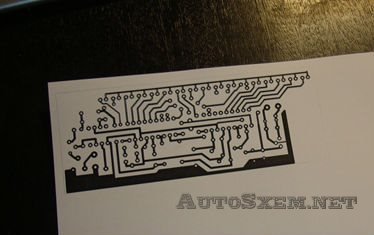 Next we cut out our board and set it aside until we need it.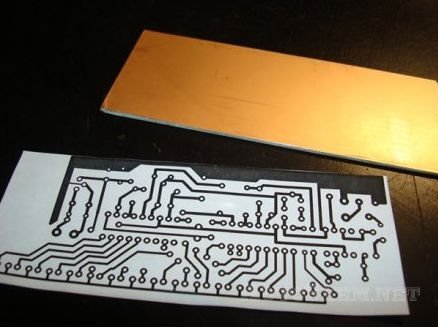 We cut the fiberglass in size – 115mm x 45mm, sanded with a fine sandpaper and treated with acetone.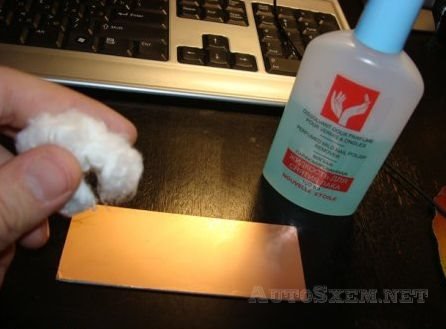 We take our printed board and turn it over on the fiberglass top plate face down and iron it on high temperature. In this operation it is very important to iron every millimeter of the paper. Stop ironing when the paper is slightly yellow.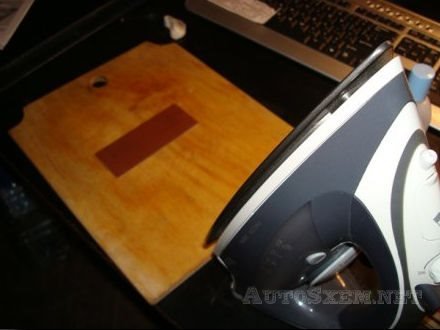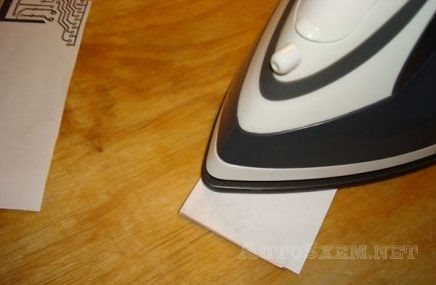 After the board cools, gently bring it under a stream of water. Roll the paper with your fingers until it comes away from the plastic. If the contacts are not all printed, the toner will etch out over time and the contacts will tear. If you find these places, repeat the process again. Where there are small gaps, they can be sealed with a marker.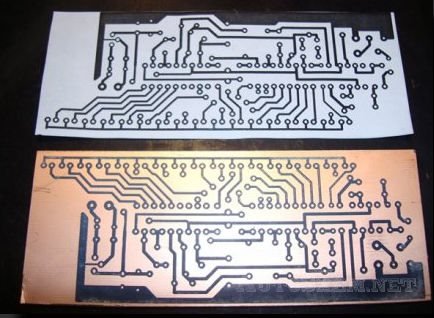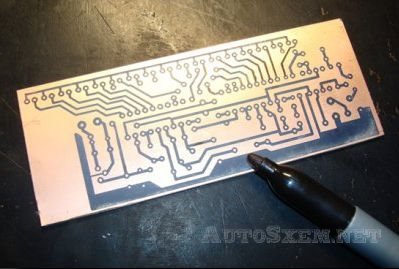 Mix a solution of ferric chloride with water in the ratio of 100 g of powder per 0.5 to 0.7 liters of water. Be sure to pour the powder into the water and very slowly. Stir and you get the same rusty color.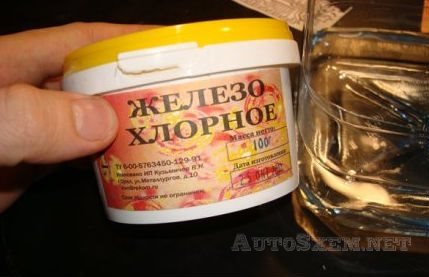 We dip the board at an angle into the mixture and wait 10 to 40 minutes, occasionally watching the process.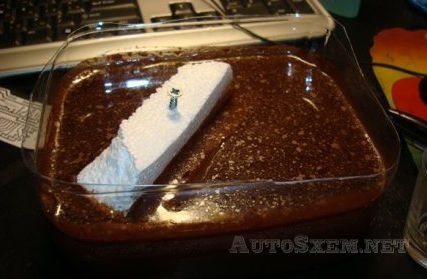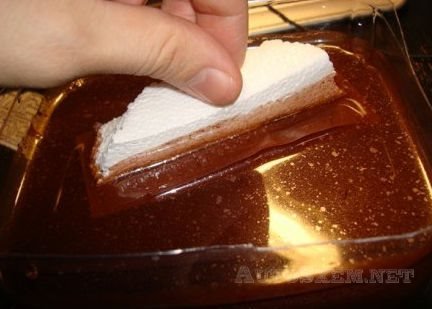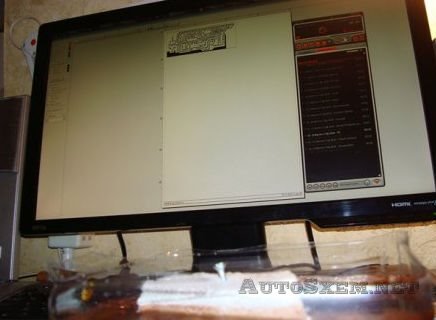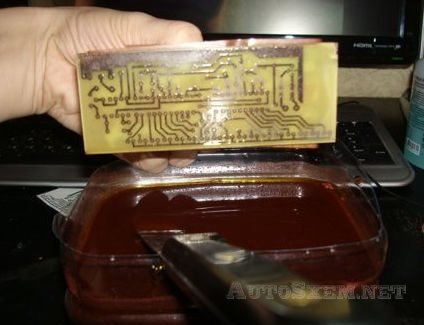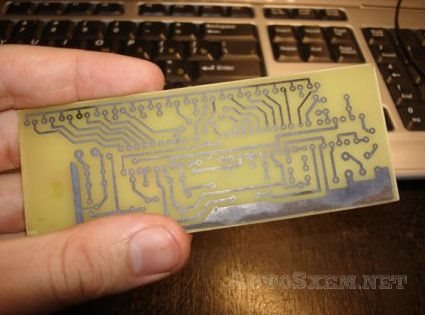 We etch out all the unwanted copper. Next we take out the board and rinse it under water. Be sure to check again for tears and any copper residue. If all went well then nothing should be detected. Let's move on. Wet the absorbent cotton with acetone and carefully remove toner from the board.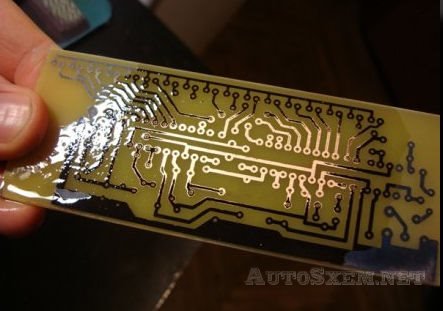 We will use a construction drill to drill into the board.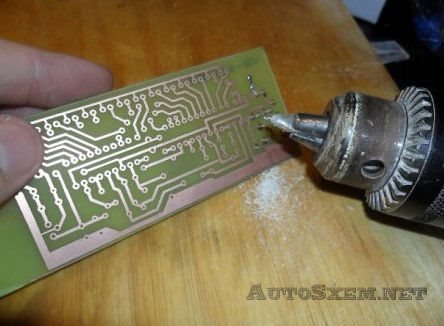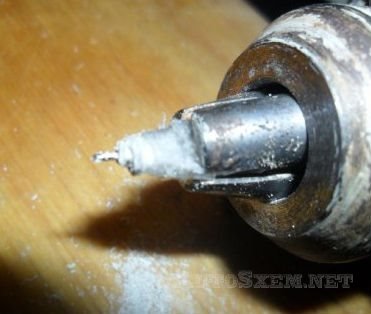 We fill up the board. Using a cotton swab we put a layer of glycerin on the board. Warm up the soldering iron. Dip it in the solder and run it over the tracks on the board. It is very useful to tin the tracks beforehand to avoid oxidation of copper and breaking the contact. Wash the board under water and leave it to dry.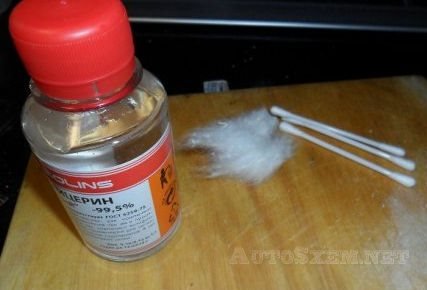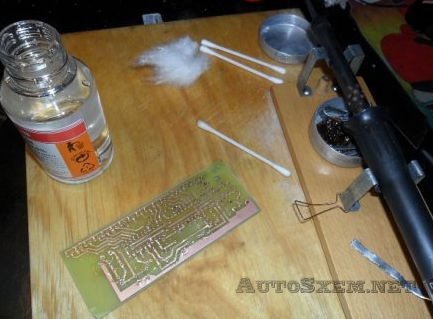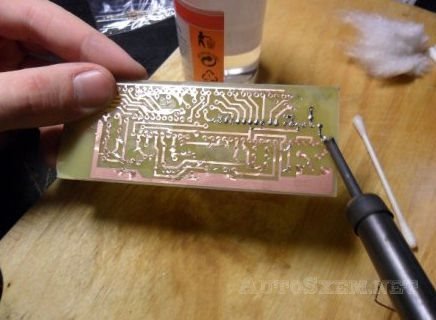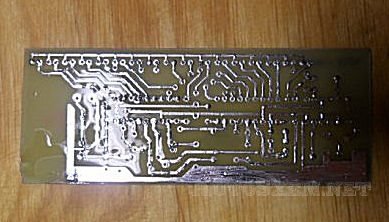 The board itself is ready, then we proceed to fill it with components.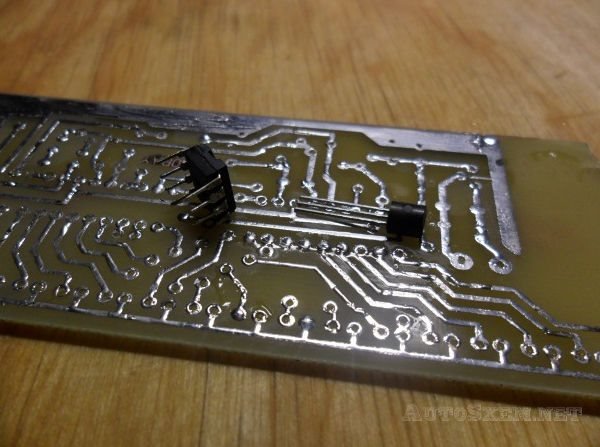 What you will need for this:
– Voltage regulator 78L05 – 1 pc – IMS LM3916N – 1 PDIP18 ˟ 2 pcs – Operational amplifier TL081 PDIP8 – 1 pc – Diodes 1N4148 (KD522A) 150mA, 100V DO – 35˟ 5 pcs Resistors:
– 330 Ohm – 2.2 kOhm – 3.0 kOhm – 3.9 kOhm – 47 kOhm – 120 kOhm – 10 kOhm trimmer resistor, can 3362-1-103
K10-17A H90 0.33mcf – 1 pc K10-17A H50 0.1mcf – 2 pcs K50-35 47mcf 16V – 3 pcs K50-35 470mcf 16V – 1 pc Voltage regulator: first you need to solder LM7805 circuit in the case TO220, they are only 1A, fix a radiator on it. If it will be a large amperage, then buy a stabilizer.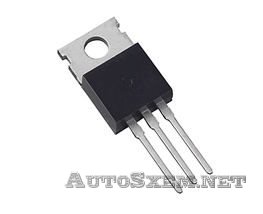 Take care of the chip panels because it's hard to unsolder circuits if they're not working.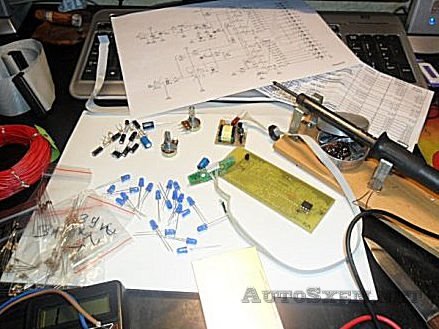 I hope the soldering process doesn't need to be explained, so pictures will suffice.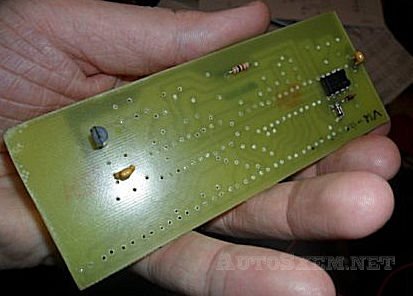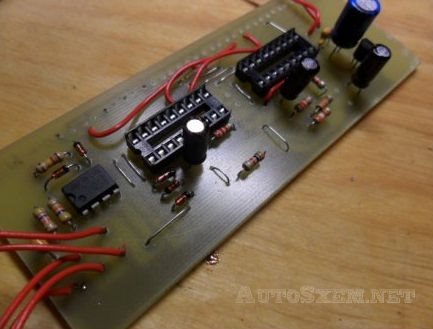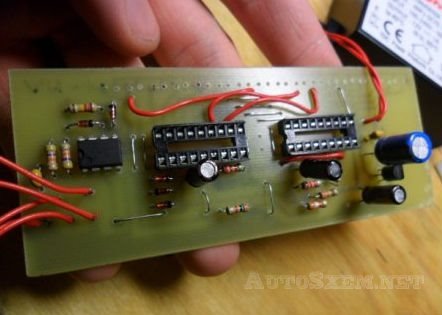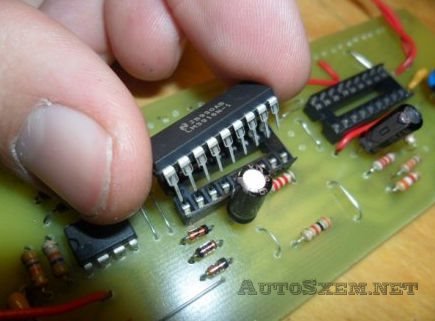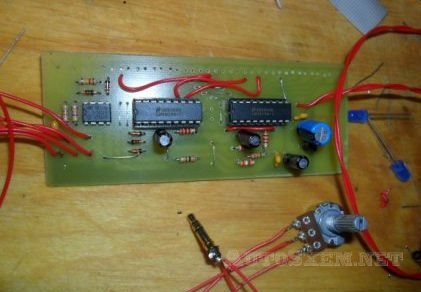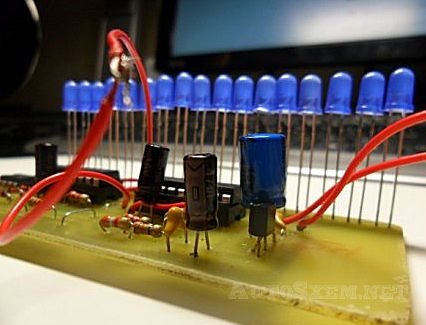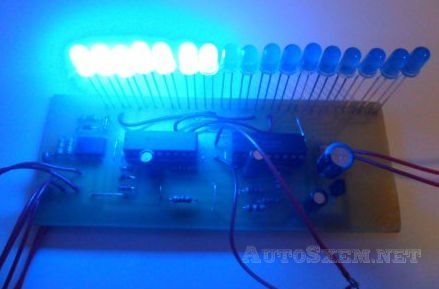 And the end result…of course this is on a different car, but the idea was to do it this way…
Making equalizer in headlights with his hands
Almost all car enthusiasts like to remake or add something to their car, and I am no different. Someone adds a horn, someone strobe, and I decided to make an equalizer, and put it in the headlights.
And so let's move on to making a circuit board, for this we need:
1.1-sided fiberglass with a size of 10×15; 2.Glycerin, 3.Chlorine iron, 4.Glossy photo paper, in my case used Lamond 120, and 140 g/m will do, 5.Acetone.
We will use the LUT (Laser Etching) method to make the board. First we print the board using a laser printer so that the toner sticks firmly to the board.
I use a program called Sprint Layout to create the board. There you remove the caption layer and choose black for the tracks and make sure that the printed circuit is mirrored.
Then cut out part of the board from the paper and according to its size cut out and textolite, in my case the dimensions are as follows: 115×45 mm.
Next, we process the textolite with a sandpaper and if you want it then you can use acetone.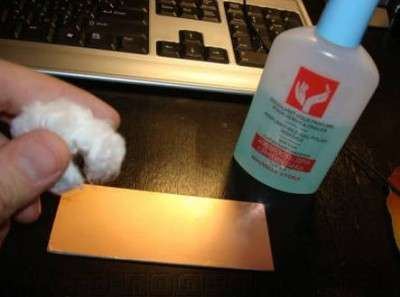 Now you need to put the printed board on the board with the toner facing down and use an iron to smooth it out. To smooth it out it is necessary to be careful and at a high temperature, the optimum temperature is considered to be from 140 to 155 degrees.
This should be continued for about 3 minutes. To remove the paper from the board after transferring the image you need to dip it in water, no matter hot or cold. Leave it there for a few minutes and with your fingers roll the paper as gently as possible until it is completely removed from the text board.
If you notice that the toner has come off in some places, there is no need to worry. This can be corrected with a permanent marker by simply redrawing the track. Use a new marker with a darker color so that it does not come off when you etch.
And so you already need to prepare the etching solution for the circuit board. For the solution it is necessary to mix 100g of chloride iron powder with 0.7l. water.
Stir until you get a rusty color.
Dip the board in the solution and wait 10 to 40 minutes, the time depends on the size of the board, the more the longer) This solution from the board etches unnecessary copper.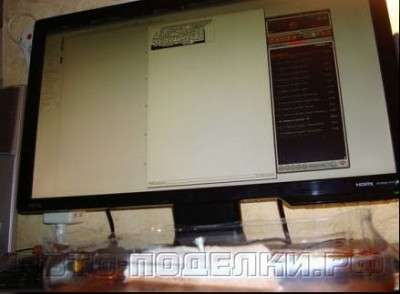 After etching you need to remove the board from the solution and rinse it under water.
Once again check for tears in the tracks, if everything is ok, you can move on. We take acetone and carefully remove toner from the board.
For drilling we use the most common construction drill, but if you have a mini drill is even better.
Next, using a soldering iron and solder we start tinning the tracks, but first we put a small layer of glycerin on the board. After tinning wash the board under water and leave to dry.
Now the board is ready, we need to fill it with radio components.
For this we need:
1) The voltage regulator LM7805 (- 1 pc. 20) The LM3916N – 1 PDIP18-2 pcs. 3) The op amp TL081 PDIP8-1 pc. 4) Diodes 1N4148 (KD522A) 150mA, 100V DO-35?
Resistors: 1)330 ohms. 2)2.2 kOhm. 3)3.0 kOhm. 4)3.9 kOhm. 5)47 kOhm. 6)120 kOhm. 7) 10 kOhm trimmer resistor, possible 3362-1-103.
Capacitors:
K10-17A H90 with a rating of 0.33 uF-1 pc. 2) K10-17A H50 with 0.1 uF rating – 2 pcs. 3)K50-35 with rating 47μf 16 volt-3 pcs. 4) K50-35 with rating 470μf 16 volt-1 piece.
First you need to solder LM7805 chip (in the case of TO220) and do not forget to put it on the heatsink, because when it heats up. Yes, and the amperage should be 1, if somehow the chip exceeds this figure, it is better to buy a stabilizer.
Well, for convenience, use special panels for microcircuits, so that in case of failure they can be easily replaced.
I hope the soldering process doesn't need to be explained, so pictures will suffice.