Service maintenance Regulation Polo Sedan
This maintenance schedule VW Polo Sedan is relevant for all cars Polo Sedan, produced from 2010 and has a gasoline 1.6 liter engine with manual or automatic gearbox.
Filling capacity of Polo Sedan
Capacity
Quantity
Engine oil
3.6 liter
Coolant
5.6 liters
MULTIFUNCTIONAL GEARBOX
2.0 liter
AUTOMATIC TRANSMISSION
7.0 liters
Brake Fluid
0.8 liter
Washing fluid
5.4 liters
The change interval is 15,000 km of mileage or 12 months, whichever comes first. If the vehicle is subjected to severe driving conditions, the engine oil and oil filter are changed twice as often – at intervals of 7,500 km of mileage or 6 months. Such conditions include: frequent low- and short-distance travel, driving an overloaded vehicle or transporting a trailer, and driving in dusty terrain. In the latter case, you should also change the air filter more often.
The official manual says that the routine maintenance should be done only at the service station, which will cost extra money, of course. To be able to save time and some money, you can carry out routine maintenance with your own hands, as it is not difficult, as this manual will confirm.
The cost of TO VW Polo Sedan with their own hands will depend only on the price of spare parts and consumables (the average price is given for the region of Moscow and will be periodically updated).
It is worth noting that the oil in the gearbox of Polo Sedan is filled from the factory for the entire period of operation and is not subject to replacement, only filled in a special hole. According to the official technical service regulations, one should check the amount of oil in gearbox every 30 thousand km, in automatic transmission – every 60 thousand km. Below is a schedule of technical service VW Polo Sedan on the timing: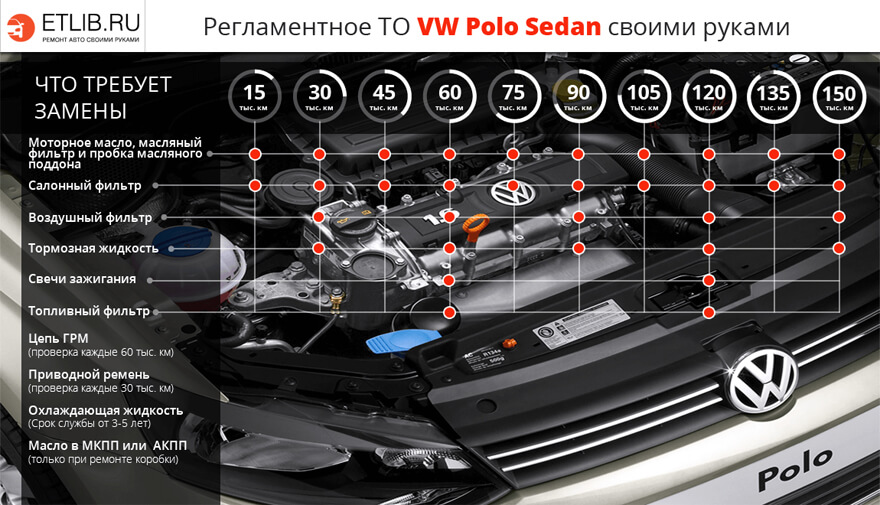 The list of works at TO 1 (mileage 15 000 thousand km.)
(original), oil Castrol EDGE Professional 0E 5W30 (catalog number 4673700060) – 4 canisters of 1 liter each, average price per canister – 750 rubles.
Replacement of the oil filter. The oil filter (catalog number 03C115561D), the average price – 2300 rubles .
Replacement of the oil sump plug. Drain plug (catalog number N90813202), the average price is 150 rubles . Cabin charcoal filter (catalog number 6Q0819653B), average price – 1000 rubles .
Checks at service maintenance 1 and all subsequent :
crankcase ventilation system;
hoses and connections of cooling system;
cooling fluid;
exhaust system;
fuel lines and connections;
joint covers of different angular velocity joints;
check the technical condition of the front suspension parts;
check the technical condition of the parts of the rear suspension;
tightening of threaded joints fixing the chassis to the body;
condition of tires and tire pressure;
wheel angles;
steering actuator;
power steering system;
check of free movement (backlash) of the steering wheel;
hydraulic brake lines and their connections;
wheel brake shoes, discs and drums; ;
parking brake; ; ; ;
headlight adjustment;
locks, hinges, hood latch, lubrication of body fittings;
drain hole cleaning.
List of works under TO 2 (mileage 30 000 thousand km).
All works provided by TO1 – replacement of engine oil, oil pan plug, oil and cabin filters. . Catalog number – 036129620J, the average price – 600 rubles . Fluid type DOT4. The volume of the system is slightly more than one liter. Cost per liter average of 900 rubles, part number – B000750M3.
Check the condition of the drive belt of the attached units and, if necessary, make its replacement, catalog number – 6Q0260849E. The average cost is 2100 rubles.
The list of works at TO3 (mileage 45,000 km)
Carry out work related to TO 1 – change the oil, oil and cabin filters.
The list of works at TO 4 (mileage 60 000 thousand km).
All works referred to TO 1 and TO 2: change oil, oil sump plug, oil and cabin filters, as well as change air filter, brake fluid and check the drive belt. VAG spark plug, the average price is 420 rubles (catalog number – 101905617C). But if you have standard spark plugs VAG10190560F, and not LongLife, they are changed every 30,000 km. ! . Fuel filter with regulator, the average price – 1225 rubles (catalog number – 6Q0201051J).
Check the condition of the timing chain. Polo Sedan timing chain replacement kit includes:
timing chain (item number – 03C109158A), average price – 3800 rubles ;
timing chain tensioner (item no. 03C109507BA), average price – 1400 rubles ;
Calculation of timing chain (item no. 03C109509P), average price – 730 rubles ;
Timing chain guide (item 03C109469K), average price – 500 rubles ;
oil pump chain tensioner (item 03C109507AE), average price – 2100 rubles .
The list of works at service maintenance 5 (mileage 75 000 km)
Repeat work of the first TO – make oil change, oil sump plug, oil and cabin filters.
The list of operations under TO 6 (mileage of 90 000 000 km. or 6 years)
All the works associated with TO 1 and TO 2: replacement of the engine oil, oil sump plug, oil and cabin filters, as well as brake fluid and engine air filter.
The list of works under TO 7 (mileage of 105,000 thousand km)
Repetition of TO 1 – replacement of oil, oil sump plug, oil and cabin filters.
The list of works at TO 8 (mileage 120 000 km).
All works of the fourth regular maintenance service, which includes: replacement of oil, oil sump plugs, oil, fuel, air and cabin filters, brake fluid, as well as check of the timing chain.
The list of works under TO 9 (mileage 135 000 thousand km)
Repeat the works of TO 1, change the engine oil, oil sump plug, oil and cabin filters.
The list of works at TO 10 (mileage 150 000 thousand km)
To perform service works on TO 1 and TO 2, to replace: an engine oil, a plug of an oil sump, an oil and saloon filter, and also brake liquid and an air filter.
Changes according to the service life
Coolant changes are not tied to mileage and are changed every three to five years. Check coolant level and top up if necessary. The coolant used in the cooling system is violet "G12 PLUS" in accordance with "TL VW 774 F". Coolant "G12 PLUS" may be mixed with "G12" and "G11". For replacement it is recommended to use antifreeze "G12 PLUS", catalogue number of container 1.5 l. – G 012 A8F M1 is a concentrate and must be diluted with water in proportion of 1:1. The filling volume is about 6 liters, the average price is 590 rubles.
Changing the oil in the gearbox of VW Polo Sedan is not stipulated by the official service regulations. It says that the oil is used for the entire life of the gearbox and during service only its level is checked, and in case of need only an oil refill is made.
Regulations for checking the oil in the gearbox are different for automatic and manual. The automatic transmission is checked every 60,000 km of run, while the manual transmission is checked every 30,000 km of run.
The oil fill volumes of the Polo Sedan transmission :
2 liters of transmission oil SAE 75W-85 (API GL-4) in a manual transmission, it is recommended to use transmission oil 75W90 LIQUI MOLY 1 liter (synthetic) Hochleistungs-Getriebeoil GL-4/GL-5 (article number – 3979), the average price for 1 liter is 950 rubles .
in automatic transmissions need 7 liters. It is recommended to pour transmission oil for automatic transmissions ATF (Part Number – G055025A2) capacity of 1 liter, the average price for 1 pc. – 1430 .
The cost of Polo Sedan maintenance in 2017
Carefully analyzing each stage of the TO, a cyclical pattern emerges, which is repeated every four inspections. The first, which is also basic, includes everything related to engine lubricants (engine oil, oil filter, plug bolt), as well as the cabin filter. The second inspection adds replacement of the air filter and brake fluid to the procedures of the first inspection. The third inspection is a repetition of the first one. The fourth inspection is also the most expensive and includes all the elements of the first and second one and in addition replacement of spark plugs and fuel filter. Then it is repeated according to the cycle TO1, TO2, TO3, TO4. Summing up the VW Polo Sedan routine maintenance consumables costs, you get the following figures:
VW Polo Sedan 2017 maintenance cost
Service number
Part number
* Price (rubles)
TO 1
engine oil – 4673700060 oil filter – 03C115561D sump plug – N90813202 cabin filter – 6Q0819653B
2010
TO 2
All consumables of the first service, as well as: air filter – 036129620J brake fluid – B000750M3
3020
TO 3
One more time of the first service: engine oil – 4673700060 oil filter – 03C115561D sump plug – N90813202 cabin filter – 6Q0819653B
2010
TO 4
All consumables of the first and second service, as well as: spark plugs – 101905617C fuel filter – 6Q0201051J
4665
Consumables, changed without mileage
Name
Part number
Price
Coolant
G 012 A8F M1
590
Transmission oil
3979
950
Automatic Transmission Oil
G055025A2
1430
Drive belt
6Q0260849E
1650
Timing belt set
timing chain – 03C109158A chain tensioner – 03C109507BA chain guide – 03C109509P chain guide – 03C109469K tensioner – 03C109507AE
8530
*The average cost is as of fall 2017 prices for Moscow and the region.
The conclusion of this table implies the following – in addition to the usual spending on routine maintenance, you should be prepared for additional costs for replacing the coolant, oil in the box or the generator belt (and other attachments). Replacement of timing chain is the most expensive, but it is rarely needed. If it has run less than 120,000 km of run, it is not necessary to worry.
If to add here the prices for services of a service station, the price appreciably increases. As it is visible, if to do all own hands, leaves economy of money at a cost in one maintenance.
Maintenance of Volkswagen Polo sedan
No matter what you want, you will have to pay for the next inspection in any case. Otherwise, you won't get the insurance, and without the cherished MTPL certificate, every driver will feel like he's on pins and needles.
Earlier, by the way, the checkup ticket was obligatory for the traffic inspectors. In its absence, the motorist would have to pay a fine. Now, everything became much simpler: you show it to inspector and – adios!
Of course it is possible to have a technical checkup just formally: you pay 500 conventional rubles, bring your car to the garage, the inspector looks at everything you need to see, draw up a report, stamps a little bit of paper, and with this document you run to the insurer. This procedure can be performed at any service station: both at official dealerships and at usual car repair shops. As a rule, this variant is chosen by experienced drivers, whose "iron horses" show rather significant mileage figures. They like to have the repairman show them their problem spots, and what to do with them, the proprietor will decide.
Therefore, the majority of motorists are serviced according to the full program in accordance with the regulations. They usually have the following way of thinking: as the car is still new, to extend the valuable time until the moment, when everything will go wrong, it will be more expedient to visit an official dealer and to "cry" on his shoulder. And at the same time to pass a service. Hands of a master, accustomed to such work, will do all the necessary things to make the car feel good. It is better than to rummage around in the garage and waste time, which for many is worth its weight in gold.
The peculiarities of the dealer service
And for good reason. The service of an official dealer will surely serve your car faster than you would do it by your own hands, but is it really necessary to do the whole list of works stipulated by the regulations during a day? In fact, it is possible to break it into mini-tasks and carefully plan "what, when and how". Especially, when we speak about first service maintenance, where the list of works includes trivial change of such "consumables" as air and cabin filters (even a beginner car enthusiast can cope with them), and rotation of engine oil and attendant elements.
This is the form of the regulation of the first inspection of the Kaluga sedan Volkswagen Polo. At the initial inspection on "Kaluzhanin" change the oil, oil filter with sump cap and "salon". Happens about 15,000 km of mileage – this is the standard interval during which it is necessary to drive the car to the service station. But it is better to change materials within a year (it is desirable in 6 months after car's purchase).
Still, we don't live in Europe: high dustiness of roads and low temperatures worsen condition of oil and saloon filter much faster. Besides driving short distances also has negative influence on quality of work of accountable elements, and as a consequence the interval of passing of maintenance service is reduced to 7500 km.
If you follow the usual prescription of the German concern, three components – oil, oil and cabin filters – are changed in the Kaluga sedan with an interval of 15 000 km. Every 30,000 km it is recommended to change air and fuel filters, spark plugs and brake pads.
The most expensive variant – passing without preparation, i.e. all "consumables" are bought directly on site – from the official dealer. This is how the psychology of many car owners is built: since the car was purchased here in the salon, you have to go to the same place for help. Correspondingly, why buy consumables by yourself if a caring ОД will provide them at service? That's how dealerships profit from uninformed citizens, increasing their prices many times over. Today the price of starting maintenance for a Kaluga sedan may exceed 12 thousand rubles.
The amount also depends on the prescribed normo-hours. The cost of a standard hour may vary greatly in different service stations.
Cost of expendable materials for maintenance of a car
How much will it cost to pass TC at an official dealer, if you prepare for the meeting in advance? The rates are different for everyone, but on average, owners of a Volkswagen Polo sedan will have to pay about 4000-5000 rubles for all the work on the replacement of materials purchased on their own.
For consumables from the wallet will have to throw out about 4000 rubles if you order from the VAG catalog:
Engine oil: SPECIAL PLUS 5W-40 – a 5-liter canister, which many owners of the Polo sedan pour, costs an average of 3000 rubles. Item number is G 052 167 M4.
It is possible to buy an oil filter for 400 rubles. – Not more expensive. Item number – 03C 115 561 D.
Sump plug – 100 rubles. Item number – N 908 132 02. will cost 800 rubles. Part number according to catalog – 6R0 819 653.
Thus if to add a list of materials necessary according to inspection regulations, with work of a master, in the most extreme case it will be not more than 10,000 roubles.
At the second checkup the official dealer may give a price tag up to 20,000 roubles. What changes in the list of services? "Cart" remains the same, but a small wagon is docked to it: spark plugs, fuel and air filters are subject to replacement at this stage for sedan Polo.
Naturally, in order not to get out of warranty, "Poloveds" need to buy only original "consumables" for their car. To the materials listed above are added:
Longlife spark plugs: one piece costs about 450 rubles. For replacement you need a set of four, i.e. the set will cost about 1400 rubles. Item number – 101 905 617 C. for Polo sedan you can order for 1100-1200 rubles. Part number – 6Q0 201 051 J.
Air filter will leave around 500 rubles. Item number – 036 129 620 J.
As a result the amount accumulates to about 8000 rubles. Let's add a solid five (if not more) for the master's work and the total cost is 13 000 rub. At service centers at official dealers about this sum of money are given to motorists who have prepared for TO.
However, even with prepared owners the official dealer can find a loophole to siphon more money from them. It is possible to refer to the list of works, not stipulated by a regulation. If it is obligatory to change filters, spark plugs and engine oil, then front or rear brake pads are included into the recommended list of parts for replacement.
The brake mechanisms on the Polo sedan are usually due for replacement at 30,000 km of mileage. All other units of the car are replaced only in case of severe wear and tear – this is where the dealer has arguments for the client to impose additional work.
Deceived once, the owners try not to get on a rake a second time, preferring to replace all elements by themselves. Here both money and nerves spent for a trip to the dealer and endlessly long waiting are saved.
The only event the owners of "Kaluzhanin" should not forget about is the counter resetting. All information about inspection maintenance intervals is shown on the dashboard display. After each service, the mileage data is reset by the dealer. The updated on-board computer display on a dark background shows red numbers – indicators of hours, gasoline consumption per 100 km, mileage and fuel scale.
Service intervals for all Volkswagen models are divided into service intervals, which take into account oil changes, and intervals without oil rotation (inspection service). The meter provides information only on the time of maintenance with engine oil change. Dates for other types of service, such as inspection service or brake fluid changes, may be recorded either on a sticker in the car interior or in the service booklet. Some machines have special service intervals, which are recorded by time or mileage and can also be reset by the TD.
The driver receives information about the upcoming service interval from the display on the "dashboard". When the ignition is activated, an icon in the form of a wrench appears on it and the number of kilometers that can be covered before undergoing maintenance. After a while, the clock icon on the display changes to a clock icon, indicating the number of days remaining before the service interval. When the time is up, a buzzer sounds when the ignition is turned on and a wrench starts blinking for 5 seconds on the display.
If you want, you can ask the computer how many days are left until the next service. It is not necessary to start the car – it is enough to switch on the ignition. There are two buttons below the display. Choose the one with two crossed rectangles and press until a pictogram with a wrench appears on the screen. If the service has expired, the data will be shown with a "minus" sign.
Finally, the most technical and sensitive thing about working with service intervals is resetting the mileage information. To reset the interval indicator to zero independently, follow the instruction:
Turn off the ignition.
Press the right button under the display with the inscription 0.0/SET and hold it.
After all this manipulation the service interval indicator on the display will reset. The counter should never be reset between trips to an authorized dealer or to an ordinary service station. Otherwise the mileage information on the display will not be displayed correctly.
Thus, "working capacity" check is an important step in "iron horse" operation for any motorist. It will allow increasing service life of the car and will give a small guarantee that the car will not one day stand up somewhere on a deserted highway in cold weather. Give "four-wheeled friend" into the paws of TD or change all the "consumables" in the garage by yourself – each "polovedy" decides this question individually.