What autocoat plasticine is for and how to use it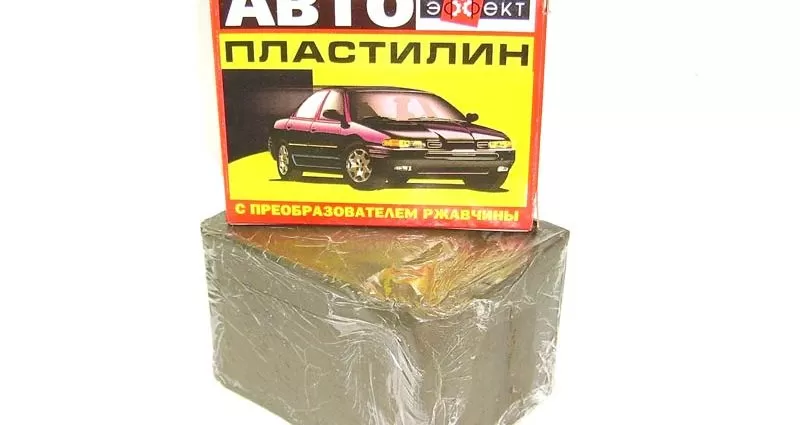 Plasticine is familiar to everyone, but its use is not limited to teaching children sculpting skills. With a slight modification of the properties it performs well a number of functions to protect the car body.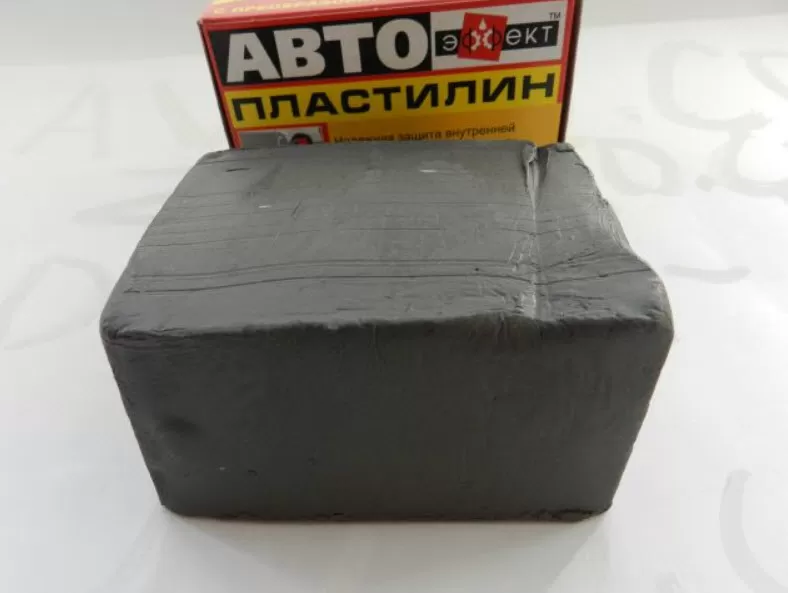 Having no rigidity and susceptibility to corrosion of structural steel panels (frame), this material contrasts plasticity and inhibitor properties.
What is autoplasticin
Rough and open joints of steel body parts cause a natural desire to close them from external exposure. Among the many sealants stands and autoplastin.
Its main property in this case will be the ability to maintain plasticity over the entire range of operating temperatures. Manufacturers strive to expand it as much as possible, improving both the basic composition, and the nomenclature of additives.
Plasticity provides and such important property, as the ease of application. Surfaces can be simply primed without the use of solvents, spraying equipment or accelerated catalysts.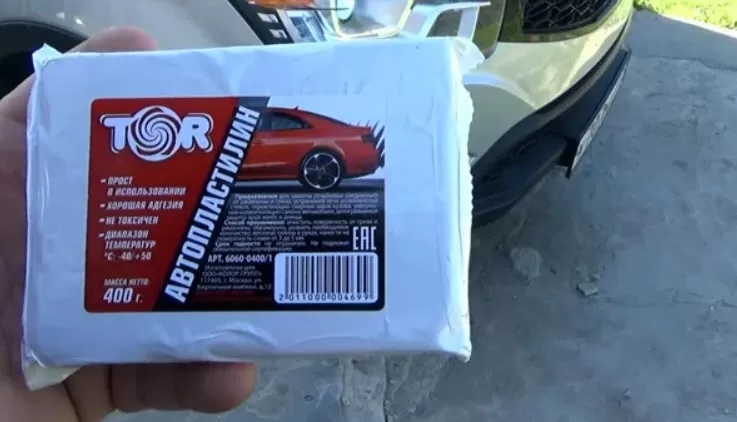 All such techniques negatively affect the protection function, while plasticine is completely neutral to metals. For rust, on the other hand, it acts as an inhibitor and even as a converter, which is ensured by the additives.
Scope of application
The areas of use of such a substance are intuitively clear to car owners, for example, the composition can be used for:
sealing of welding seams;
Sealing of gaps between loose adjoining body parts;
penetration into the cracks, if they appear in non-critical areas and do not require immediate elimination of more radical methods;
protection of underbody and wheel arches suspension parts, brakes and steering systems, wiring and fasteners;
sealing of threaded joints, which would otherwise quickly seize up and prevent unscrewing during repair;
preserving license plate markings.
Layers of autoplasticine have a positive effect on the noise insulation of the car, the material is ductile and retains its plasticity for a long time, especially if it is covered with a protective layer of antigravine or paint.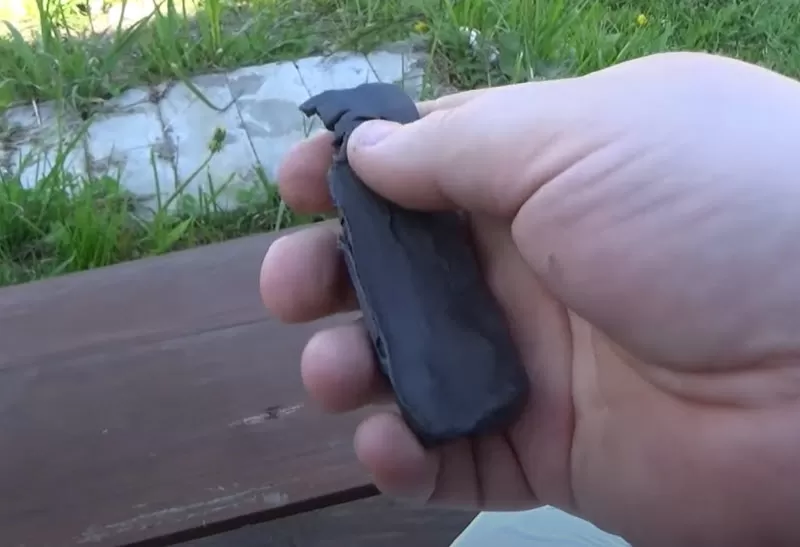 What autoplasticin is made of
The commercial samples include three main functional components:
plastic base on a hydrocarbon basis, it can be various paraffins, thickened oils and other substances, such as petrolatum;
filler, whose role is played by reinforcing powders of kaolin or gypsum;
additives for various purposes, anticorrosive, inhibitory, transformative, pigmental, stabilizing, softening.
The producer companies do not advertise the contents of the commercial samples, the development of a successful recipe contributes to the success of the product on the market.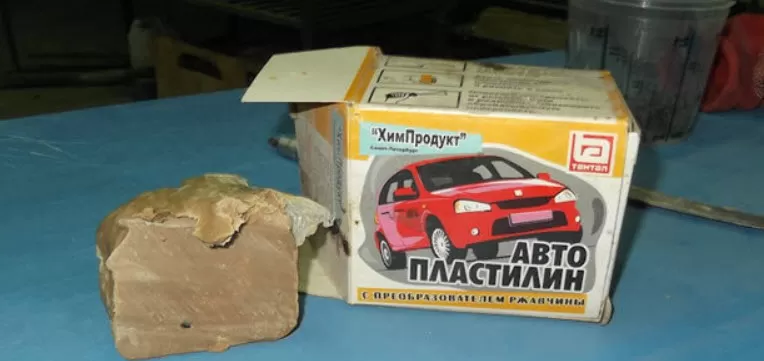 Principle of action
Thanks to the good adhesion (long-term tackiness) the product successfully adheres to the body parts and is retained even with a relatively thick layer.
The hydrophobicity of auto plastisol does not allow the main enemy of the bodywork – water – to penetrate to the iron. Additionally, the effect is enhanced by substances that react to rust spots.
They either prevent its reproduction and spreading (inhibitors), or turn it into substances harmless to iron, having no property to catalyze the oxidation process.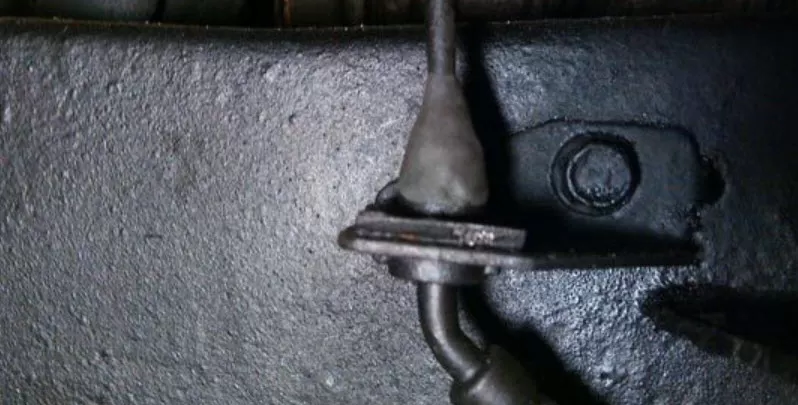 In addition to chemical protection, the substance is able to cover the metal from mechanical damage by abrasives and small gravel. Softening the impact without peeling, the coating maintains its properties and the integrity of the unstable structural body iron for a long time.
It is economically unprofitable to make stainless parts, it is easier to cover them from external influences.
Instructions for application on the car
For a quality application, the temperature of the composition and body parts should be as high as possible, within reasonable limits determined by weather conditions, and not by external heating.
The best application is obtained at +25 degrees, i.e. treatment should be done in summer. But also too soften the composition is undesirable, it must hold its shape.
Before treatment, the work area is thoroughly washed, dried, degreased and dried again. This ensures maximum adhesion.
Although the plasticine itself is a fatty product, an excessive film of extraneous grease between it and the metal will distort the elaborate effect of its work. The strength of the layer will also deteriorate.
The work should provide minimal sticking to the hands, water is not good here, but you can use a neutral glycerin.
Plasticine is applied as a dense layer, it should not form air bags and bubbles. The surface is smoothed, for maximum effect it is covered with an aerosol anti-gravel.
Top 3 best auto plastine producers
Produce such compositions a variety of firms, among which you can highlight the most popular and high-quality products.
The company " Polycomplast " makes autoplastic with a rust converter. The product is well-proven on the market, has a cellular structure, can be used for protection against corrosion, noise insulation. Easily adheres and holds well, can work with metals, rubber and plastics.
Car plasticine produced by "Chemproduct". Inexpensive, high quality product, also with a rust converter.
VMPAVTO Car Plasticine. It seals all the joints of the body parts, including windows and threaded connections. Contains corrosion inhibitors and protects against rust. Excellent adhesion to all types of surfaces.
Some companies sell products from larger manufacturers. In this case, the quality is provided no worse, the situation on the market of auto chemical products confirms that the firms "packers" that have retained their reputation, monitor the reaction of customers and increasingly rarely allow the purchase of knowingly low-quality products.
What is a car polish with a rust-converter and how to use it?
The headache of all car owners is rust, which can appear even on a new vehicle.
On sale you can find various compositions designed not only to get rid of, but also to protect the metal from corrosion.
One such product is autoplastic with rust converter – read about what it is and how this means works in the article.
What is it?
Autoplasticine with rust converter is a plastic product that looks like an ordinary plate for children's art.
Its main feature is a unique composition , thanks to which the tool is actively used by motorists.
Car plasticine has an increased resistance to water, it is not afraid of high humidity, so it is used in those places that need additional protection against rust.
Drivers call auto plaster a seam sealer, which has the ability to transform metal oxides into a protective film. This product can be rightly classified as one of the types of converters.
The composition is not toxic. It is thermo- and frost-resistant and adheres well to all surfaces. The shelf life of the product is not limited.
Working principle
The principle of operation of autoplastic with rust converter is quite simple. Its application to a certain area of the car allows you to reliably seal the metal surface.
Thanks to such protection, contact with:
water,
air,
dirt,
dust,
melted snow,
salt,
The modern car polish composition has been supplemented with a rust inhibitor.
Due to the fact that the composition of modern car plasticine is supplemented with a rust converter, it can be used instead of other anti-corrosive agents, including mastics and sealants.
Plasticine can be safely applied to areas that are already covered with rust, but first they must be cleaned.
Scope of application
On sale you can find autoplasticine for the treatment of sills, for application to the bottom of the vehicle or on the body, but the whole body part of the car to cover them can not.
Autoplasticine is applied point by point. Its main area of application is caulking. Although this recommendation is general, so before you start using autoplasticin, you need to read the instructions for its use.
The main uses are:
Treating cracked areas;
Lubrication of areas where the sealant does not fit properly;
lubrication of brake pipes;
Sealing of cavities prone to accumulation of dirt and dust;
treatment of hard-to-reach rusty areas;
protection of car fenders against corrosion.
Virtually all surfaces prone to oxidation can be treated with Autoplastic.
Special applications
You need to use autoplasticin properly. If you deviate from the instructions, there is a high probability that the remedy will be ineffective. It is his irrational use that explains the fact that some drivers consider it useless.
Procedure:
Before you take the sealant in your hands, they need to be lubricated with glycerin. Some car owners use plain water, but you should not do so. Water reduces the adhesive properties of the plasticine.
Separate from the total mass the amount of plasticine that will need to be used in a particular case.
The composition is kneaded in hands to increase its plasticity. When this can be achieved, it is smeared on the surface of the metal.
Clay should be carefully sealed all the gaps and cracks, so that the water can not get inside.
Work with the composition should be fast, so it does not dry out.
After completing the procedure, hands should be thoroughly washed with soap and water.
If you attempt to use plasticine in the cold, it will not be possible to carry out the procedure properly. It will be too rigid. Remains of the remedy are stored in an airtight plastic bag.
A video will tell you about the use of autoplasticin:
How to choose a remedy?
Choosing autoplastin for your vehicle, preference should be given to the sealant, which includes a rust converter. This will allow you to get rid of existing corrosion and prevent its reappearance.
Where and for how much to buy?
It is not difficult to buy auto plasticine with a rust converter. You can buy it in stores for motorists . If the means are not available, you can order it online.
The cost depends on the manufacturer, region and place of purchase. The average price of car plasticine is about 100 rubles.
Top 3 best
There are several varieties of autoplasticin on sale from different companies. The top 3 best means are as follows:
Autoplasticine with rust converter "Effect". Its production is engaged in the company PolyComPlast. The cost of a bar weighing 500 g is 75 rubles. Reviews read here.
Car plasticine with a rust converter from the company "Himproduct". The cost of a 300g bar – 65 rubles.
Autoplasticine from the company Polycomplast. The price for a bar weighing 500 g – 105 rubles.
Useful information
To make the use of plasticine in practice was effective and allowed to achieve the desired result, it is necessary to observe the following recommendations:
When using autoplasticin for the first time, it is necessary to carefully study the instructions.
You can apply autoplasticine only on a cleaned surface. It should not only be washed, but also degreased. Do not distribute it on wet metal.
The maximum temperature of autoplasticin is 25 degrees. Above this range, the product loses its plasticity.
The compound should be applied in areas that are not exposed to direct sunlight. Otherwise, the product will simply melt.
You can find light and dark-colored plasticine on sale. It is better to choose the sealant that is suitable for painting a car. Then it will be less visible on the metal surface.
If it is necessary to remove the plasticine, it is simply heated. To do this, it is enough to direct a stream of warm air at the putty.
You can learn about ways and methods of removing rust from the car in this section.
Conclusion
Car plasticine with rust converter helps to prevent the appearance of corrosion on the bottom of the car, on its fenders and other parts.
This inexpensive product acts as a sealant , reinforced by the properties of the converter. In order to achieve the maximum effect, you must use the composition in accordance with the instructions.