Impressions of the Tiguan tsi 1,4 150 hp after a year of use.
So, friends. Here flew a year since the purchase of the Tiguan. And today is its Birthday! Although, it has been a little over a year, since I bought it in the last days of October 2018, but I do not remember the exact date, and the DKP was put away somewhere far away, and the insurance was bought in advance, so I will celebrate November 1. Practical, convenient, and whatever. During the year I have accumulated a few impressions, which I will share with you, without falling down with the propagandized marketing or technical points. Much of what I will now talk about, I have already noted in the entries on the logbook, who read, you do not have to read, just look at the pictures and grin.
Tiguazik honestly, sincerely and faithfully plowed this year, faithfully performing the entrusted to him duties, pleasing his master, in return for receiving timely quality maintenance.
The first thing I would like to note separately is comfort. Comfort is relative, certainly. Comfortable driving of 2-ton automobile due to electric booster, suspension and high profile of stock tires, comfortable cruise control, comfortable seats, comfortable heated windshield, comfortable windshield washer, comfortable heating of low-volumetric, but tractive engine. There are many pleasant comfortable little things in Tiguazik, in spite of the fact, that I have the base complete set with a package "for winter" (or whatever it is called). Further details.
Low-volume turbocharged engine TSI 1,4 150 СZDA which everybody is afraid of (and me, too, by the way) has pleasantly surprised with draft from the bottom, capacity which allows shooting out of stream without twisting revolutions of the motor more than 3000. At overtaking on highway on a principle "pedal to the floor" revolutions rest at 5000, but any gain of power is not felt any more. But I am not a racer – it is enough for me. From the point of view of practicality the engine pleases with scanty appetite of Lukoil 95-rd petrol, quick warming up of cooling liquid, and also practical silence of the engine. You almost can't hear the engine from the interior. Sometimes it is not clear from the sound, whether the engine is started or not. Noise isolation is probably stock. It also does not chew oil and does not press through oil seals. It is clear that the engine is new and the driving style is retired, especially on a cold engine.
Six-shot automatic! Wet Robot! DSG-6. Basically, if you compare it to the six-charge hydro-mechanical automatic of my former Jetta, I don't see the difference from the point of view of a regular user and a simple peasant. Although the torque converter had more kick-down sluggishness. The DSG-6 has no problems with this kickdown. But when the engine is cold, the DSG-6 keeps the first gear for a long time and shifts to the second gear only at 2500 rpm. Or with the right paddle. If the car is warmed up, there is no such problem.
Mono-drive for such a car causes some inconvenience. Tiguazik is a two-ton mahogany with a hint at some hypothetical ability to overcome off-road. But exactly in this respect Tiguan with a mono-wheel drive is simply hopeless. It is too heavy for deep snow, easily slips and can land where a light Jetta would pass. Taking into account, that the engine and the box do not dispose to long attempts to play in shitnoses, it is better not to risk and to remember, that Tiguan with a 2-wheel drive is only fatty passenger car. Yes, it has enough traction to crank both front wheels, even if one of them is suspended and flailing the air. All last winter I carried with me two shovels (a steel shovel for ice and a plastic one for snow) – Tiguazik always coped without digging up. So far. Riding in the Jetta, digging has been an issue from time to time.
I like the brakes. Thank Buddha, I haven't had to resort to emergency braking yet, so I haven't had time to really appreciate it. But it is convenient to dose the pedal. The car behaves according to my expectations both in winter and summer.
The interior and the trunk are comfortable and large. In the driver's seat there are no claims at all. Controls are standard, all the buttons and switches are in their places, intuitively pressed. The seats are comfortable, comfortable. Front passenger seat folds forward, rear sofa folds down 60/40 + the central part is folded separately. It is convenient to carry the same skis and children at the same time. The trunk is huge. Had to carry a lot of cargo and passengers (often at the same time). Half of Arkhangelsk can be easily crammed into the car.
Noise isolation is not stock. The dealer gave me "a present" – bottom and arches isolation. The quality of the work I have not yet been able to assess. Did not remove the plastic pads under the bottom and arches, but the amount of noise is quite low. Very comfortable.
And now we have to discuss the most interesting part! The flaws! The first thing I do not like is the electric window heating! Despite the fact that I like it very much! However, because the threads do not reach the very edge of the glass on the left, and the wipers are sweeping water, snow and ice there. The visibility near the left post is considerably impaired.
The second unpleasant moment also brings discomfort. The dealer "presented" me a set of original rubber mudguards. But the front "paddles" are too small, that is why the snow from under the wheels adheres to the thresholds and the plastic part of the doors. Siliconizing these places doesn't help much. Only mechanical cleaning with a brush and scraper.
The third point – too thin steering wheel. If it were a little bit thicker it would be more comfortable.
The forth point is the climate control in the rear passengers' area. From the driver's seat I can't control rear seat heating. Some passengers are technically illiterate, untrained or shy to switch on or off the ass-warmers.
Well as a whole, I am satisfied with the car. I can't say that I'm completely happy with it, but at least I'm positively satisfied. For some people the car is a part of the family and ranks between the wife and mother-in-law. For me it is just a good quality piece of iron and plastic, performing the functions I need for my own money. (I'm sure the heavens will fall to the ground after such bold and desperate statements). But I never get the urge to buy useless non-functional gizmos on alike, or low-profile 21-radius wheels. I'm probably too old for all that, so I just drive and enjoy it, as I wish everyone!
The Russian Tiguan now has a Go!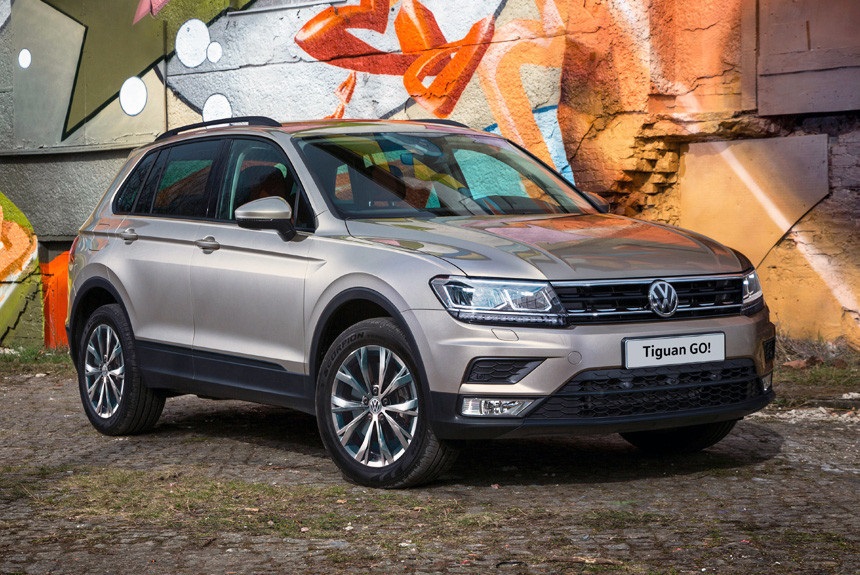 Igor Vladimirsky
The price list for the Volkswagen Tiguan has been revised again. The last time it was in September, when there were bundles Exclusive (instead of Highline) and Winter Edition. Now the "winter" version has given way to a version of Go!, which is also created on the basis of the basic Trendline (climate control, heated front seats, heated steering wheel, media system, 17-inch wheels) and differs by expanded equipment.
As in the Winter Edition, heated windshield, front and rear parktronic, LED headlights and electric folding mirrors are added. And in addition now there is a rain sensor, expanded functionality of the media system (Apple CarPlay, Android Auto, Mirrorlink), front seats with an expanded set of adjustments, three-part backrest and folding tables on the second row. Tiguans in the Go! version are offered with three combinations of engines and transmissions, and the full price list now looks like this
| Specification . | 1.4 TSI (125 hp) 2WD MT6 | 1.4 TSI (150 hp) 2WD DSG6 | 1.4 TSI (150 hp) 4WD MT6 | 1.4 TSI (150 hp) 4WD DSG6 | 2.0 TSI (180 hp) 4WD DSG7 | 2.0 TSI (220 hp) 4WD DSG7 | 2.0 TDI (150 hp) 4WD DSG7 |
| --- | --- | --- | --- | --- | --- | --- | --- |
| Trendline | 1 659 000 rubles | — | — | — | — | — | — |
| Go! | 1 739 000 rub. | 1 839 000 rub. | — | 1 939 000 rub. | — | — | — |
| Offroad | — | — | 1 969 000 rub. | 2 109 000 rub. | 2 309 000 rub. | — | 2 309 000 rub. |
| Connect | — | 1 939 000 rub. | — | 2 039 000 rub. | — | — | — |
| Exclusive | — | — | — | 2 149 000 rub. | 2 349 000 rub. | — | 2 349 000 rub. |
| Sportline | — | — | — | — | 2 679 000 rub. | 2 809 000 rub. | 2 679 000 rub. |
It is possible to add a package Comfort Plus for 51500 rubles for Go! configuration, which includes a rear-view camera, keyless entry system, push-button start, electric fifth door and anti-theft system. It's also important that these Tiguan have no need to pay extra for metallic paint (in the case of other versions, it costs 19200 rubles). Cars are already available from dealers.