2. automatic transmission in Touareg (typical problems, necessary consumables)
I noticed that the automatic has a decent bump when shifting from first to second gear. I started to investigate the issue. Since my good friend owns an automatic transmission repair shop, it was not a problem to find necessary information.
It turns out that Touareg is equipped with Japanese automatic transmission TR60-SN made by Aisin.
This modern six-speed automatic transmission TR60-SN (09D by VAG) Aisin launched in 2003 for rear-wheel drive Porche Cayenne with an engine from 4 liters. It was developed simultaneously with the first 6-speed automatic for front-wheel drive cars – TF60-SN, and was tested since 2001 on 2-liter Altezza on Japanese roads.
Audi uses the 09D for Q7 SUVs with 3 to 4.2L diesels.
VW – for all Touareg, with engines from 2.7L (diesel) to 6L. The most frequent customers for the repair of this automatic transmission are Touareg 3.2l – 4.2l until 2006. Since 2011, this exhausted automatic 09D installed and in Tiguans with engines from 2l to 3.6l.
Since 2007, Toyota has been installing the Icine AW TR-60SN on larger (over 4.6L) rear wheel drive and AWD SUVs Lexus and Landcruiser. There are several sub-modifications of this transmission for its torque class, different planetary rows, the number of friction and steel plates, the size of some nodes and parts.
These boxes are also installed on the LEXUS GX460, LX570, IS500. TOYOTA ALTEZZA, HILUX SURF (since 2009), LAND CRUISER (since 2007).
Typical problems with 09D automatic transmission – TR60SN.
This transmission was designed by Japan's Aisin to be "unkillable," like all of its rear-drive automatic transmissions. However, each automaker adjusted its TCM (transmission computer) "democratically" to allow the driver to decide with the help of pedals – to take care of automatic machine or to burn friction clutches and torque converter, pushing the gas pedal to the floor of the car. Computer scientists of Volkswagen turned out to be especially "democratic".
The oil is synthetic, it is considered unchangeable, therefore orders of a filter with a metal net and a repair set of gaskets and seals usually occur together with replacement of burnt clutches and steel disks. The oil in the box itself is approx. 9 liters. The rest goes to the radiator. Each automaker uses his own oil and makes all fine tuning of TCM and hydroblock for it.
Volkswagen, of course, can count everything. But you must agree that any technical liquid has its service life and I consider total nonsense the statement of officials that the liquid in automatic transmission is not changed and is filled for all service life of a car. Again, what does "service life of the car" mean? Is it 1 million km, or just a warranty period of 100,000 km? Not clear.
I'll continue on the technical side. The mechanical part of this automatic transmission from Japanese Aisin is usual reliable for all rear-wheel drive cars, but the electrics have all features, peculiar to the first 6-speed automatic transmission of 2000-2003, and especially to related transmission TF60-SN.
The most common friction burns are the K1 package 136106A and with them the 136126A steel discs at the same time.
The main headache of 09D at VW – because of overheating of oil and burning of hydraulic clutch friction lining, the hydraulic valve plate with solenoids (hydroblock, Valve Body #136740VA) gets clogged and breaks down.
Hydraulic boxes of the first generations of 6-speed automatic transmissions had quite a few "childish" illnesses. Mainly related to the settings of TCM. It was manifested by the problems in gear shifting after runs of 100 tkm. And the term of appearance of problems and their type depended very much on the computer settings and the manner of driving. Wear and contamination of the solenoids and valves of hydroplate led to the abnormal operation of the system.
A few years after the release the hydro-blocks were actively modified, reprogrammed, correcting the typical for those years illness: the rapid wear of channels, oil leakage, and as a consequence – pressure drop in the system. Because of the lack of which the bushings and the "iron" itself were already suffering.
TR60-SN had a modified hydroplate from its forward model TF60-SN brother.
Hydraulic plates of the first issues (before 2006) were repaired a lot and not very successfully with urgently produced Sonnax repair kits for reaming the worn out channels of hydroblock and inserting hoses for new plungers. But this delicate work turned out to be unfeasible for the majority of services; the complicated installation and tuning of the system did not lead to the solution of the problem and the cars were soon coming back with complaints. The solenoids were not produced for them and they were the first to break down.
In most cases they were just replaced after a short service life (about 160-200 thousandths of a year).
The hydraulic unit 09D for all cars was fundamentally modified at the end of 2005. The TR 60SN has 6 linear solenoids (1 black – TCC #136421 and 5 green – EPC, K1, K2, K3, B1 – #136431) and 2 on/off solenoids (88 and 89, which do not bother much with their problems). Masters write off problems with oil pressure and combustion of packs to the line regulator solenoids and wear and tear of hydraulic plate channels (more about PWM solenoids).
Due to the fact that Audi Aisin solenoids were not available separately (until 2013), it is necessary to replace the entire worn out hydroblock with solenoids. Some people re-bush the solenoids when that solves the problem. There are now non-original American solenoids for the 09D and 09G, and replacing them often solves the hydroblock problems.
In other cases, craftsmen order the TR-60SN Transgo hydroblock repair kit to restore the valves
Valve plates differ in the years of manufacture (before 2005 and after) by the added pressure switch sensors (Pressure Switch), as well as by the presence of TURBO (Porsche).
Quite often there are hydraulic blocks for Touaregs. And they also differ in terms of engine power. For Touaregs 4.6L has its own valve plate.
Wear of hydroblock channels leads to the fall of pressure in clutch packs and friction clutches – they slip, getting hot. The K1 and K2 clutch packs burn out first, followed by the B-1 brake pack. Friction clutches and steel discs in the other packs are virtually unchanged at the first overhaul visit.
Resource of the first TR-60SN often did not exceed 100 thousand miles, but after replacing the consumables and installing a new Hydroblock this fairly reliable (for 6 steps) transmission will easily pass the second and third hundred, if to ensure cooling and cleanliness of the oil and follow the simple restrictions in the operation in the hot season.
For these automatic transmissions masters strongly recommend various measures to improve cooling of transmission, for example – the installation of an additional radiator (for some models, where the regular radiator can not cope and the box every summer overheats, it is worth checking the working order of the regular thermostat).
Also aggressive drivers are advised to check the oil regularly and change it as soon as it gets darker and loses transparency.
Japanese cars with this transmission are programmed more carefully, they have enough cooling, and the settings of electronics limit the driver to rock on the mountain roads and successfully protect the oil from overheating above 120 degrees and too rapid wear of the clutch locking friction.
In later versions of the TR-60SN the pump bushings were replaced with bearings and the stator design was slightly modified.
What do we have in the dry residue and how can the owner of a Tuareg apply the acquired knowledge?
First of all it is necessary to:
1) Flush the automatic transmission radiator. This will require removing the front bumper.
2) Preventively replace automatic transmission thermostat. It is because of its failure that you risk overheating the automatic transmission. For this purpose you need the thermostat and o-rings.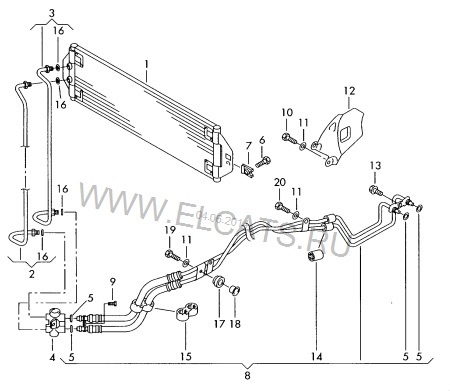 I recommend to take thermostat – Behr company number TO 9 75 (2 900 rubles), it is in original box. Opening temperature is 75 C.
You will also need O-rings: O-ring 2 pcs. (3W0 301 323 VAG), 100 rubles per 1 pc. O-ring 2 pieces (N 906 660 01 VAG), 50 rubles per piece.
You can also buy non-original sealing rings in sizes: 3W0 301 323 – diameter 11,1 mm x thickness 1,75 mm N 906 660 01 – diameter 11,5 mm x thickness 3 mm In principle you can change them by state, but honestly – they cost a penny.
3) To change "irreplaceable" liquid in automatic transmission. This requires: A gearbox pan gasket (09D 321 371 VAG – 2 750 rubles) Gearbox oil filter (09D 325 435 VAG – 2 200 rubles) Gearbox filter gasket (09D 325 443 VAG – 250 rubles) Automatic transmission fluid – 9 liters (G 055 025 A2 VAG – 1 150 rubles per 1 liter, total 10 350 rubles).
As we see the original consumables are not budget-friendly, so I decided to use quality German analogues: gearbox oil pan + filter (set Meyle 1001370002 – 1 800 rubles.) Gasket of a gearbox filter (09D 325 443 VAG – 250 rubles.) Automatic transmission fluid RAVENOL ATF T-IV Fluid – 9 liters (approved by VW, replacement every 60 000 km. – 350 rubles. per 1 liter, total 3 150 rubles)
As for fluids for automatic transmission Tuareg I see a whole debate on the internet. But I see no reason to overpay and pray for the original when there are analogs 3 times cheaper that are certified for use in Aisin automatic transmission and meet all the tolerances of Volkswagen.
I was not lazy and wrote a letter to the German branch of Vlokswagen about the compliance of Ravenol oils to all requirements of Volkswagen. In reply I got the official approvals of VW for RAVENOL lubricants, certified by VW representatives. Now I can sleep in peace )
I bought everything, waiting for delivery. I will report about results of replacement after consumables arrival.
Service manuals for the box: 1) Detailed box manual in English here 2) Operating instructions in Russian here
Used Touareg – a bargain or a "headache" on wheels?
Thanks to the collapse of the prices on the used-car market, the cars that many used to dream of are now very affordable. Volkswagen Touareg did not pass this bowl and SUVs, not bad samples of which can be purchased for the price of "stuffed-up budget car".
The "advanced" buyer knows that a powerful motor, solid exterior and comfortable interior are only the visible part of the iceberg when buying a used car. Much more important is how much the exploitation of the cars, the wheels of which have run more than one hundred thousand kilometers, can cost. Each unit and detail in the car has its own service life. Practice shows that many cars of the middle 2000's cannot boast with the reliability and unpretentiousness of their predecessors from 1980-1990's, which sometimes ran millions of kilometers without serious repair.
People who specialize in their repair and maintenance know better than anyone else about the realities of used cars. That's why I turned to experts whose bread is the repair and service of Volkswagen SUVs.
The first and main stumbling block is the engines of the Touareg. "Voracious" petrol 3.2, rare in our latitudes 4.2 and 6.0, dynamic 3.6 and, certainly, much more economical and tractive turbodiesels with working volume of 2,5, 3,0 and 5,0 liters. Let's begin with them.
It would seem that a simple and unpretentious at first sight 2,5-liter turbodiesel, which many owners reproached and reproached for lack of capacity and traction, in fact remains such only up to run 250,000 km. Then, in 80% of cases there are problems with the cylinder head, the main reason for which is a crack in the oil or fuel channel. Sometimes it is possible to weld on a crack with argon, but there are no guarantees. Purchase of a new cylinder head in neighboring Poland will cost 2000 euros. And this is for the bare head, and another $500-600 will be taken for work.
At the same mileage will require replacement of clutches of the generator and air conditioner. The question price is about $700. It is also recommended that the rubber seals at the injectors be replaced every 150,000 km. Otherwise diesel fuel will get into oil, which negatively affects service life of camshaft. A repair kit for one injector will cost the owner $10 for Bosch or $25 for the "original". Multiply that number by five and add the cost of work ($100/5 injectors).
By the way, the cost of original camshaft is $1000, and the service life is 200.000-250.000 km. "China" is twice cheaper, but there resource is only 50,000-70,000 km.
Another "problem" of the 2.5 TDI engine is a tandem pump. Its resource is exhausted after the run of 150,000 km. The main sign of failure is the engine and gearbox in diesel fuel. Hence the cars fires. The price of a turbine is $500.
The durability of the turbine in almost all Touareg is in direct dependence on oil quality: if you have saved on it, get ready to replace or rebuild the turbine. The price of the question is $1500 for the turbine or $300 for its restoration plus $100 for the work on removal/installation.
A "snotty" valve cover is another expense item. The valve cover can last up to 100,000-150,000 miles, then the problems begin. It is not sold separately, the cover assembly costs $300.
The 2.5 TDI pump injectors do not cause any problems. And if it is necessary to replace them, they are relatively inexpensive: $300-350 for a new injector and $120-150 for a "used" one.
The 3.0 TDI engine with the Common Rail fuel system is reputed to be more reliable and unpretentious, there are no complaints about its tractive-capacity characteristics. But even here not everything is so happy. The weak point of the 3.0 TDI is the intake manifolds. The plastic in the area of flap axle clamping breaks even after 150.000 km. First the right choke malfunctions, then the left one, and then the center one. Repair costs $500, $500 and $250 respectively. Total is $1250. And that's in 80% of the cars coming in for repairs.
At 200,000 km run, the 3-liter engine starts having problems with the EGR valve: its cooler leaks, after which the electrical part fails. The price of question is $1000, and only a specialist should do the replacement, otherwise you can make a mess.
Not so often, but still there are problems with the 3.0 TDI fuel equipment. The body of the fuel pump is made of aluminum, and the plunger is made of steel. If the pump fails, as a rule, almost all elements of Common Rail have to be replaced: nozzles, sensors, ramps. The price of the issue when replacing is $5000. Attempts to repair or replace faulty units are not widespread. Nor is it possible to speak about the mass nature of the fuel pump failure itself (20%).
There is no established statistics for service life of four timing chains: some chains run 500,000 km, other chains run 200,000 km. The replacement cost (labor + spare parts) is $5000.
A 313-horsepower 5-liter power-unit with 750 Nm of torque crowns the line of Volkswagen turbodiesels. For the V10's steam-powered thrust, the owner has to pay, and pay a lot. In addition to fuel consumption of 15-20 l/100 km, this car requires a monthly infusion of $800-1000 in intensive operation. Among the weaknesses of the 5.0 V10 are the right tandem fuel pump, right turbine, alternator and air conditioner clutches. Repair costs and life are the same as in the 2.5 motor.
The 6-cylinder 3.2 and 3.6 gasoline engines are virtually the same in terms of typical faults. That said, it is better to prefer the latter for purchase. The most expensive items in gasoline sixes are replacement of timing chain ($5000) already at 150,000 km run, replacement of muffler's bellows (in "original" with a catalyst) at 100,000 km run ($1100-1200). However, it is possible to save money by installing mufflers without a catalytic converter, which will cost up to $100-120.
On the 3.6 engines the oil pump is changed along with the chains in 80% of cases.
Virtually all Touareg gasoline engines are very critical to engine washing, after which the likelihood of ignition coil failure increases dramatically.
Gasoline Touareg with 4.2 and 6.0 engines are rare guests in our area. The prices for them in the Russian Federation are sometimes much lower than the abovementioned modifications. This is no accident, since the repair of such power units in most cases are made with removal of the motor, the parts are expensive, and the work takes a lot of time.
There are no frankly weak spots in Volkswagen Touareg transmissions, except, perhaps, for the driveshaft outboard bearing. It costs $250 to replace, and it is better not to rebuild anything, but to install a new one.
It goes without saying that the clutch of the mechanical versions is far from being eternal. It needs to be replaced at 150,000-200,000 km. In the variant with dual mass flywheel replacement will cost $1500 to the owner using original spare parts and $800-900, if LUK units are used. But it is necessary to remember that the "non-original" lives less – 80,000-100,000 km.
There are no problems with automatic transmission, only 3-liter turbodiesels have issues with automatic transmission control harnesses, where the oil from the box will get. Everything is "solved" by replacement of harnesses and seals. If the automatic is broken, the repair will cost $2000.
Sometimes the front axle starts humming in the gasoline 3.2 and turbodiesel 5.0. The cause is in the bearings. Of the four bearings, two are Polish, two are Japanese. In the early stages it is "cured" by replacing the bearings ($250), in the later stages by replacing the axle.
Also on the 5.0 can fail transfer case motor wiring. The cost of the issue is $50.
Cars with optional rear axle lockup also suffer from poorly laid wiring. It has to be rewired, but the cost is already $750.
Suspension costs in the Touareg are in line with the class of the car. With heavy use, it needs to be "tampered with" once a year. Replacement of rear silent-blocks ("license") will cost $500 and labor to the owner, and front ones with a subframe – $600-650. And subframe silent blocks must be original.
If you want to replace front arms, add more $700, rear – $1200.
Air suspension in Touareg is quite reliable and very comfortable. It is only necessary to look after fittings. One nipple costs $100. They fail, as a rule, once in two years (two winters).
Sometimes the suspension level gauges fail. In this case, you will have to shell out $150 apiece. Even rarer are problems with the compressor, $1000.
To the frequent problems of all Touareg should be referred malfunctions of electric harnesses in the area of driver and passenger feet. The reason is the moisture, getting in this area in winter time. It is possible to avoid trouble by preventing moisture from getting into these areas. Otherwise, everything will end up with the replacement of harnesses.
In conclusion, it is worth noting that despite the considerable list of possible repairs, Touareg is quite popular among buyers. Its schoolmates demand no less, and sometimes essentially bigger money injections at runs over 200.000 km.
Strangely enough it sounds, but my interlocutors, who brought back to life more than one Touareg, on a question about their preferences in a variety of offers of this model Volkswagen on the market answered that it is unequivocally diesel versions with motors 2.5 TDI and 5.0 TDI. By the way, that is what they drive. As for the above mentioned faults, the recipe is simple: the lower the price, the more thorough the diagnostics should be. The low prices do not appear on an even place. Having bought such SUV at low price, you should not expect that you will service it for a penny or with your own hands. So you must be ready to pay, if you want to get pleasure from the car, and not to admire it out of the window.