6 alternatives to Yandex.Navigator. Choose your own.
The vast majority drive on Yandex.Navigator. Some go to Google Maps. In fact, the choice is much broader, with some options suiting you better.
A navigation program is just a program and it runs on a particular OS, using its functions to access files, screen, GPS. The vast majority of navigators and car head units today have the Android operating system, usually at least version 4.2. Windows CE is less common.
1. Navitel .
on Play Market
Rating of users 3.8 (195 thousand reviews)
This is a well-known and well-proven program that has versions for Android, Windows CE and iOS. The number of reviews for the Android version is not very high because most of the users use the WinCE version.
The program is free, but the maps (except for the world maps) for it are paid. You can buy a map of all of Russia or separately by districts. Often navigators with Navitel, sold in stores, have a license for the maps of Russia, Kazakhstan and Belarus. The license is tied to the serial number of the device. There are no third-party suppliers of free maps for Navitel. Maps are updated free of charge 1-3 times a year. To use the new maps, you usually need to update the program.
Map updates can be downloaded directly from the program Navitel, but judging by the reviews this process sometimes gets stuck to infinity. The good thing is that in Navitel.com you can download the map files separately and then copy them to the desired folder on your device.
The source of the maps is Roscartography (Federal Service of Geodesy and Cartography of Russia). Detail maps average. Intra-block passages are drawn partially, sometimes conditionally. However, there is a 3D mode (which means that the map contains information about the heights of buildings). Maps offline – for navigation does not require the Internet.
Additional Navitel features
You can download SpeedCam data (this is a unified database of road warnings about speed cameras of the traffic police, road police posts, speed limits and other "dangers" for the driver). Traffic and weather information is downloaded online, you can add/indicate events (an accident, for example).
Our assessment
Routing, guidance to the goal, alerts – all of this works very well in Navitel. The only drawback is that voice search is not provided. In general, it is a convenient navigation for long trips, without access to the Internet.
An interesting fact: the developer is from the Czech Republic, but the program is geared for Russia (or rather, the former Soviet Union).
2. iGO Primo
on Play market
Rating of users 3.2 (16 thousand reviews)
Navigation uses TeleAtlas maps, which are updated quarterly and cover over two hundred cities in Russia, as well as more than 70 countries. The best detail is the European zone. The developer is based in Hungary.
Additional Features of iGO Primo
iGo Primo has a special version called iGO Primo Truck for trucks.
Our assessment
Routing, destination guidance and alerts – good. The iGo navigation is suitable for driving in Europe. In Russia, it is not comfortable to use because of the poor map detail.
Yandex.navigator
on Play Market
User rating 4.6 (1 million 167 thousand reviews)
The program is free. Maps are loaded online, but you can download the necessary maps of a particular area (general or just roads) and use in offline mode. There is a well-established voice search, which requires fast and stable Internet. Recommendations on the lane before the junction are implemented very clearly and conveniently.
Additional features of Yandex.Navigator
There are warnings about traffic police cameras and speed limits, it is possible to leave a comment or a warning on the map. There is a search for parking places, as well as remote payment for fuel at many gas stations. There is a routing for trucks.
Our assessment
Routing, maintenance, alerts, traffic – everything is excellent. And maximum useful information. Convenient app for a metropolis with a stable and fast Internet.
4. 2GIS
on Play Market
Rating of users 4.5 (904 thousand reviews)
The program contains off-line maps of major cities (the Internet to work with them is not required). The maps themselves are maximum (often too much for the driver) detail.
Additional 2GIS features
When you find an organization the programme will show you the entrance to the building you need. The map is not only shown in 3D format, you can search for the necessary department on a particular floor of a supermarket.
Our assessment
Navigation, traffic (requires internet access to display it), speed limits – very good. Convenient app for large cities, with a detailed search for organizations. More suitable not for a driver, but a pedestrian or, for example, a courier who moves a lot around the city in search of a specific organization, office.
5. Google Maps
on Play Market
Users' rating 4.1 (11 million reviews).
Google Maps is geared towards the United States and Europe. Maps are downloaded online. Therefore, it is difficult to use the program in areas with unstable Internet. The details of maps are below average. As is the relevance of additional information (especially in the regions). Voice search is available, but on the level of voice recognition and search algorithms, Google Maps is inferior to the service Yandex: often finds the wrong thing and not there.
Our assessment
The most accurate in major cities, but even there in terms of navigation is inferior to the aforementioned services. Often does not have accurate data on recently built areas. In the regions of Russia is practically not applicable.
6. MAPS.ME.
on Play Market
User rating 4.6 (1 million 160 thousand reviews)
Navigation is geared for travelers and allows you to download maps of the desired area, as well as tourist guides. Service uses OSM maps – OpenStreetMap – a public map of the world, which is constantly updated on the principle of Wikipedia. If some part of the map is not detailed enough, you can add the missing information on the site OpenStreetMap (including your own GPS-tracks) and download the updated map with your additions.
Our assessment
This navigation makes sense only when traveling abroad, if you plan to visit local attractions and need an audio-guide.
7. OsmAnd
on Play Market
User rating 4.7 (82 thousand reviews)
The program allows you to download up to seven maps for free. You can save money and download more maps. For example, you can download not only the Samara region, but the whole Volga federal district and so on. The main advantage of OsmAnd is that this service also uses OpenStreetMap maps.
Additional features of OsmAnd
There are navigation modes for public transport, car, motorcycle, bicycle, pedestrian, track recording. And also recommendations on the lane before the junction and other useful navigation tips. Geo-information from Wikipedia can be loaded through the Internet.
Our assessment
It's good that it is possible to download a map of any point in the world. At the same time, the detail is very good. Perhaps the only drawback is that there is no voice search. Suitable for travelers, and will be equally convenient for the driver and the tourist without a car.
An interesting fact: OsmAnd is very popular among motor and bicycle tourists, that is why the navigation often shows unpaved roads in the fields and paths, which other navigations do not know about.
The recommendations of "Behind the Wheel."
For a big city, with good mobile Internet is best:
For out-of-town trips:
Navitel
Yandex.Navigator
OsmAnd
For trips abroad:
Just don't forget to take care of downloading the right map in advance, before the trip.
15 best phone navigators for all occasions
Google has spent a lot of time creating maps with a very high level of detail and extra features like Street View and satellite photos.
However, Google Maps is poorly implemented with many user-demanded features, such as full map downloads for offline use and navigation with more stops. Fortunately, these options are available in other applications, some of which are free.
Yandex.Navigator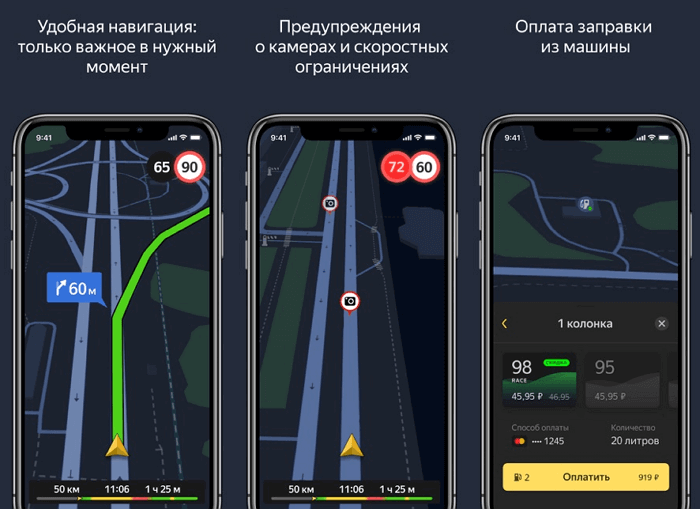 Trying to find a good road map for Russia or Ukraine can be quite difficult. Fortunately, Yandex has released its own navigator. It knows how to calculate the shortest route, shows traffic jams and accidents on the road. In order not to be distracted from driving, you can give voice commands. Just say "Hey, Yandex" and tell the navigator what you need to do, for example, build a route from your current location to the nearest gas station. Three of the best routes, including the shortest one, will be shown for you to choose from.
You can download maps for offline use, enable 3D mode, receive important notifications, and use auto zoom. The navigator can automatically switch between day and night mode, or you can set it manually. You can set your destination either with a simple tap or by using the search function. And you can also use the search to find all kinds of establishments: from ATMs to bathhouses. If there is a toll road – it will be marked with the appropriate icon.
The navigator is available in Android Auto – which means it can be streamed on the car's screen while you're driving. Find everything you need while driving: location searches, routes to avoid traffic jams, voice prompts with directions and warnings about your speed and traffic cameras. Your car and phone must support Android Auto to use these features. You must also be in Russia and have a Yandex Plus subscription.
Maps.me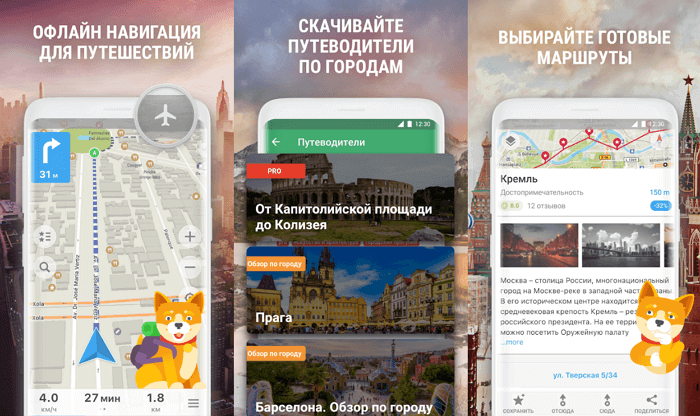 Maps.me features downloadable maps for offline use, turn-by-turn navigation, and map updates via OpenStreetMap. Its functionality allows you to make bookmarks, to do an offline search, and to get the latest information about traffic (when this information is available). The application is completely free, there are no paid updates. Ads are shown, but it is not inconvenient.
The database of places of interest is impressive: restaurants, shopping malls, free Wi-Fi zones, public toilets. Keep in mind that you will not get up-to-date information about traffic in real time. The application is designed for offline navigation when there is no Internet. You get full support for navigation in 345 countries, as well as the ability to transmit data about your location to your loved ones.
In the offline mode, the following is available: full-featured search, voice navigation, alternative routes, and information about public transport. If you have access to the Internet, you can even book a hotel room directly from the application.
When you run Maps.me for the first time, it will not ask which region you want to download a map. Instead, it will automatically start downloading for your current location. Navigation options include getting around by car, motorcycle or bicycle, on public transport, in a cab or on foot.
Sygic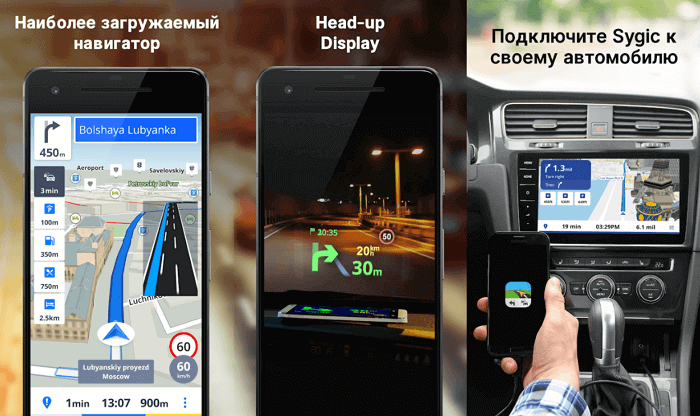 Sygic is a very popular navigation application. So far, it has been downloaded by more than 50 million users. As with the other apps on our list, you can also download maps for offline use from Sygic, but only if we're not talking about the commercially available TomTom maps. Each map is updated several times a year, so the information will always be up to date. There is a paid add-on that projects the navigation screen on the windshield of the car.
The functionality is standard, it has everything you might need: full-fledged navigation (offline, turn-by-turn, voice), alternative routes, attractions from TripAdvisor, parking tips, warnings about speed limits on the road. If you have internet, Sygic will tell you where to find a cheap parking lot or gas station, give you access to traffic safety cameras. Using the phone camera, the app can detect speed limit signs on the road.
For all the extra functionality, you'll have to pay. The developer offers three paid premium versions. For $14, you get slightly expanded basic functionality. The $20 version offers updates on traffic and congestion. For $30, you'll be able to use all of the features provided by the developers.
Not cheap, but it's a fee for the entire time you use the app, not a monthly or yearly subscription. The paid version can be tested for free for a week from the time of download. Worth noting are free updates and pedestrian navigation.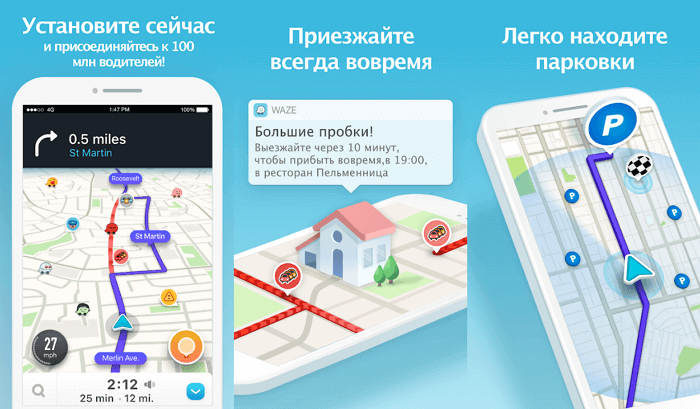 Waze is owned by Google, but is not affiliated in any way with Google Maps. It's not just a navigation app, but a community of drivers who help each other by informing each other about the situation on the road. You can attach a photo and a text note to each message. You will get information about gas stations (including gas prices), campsites, eating places, police stations, traffic jams and accidents along the way.
Once you choose a destination, Waze will suggest several route options and remember them after you have driven through them several times. In the "Scheduled Journeys" option, just enter the time and date of arrival to a particular location, and Waze will tell you the best time to leave. And nice trivia: You can send an estimated time of arrival via email, in-app text message, or on WhatsApp. By adding friends to the app, you can see where they are at the moment. Very handy app, especially for driving in the city. In rural areas it is much less useful.
The developers of Waze have focused on informing users about the situation on the roads. Various icons are used to indicate the places of accidents, road closures, safety cameras and traffic police. Traffic jams are shown with the red lines. The application can automatically create alternative routes. All the additional information is taken from Google and Foursquare.
OsmAnd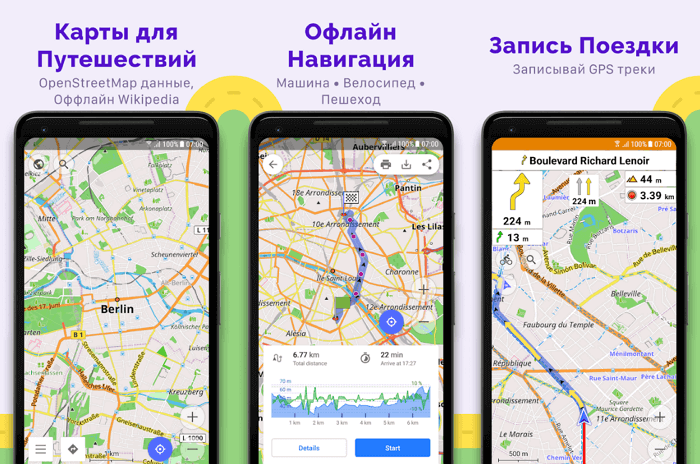 OsmAnd is fundamentally different from most of the other applications in our list. This service is designed for people who need to use maps offline. You can download a huge number of maps, and most of them have a very high level of detail.
However, the free version has some restrictions on the number of downloads. To download more maps, you need to buy a paid version. You can do this in the application. The application features include: turn-by-turn navigation, offline search, maps for different types of transport.
The data is used service OpenStreetMap, supplemented by its own graphical interface and functionality. Information about places of interest is taken from Wikipedia. Well thought out navigation for drivers, cyclists, motorcyclists and pedestrians. Alternative routes "on the fly" will come in handy, for example, if you miss the right turn. Display settings are quite flexible, there is a choice of day and night design themes.
CoPilot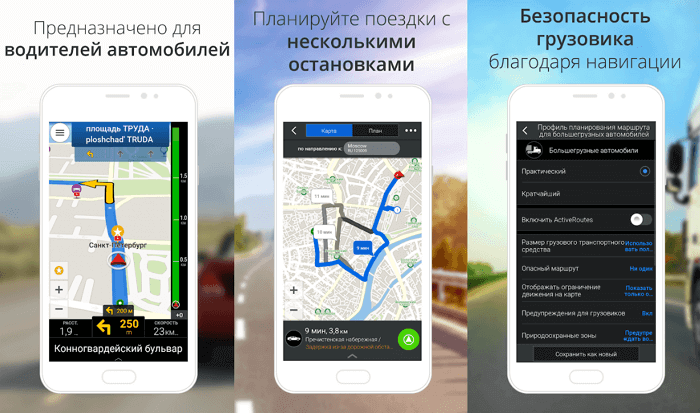 CoPilot GPS app is useful if, for example, you are abroad and do not want to pay for roaming. All you have to do is to download the necessary maps. It is desirable to do this via a high-speed connection, because they "weigh" a lot. Once you do this, you can use offline turn-by-turn navigation, plan routes, and use Google searches for place names or addresses.
If you miss a turn, the app will quickly create a new route based on your current location. It also tracks your vehicle's speed and alerts you to traffic restrictions, displays safety cameras, and provides other useful information.
The app does a great job of creating routes, giving you at least three options for each trip. The maps are highly detailed. CoPilot has information on thousands of hotels, restaurants, ATMs and attractions.
The app costs $10 in the U.S. and $45 in Europe. The app is designed more for drivers, so it makes no sense for pedestrians to pay for CoPilot GPS. The full-featured trial version can be used for seven days. The functionality includes support for three-dimensional maps and a voice assistant. Once the trial period ends, 3D support and turn-by-turn navigation visualization are disabled.
HERE WeGo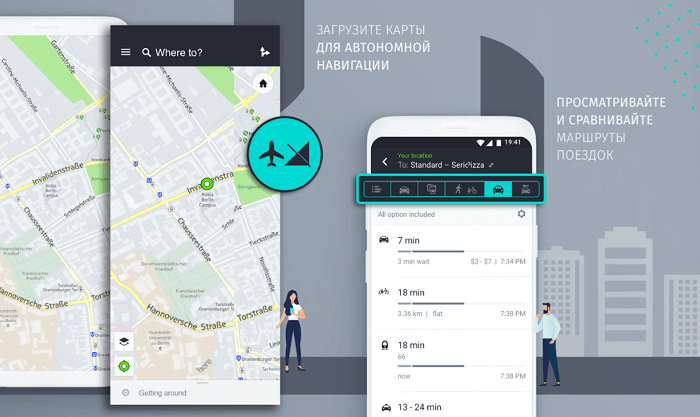 HERE shows real-time traffic information and allows you to download publicly accessible transit maps and save various locations to your smartphone memory for future routing. Using the built-in constructor, you can modify old maps and draw your own maps.
You can download maps for offline use in areas where access to the Network is difficult or completely absent. There are offline maps for 100+ countries and 1,300+ cities around the world, including most populated areas in Europe and North America. They contain ready-made itineraries, ticket prices, car rental rates, and train/bus schedules. It's all free!
Here WeGo is suitable for drivers, pedestrians, cyclists, motorcyclists, public transportation passengers. The app will find the fastest route for any mode of travel. HERE will even take into account the rough terrain and tell you if you have to go uphill or downhill more during your trip or hike. Like Google Maps, you can order a cab or find the nearest rental car. The service will also calculate the full cost of public transportation before the trip even begins.
It is possible to share data on your location. Very convenient functions of the laying of bicycle routes, there is a database of public transport routes, a large database of attractions. Information is taken from Wikipedia, TripAdvisor, BlaBlaCar, Expedia, Car2go, and GetYourGuide.
MapFactor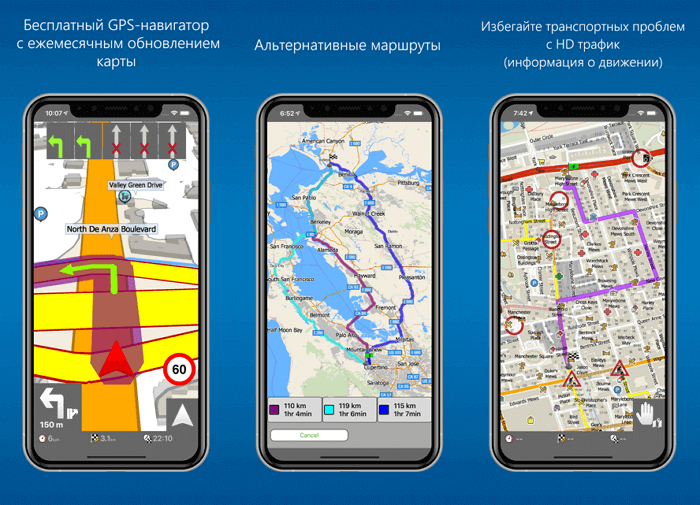 MapFactor is a fairly popular navigation application with a basic set of navigation and GPS features. The service uses the API of the cartographic project OpenStreetMap, which allows to download and update maps for free to work with them offline.
In this case, there is an opportunity to use the data of the Dutch developer TomTom instead of OSM. True, to do this, you will have to pay a little. Some functions are also paid. For example, the projection of navigation on the windshield of a car or the choice of the best route.
MapFactor has more than 200 maps, including 56 European countries and 53 North and South American countries. When you run the app for the first time, it will offer to download maps for offline use, as online maps are not included in the basic functionality, which includes: voice commands, cross-border routing (no need to switch between countries), 3D mode, day and night themes.
Citymapper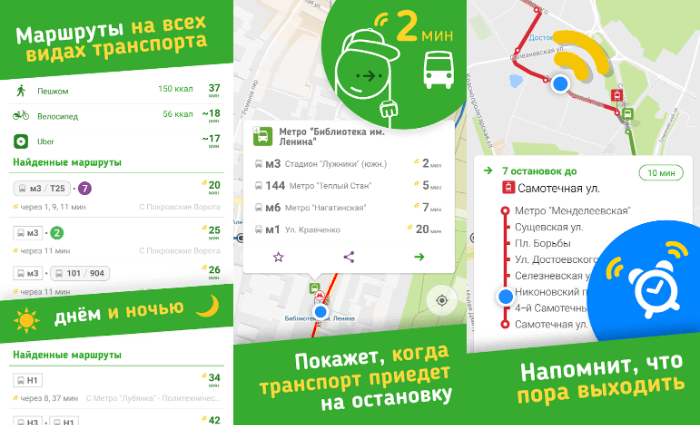 The Citymapper database has information about cities around the world. It includes train and bus schedules, walking routes, and shows real-time traffic volume.
The latter is especially useful if you live in the suburbs of a metropolis, but regularly need to get to and from the center. The app will make the right route taking into account traffic and congestion, which will allow you to spend less time on the road. Citymapper may not be as good if you live in the middle of nowhere, but they haven't come up with anything better yet. The latest update has a new walking mode with instant estimated time of arrival and turn-by-turn navigation. And turn-by-turn navigation for cyclists and scooters has been improved.
If you often travel outside the city or live in the countryside, there are better options than Citymapper. But in a large population center it is an indispensable assistant: it will show the approximate cost of Uber fare to your destination, the routes of all modes of public transport, will give information about the time of arrival and departure of the next train or bus, possible delays on the road.
Scout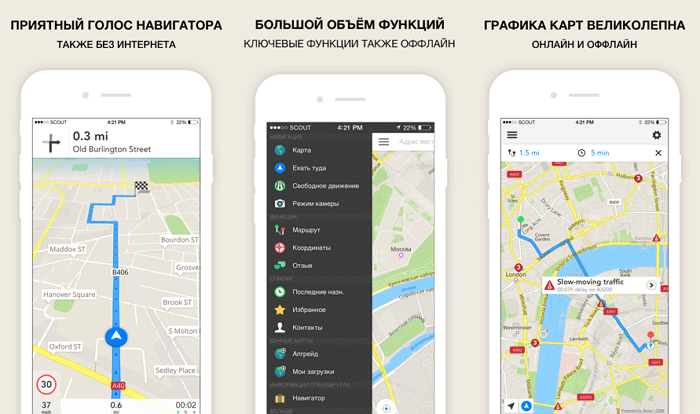 The Scout GPS app was previously called TeleNav. Though the name, the logo and the graphical interface have changed, it is still reliable and stable and has all the necessary features.
True, Scout GPS focuses more on people than on navigation, which distinguishes it from its counterparts. Scout GPS can automatically tell relatives the expected time of your arrival, send notifications when other users need you. Now to let other users know where you are or where you are going, you don't have to leave the app to open WhatsApp. By the way, many car manufacturers install Scout GPS Navigation by default.
This navigator is also interesting because it offers integration with social networks, chat support and other useful features. Maps are downloaded from the OpenStreetMap server. It provides information about traffic, places of interest, and parking lots.
MapQuest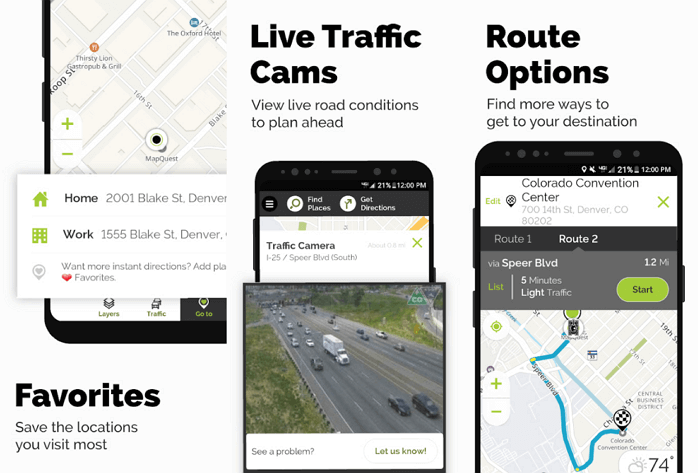 Many people remember MapQuest from the old days, when they thought Google Maps had taken it over. But MapQuest for Android is still being downloaded by millions of users. There are reasons for that: high level of detail, large database of interesting places, turn-by-turn navigation, opportunity to share with friends expected time of arrival to the destination.
MapQuest has real-time updates of traffic information (where available), route changes in case there are traffic jams along the way, a service for finding petrol stations with the cheapest fuel. You can even call a tow truck directly from the application itself if your car breaks down.
MapQuest uses Apple Maps and Google Maps, supplementing them with the coordinates of nearby restaurants, gas stations, hotels, and stores. MapQuest provides both automobile and walking routes. It is updated in real time with information from live cameras, so you can see the situation on the road before you even start. MapQuest even indicates speed limits on different parts of the road.
Google Maps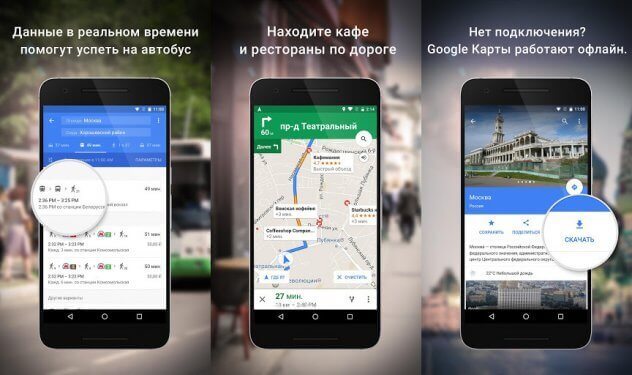 You can find a bar or restaurant on Google Maps, and the app will give you multiple directions to it from where you are. The "Nearby" feature will show you custom ratings of restaurants, bars, and entertainment venues, and tell you how long it will take you approximately to get to them on foot and by car.
Step-by-step navigation is well-developed, and the search uses an intelligent algorithm that takes into account previous trips. While you're on the road, the app constantly checks for alternative routes and occasionally suggests adjustments to your route to get you to your destination faster.
If you need offline navigation, you can download maps for offline mode. And voice navigation is also available. After thirty days, the maps are automatically deleted, so you need to update them regularly.
To download a map, go to the menu in the form of three horizontal lines in the upper left corner of the screen, select the item "Offline". The app itself will recommend the maps you want, given your address and places you frequent.
Polaris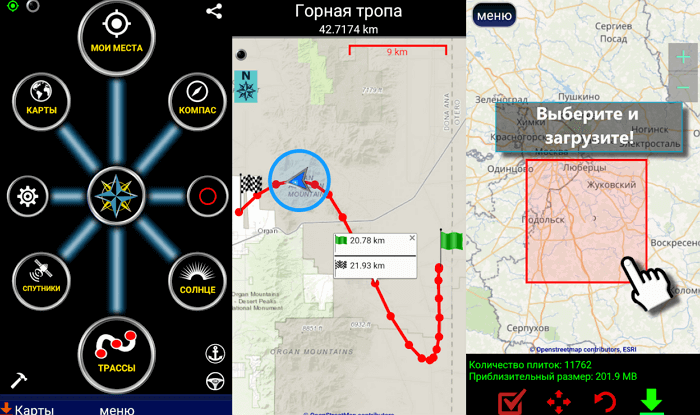 The developers of Polaris Navigation tried to create an all-in-one navigation application. They succeeded! Especially noteworthy is that the app takes information from many different sources, including Google Maps, OpenStreetMap, MapQuest and Cycle Route Maps. The user can choose the source of the data.
Polaris Navigation has different formats of coordinate representation, route recording options, unique routing system, voice navigation, useful features for hiking, camping, fishing, hunting and other outdoor activities. The interface seems a little outdated, but this does not affect the work of the application in any way.
Available only for Android.
Komoot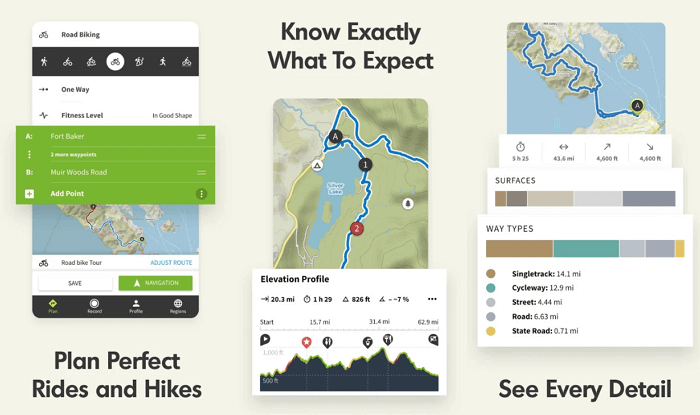 Komoot topographic maps are designed for hikers and bikers: indicates the complexity of the passage of a particular route. The database is compiled based on information from public sources and from users themselves.
The maps work offline, without access to the network. The application takes into account factors such as the complexity of the route, terrain, ascents and descents, and distances. Along the way, Komoot shows how much distance you have already covered and how much more is left.
You can download the first map for free, but you have to pay for the rest. The average cost of a map is about $4. A set of all maps costs $30. It includes most regions of Europe and North America, as well as some Asian countries. Their updates are free.
Komoot is not designed for drivers, it is designed exclusively for hikers and nature bikers. You can create your own routes using the built-in planner and use the maps offline. And you can also save your travels and share them with your friends.
inRoute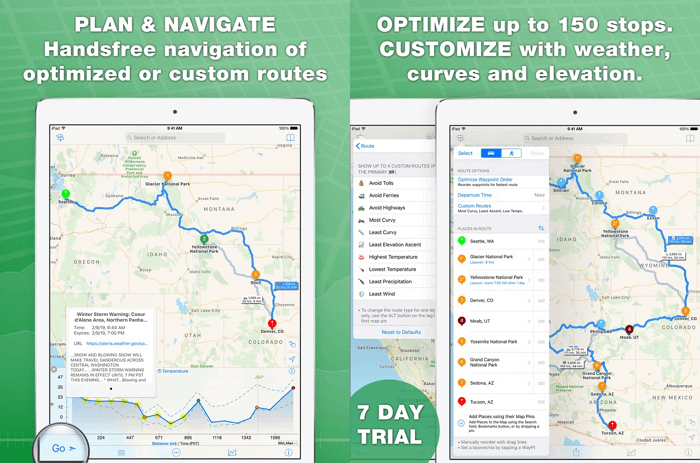 When it comes to traveling with lots of stops, there's nothing better than inRoute. The free version limits the number of stops per route to five. Information about tight turns, climbs and descents is provided. You can use the search to find the nearest gas stations, food outlets.
inRoute will plan when it's best to go, taking into account real-time weather information. You'll have to pay $15 to upgrade to the premium version, which has up to 25 stops per route. If you need up to a hundred stops, you have to buy the $30 version.