How to repair a muffler without welding
Temporary repair of the muffler without welding on the power of every person who has at least some skills to work with his hands. Such an operation will quickly and economically restore the work of the exhaust system of the car, which is constantly under load, in contact with the external environment (moisture, dirt, frost, heat). The breakage of an exhaust pipe is always unpleasant, it requires quick repair, otherwise you might even get a scolding from the traffic police.
What damages can be repaired without welding
If the muffler is damaged, in some cases it can be repaired without using special equipment. For example, small sized holes, corrosion eating the metal, small holes in the joints and welding, burns.
More serious damage – large holes, cracks and chips – cannot be repaired. Here it is desirable to completely replace the part.
Therefore, first of all, you need to lift the car on an elevated platform, carefully inspect the exhaust pipe, and then assess the degree of damage. Only after that you can proceed to work.
Bandages and tapes
One common solution for quick muffler resuscitation is bandage tape. It will allow you to temporarily repair the part, so this method can not be considered a full-fledged restoration. However, as a therapeutic measure will do, especially if the owner of the car does not have the funds to carry out the overhaul.
Muffler bandage
Wiper bandage is a wide flexible strip, which is impregnated with epoxy or silicate glue at the production stage. It is placed over the damaged areas, thereby covering holes, chips and cracks in the muffler. The best samples of the product are equipped with additional wire, so that the fixation at first is much more reliable. Once the adhesive has set, the wire can be removed.
Thus, the tape is used to rebuild the muffler, as it is capable of:
close cracks and other voids formed due to mechanical impact and corrosion;
Strengthen elements, giving them protection against rust;
prevent future breakages.
Thanks to its elastic properties the bandage is well fixed on different surfaces – steel, aluminum, ceramics. Sold in single packs or together with several pieces of different shapes.
Using the tape, you can easily glue the muffler yourself. Follow the instructions below, following the steps one by one:
Lift the car to a pit, overpass.
Clean the metal surfaces of dirt, using a metal brush. There should be no paint or cinders left on the working surfaces (on the damage site, around it).
Finely sand the surface. Remove the tape from its packaging. If the product is coated with silicate glue, soak the bandage in water for 2-3 minutes.
Apply the tape to the damaged area. Wrap it tightly, like an elastic bandage, pulling well with each round. Place the bandage overlapping, layer by layer. It is desirable to begin the first circle from the undamaged part of the muffler, with a reserve of about 1-2 cm from the crack. Wrap about 8-10 layers.
Secure the bandage with wire – if the kit doesn't have a ready-made one, use what you have on hand.
Fixing the bandage tape
Within one hour, the adhesive will dry. Every 10-15 minutes, smooth the tape with your hands so that it does not change shape as it cures. It takes about 24 hours to fully cure, after which you can remove the wire.
It is desirable to work in a warm box with ventilation. Wear gloves to avoid skin damage. Additionally, you can put a layer of resin or special paste on the tape. They will help improve sealing performance.
Sealant Repair
You can also temporarily repair the muffler without welding, using a variety of sealants. The most expensive compositions are not afraid of heat, have a good seal, fully polymerize within 12 hours. The distinctive feature of such sealant is the ability to harden well, so it is also called cement.
However, no matter how good the quality of the composition, it soon breaks down. And this is not surprising, because several forces simultaneously affect the exhaust pipe – high temperature, moisture, dirt, corrosion. As a rule, if the sealant is good, and the conditions of installation are followed, then the restored part will last at least 3-5 years.
Negative reviews, found on the Internet about sealants, are often associated with improper application of these means. If before applying the composition, do not thoroughly clean the workplace from rust, soot and oil, it will poorly adhere to the surface. Because of this, it will soon begin to crumble and fall off.
In addition, after application, you must wait long enough for the product to dry completely, and then operate the machine.
It is usually not recommended to fill with sealant those parts of the exhaust, which are under a strong influence of high temperature. You should not do it also on very rusty and burnt out elements, where the thickness of metal is critically small. For example, the manifold is the most heated – up to 1000°C. Although this is below the melting point of the sealant (1800°C), not all compositions will withstand such a degree. In such cases, it is better to use a product based on sodium silicate – a very heat-resistant and non-flammable substance.
Muffler repair sealants
But from silicone and acrylic sealants, often used in the home, it is better to give up altogether. Their heat- and wear-resistance is quite weak. Ceramic compositions are somewhat more reliable.
Besides, it is possible to seal muffler damage with sealant only when the defects were formed on the outer side of the part. If they appeared inside the system, it is better to use other means.
Sealant application instructions:
Inspect the extent of damage to the part;
Thoroughly clean the work surfaces;
go over with a fine abrasive paper to degrease;
pierce the foil of the sealant, put a nozzle on the tube – comes with the kit;
Smoothly apply the compound around the perimeter of the crack, forming a 2-millimeter joint;
Wait until the sealant dries completely.
Remember that sealing will only temporarily restore the functionality of the exhaust system. Later you will have to replace the entire muffler or make a more overhaul already welded.
Cold welding
For repairs you can also use cold welding – a kind of plasticine on the basis of two-component glue. It has a high strength in curing, is immune to chemicals, high temperatures and moisture.
Cold welding
However, for the same manifold, it is not advisable to use cold welding, as it rarely withstands the powerful impact of escaping gases. For other parts of the exhaust, including the muffler, it is quite suitable.
Alternative methods
Here are additional ways to rebuild a muffler without welding:
mix cement, glue, and sealant – most suitable for repairing semi-circular parts of the exhaust;
Use 0.6 mm thick metal patch – it is fixed with clamps or self-tapping screws, and its size must be such as to overlap not only the crack, but also some area around it;
Apply a high-temperature filler to the damage.
An even greater effect can be obtained by combining all these methods. For example, make a sheet metal outer casing, apply a layer of paste to the surface of the muffler, and tighten the lining with clamps. After a few days, seal the smaller cracks and holes with sealant.
Sometimes the damage to the exhaust pipe becomes extensive. In this case, when you need to seal numerous holes or one large crack, even if only by welding, it makes no sense at all. It remains only to completely replace the element. This work can also be done by yourself or turn to an auto service.
Prevention
Preventing a malfunction is always better than dealing with the consequences. Drivers need to reduce the likelihood of such a problem occurring. Below are simple rules of prevention, which is not difficult to adhere to:
Wash the part periodically, otherwise dirt and reagents will cause corrosion and the metal will deteriorate;
From time to time, coat the surface of the exhaust pipe with exhaust caulk;
listen to the exhaust system frequently – if it sounds louder than usual, raise the car and check the elements more closely;
Install a corrugated tube between the manifold and the muffler body – such a connection will better protect the part from vibrations, eliminate friction and reduce the temperature of the exhaust.
Muffler corrugation
Any car exhaust consists of several parts: a corrugator – it damps vibrations, engine shaking; a resonator – reflects exhaust waves, reduces noise and pulsation of gases; a catalyst – converts toxins, making them less harmful to human health; a muffler – dissipates sound waves, absorbs noise. Prevention also involves regular exterior inspections of all these parts. If, for example, a corrugator breaks, it must be repaired quickly so that the problem does not spread to other areas of the exhaust system.
What can be repaired
Extensive areas of the muffler – the cylindrical parts of the body and the exhaust pipes.
Small holes, general surface reinforcement and sealing of joints.
Cracked metal parts, small cracks and holes.
Thus, all these methods of muffler repair will help only temporarily. Full restoration of the part is possible only with the use of welding. And in some cases it will not help – then you will have to replace the whole element.
How to repair a muffler with cold welding
Crack in the cylinder block Violation of the integrity of the cylinder block and its head refers to serious engine damage. We will tell you how to identify and repair this failure.
What an exhaust system should be so that passersby don't turn their backs on your car Mufflers saw the light of day a little over a century ago. Their use contributed to the proliferation of automobiles in American and European cities. Since it is a part of the automobile that carries out so many important functions, it is made up of several complex parts. In general, they all form a single exhaust
25-04-2014, 18:16 0 What should be the exhaust system so that passersby would not turn their backs on the car
Options for budget tuning scooter Honda Dio AF-18 Any scooter can always be rehabilitated, reconfigured and improve the performance of its dynamics with the help of not too complicated procedures. It is possible even with a limited budget, as there are good tuning options that will cost inexpensive.
Self-made straight-through mufflers Every car owner who respects the speed and power of his car is well aware of the existence of sports and tuned mufflers. Their cost often exceeds the cost of the car. But this does not stop the car enthusiast in desire to add power and solid sound to his
Car tuning: changes in the exhaust system Installation of muffler nozzles with a resonator is one of the ways to tuning the car. These devices can be chrome-plated, metal. In terms of shape they come in flat, double, oval and stylized for a particular car brand. Using resonators, you can get
Muffler Sealant
Sealant for the muffler allows you to repair the elements of the exhaust system in case of damage without dismantling them. These products are heat-resistant ceramic or elastic sealants that ensure the tightness of the system. When choosing a particular sealant for the repair of the muffler, you should pay attention to its performance characteristics – the maximum operating temperature, aggregate state, usability, durability, warranty period of use and so on.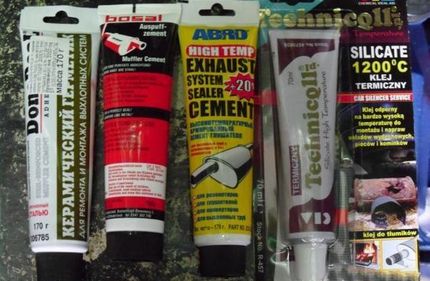 Domestic and foreign motorists use a number of popular sealants for the exhaust system of the car. This material provides a brief overview of the most popular and effective sealants with a description of how they work, as well as an indication of the package volume and the current price.
| Name of the most popular sealant from the line | Short description and features | Volume of the package sold, ml/mg | Price per package as of summer 2019, Russian rubles |
| --- | --- | --- | --- |
| Liqui Moly Auspuff-Reparatur-Paste | Repair paste sealant of the exhaust system. Maximum temperature – +700 ° C, has no odor. Outstanding in practice. | 200 | 420 |
| Done Deal Ceramic Sealant | Excellent for both repair and installation work. Extends the life of the exhaust system by 1.5. 2 years. It is very thick and dense. Its disadvantages are its fast curing that is not always user-friendly. | 170 | 230 |
| CRC Exhaust Repair Gum | Exhaust Repair Gum is a glue for repairing exhaust systems. It is used for repairing cracks and holes in exhaust systems. Maximum temperature – +1000°C. Cures in 10 minutes with the engine on. | 200 | 420 |
| Permatex Muffler Tailpipe Sealer. | Tailpipe sealer for muffler and exhaust system. Does not shrink after installation. Mufflers, resonators, expansion tanks, catalytic converters can be repaired with the help of this product. Maximum temperature is +1093°C. Gives high tightness. | 87 | 200 |
| ABRO ES-332 | Repair cement for muffler, resonator, exhaust pipes and other similar elements. Maximum allowable temperature is +1100°C. Cures in 20 minutes with the engine on. | 170 | 270 |
| Bosal | Cement-based sealant for exhaust systems. It can be used as a repairing and mounting agent. Cures very quickly, which is not always comfortable. | 190 | 360 |
| Holts Gun Gum Paste | Gun gum paste for repairing mufflers and exhaust pipes. Can be used on a variety of equipment. | 200 | 170 |
Why muffler sealants are needed
Exhaust system components are subjected to harsh conditions, including constant temperature fluctuations, wetness and dirt, as well as the harmful substances present in the exhaust fumes. Condensation gradually builds up inside the muffler, causing it to rust. It is a natural process, leading to the destruction of the exhaust pipe or resonator. However, there are also a number of accidental causes that cause a similar action to occur.
Causes of Exhaust System Repair
Damage to elements of the exhaust system is affected by such processes: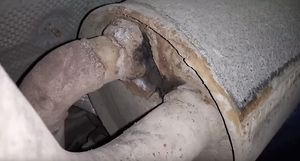 Liquefaction of the pipes, resonator, muffler or other parts;
Chemical corrosion of the metal due to the effects of low-quality fuel vapors, chemical elements that treat the road, road bitumen and other harmful elements;
Poor quality metal of which a silencer or other mentioned parts of the system are made;
frequent changes of temperature, at which the car and the exhaust system in particular are operated (especially important for frequent, but short trips during the cold season);
mechanical damage to the muffler or other parts of the system (for example, due to driving on rough roads);
Improper and/or low-quality assembly of the car's exhaust system, due to which it operates with increased intensity.
The above factors contribute to the fact that over time, the car's exhaust system becomes depressurized and exhaust gases escape and moisture and dirt gets inside. As a result we have not only the further destruction of the whole exhaust system, but also a decrease in the car's power. Since, in addition to the fact that the elements muffle sound waves, they divert exhaust gases from the engine.
Repair of the exhaust system can be done in two ways – with the use of welding work, as well as repair of the muffler without welding. It is for performing repairs without disassembly and is designed to perform the mentioned sealant.
Where and how muffler sealant is used
In most cases, the following parts are treated with the help of this tool:
Elements of the new exhaust system. In particular, the joints of the internal ring surfaces of parts, pipes, flanges. In this case, the thickness of the sealant layer can be different, up to 5 mm.
Sealing elements of the existing exhaust system. Similarly – places of joints where exhaust gases are leaking, flange joints and other.
When repairing the muffler. Here it is used for three purposes. The first is if the muffler body is cracked/cracked. The second – if a metal patch is used to repair the muffler, it must also be mounted with sealant in addition to the fasteners. Third – in a similar situation, the self-tapping screws (or other fasteners such as rivets) that are used to mount the patch to the muffler housing must be treated with sealant.
Tips for using heat-resistant glue to repair the muffler: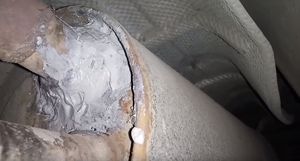 Before applying the sealant to the surface to be treated, it must be thoroughly cleaned of debris, rust, and moisture. Ideally, it should also be degreased (it is better to clarify this nuance in the instructions, as not all sealants are resistant to oil).
Sealant should be applied evenly, but without excesses. Exhaust system paste squeezed out from under the folded surfaces must be carefully removed (or smeared on the sides to ensure better sealing).
Muffler sealant usually takes at least one to three hours to cure at normal temperatures. Refer to the manual for exact information.
Sealant can only be used as a temporary measure or to repair minor damage to parts of the exhaust system. With significant damage (large rotten holes), you need to replace the element.
What are the criteria for choosing a muffler sealant
Despite all the variety of sealants for mufflers presented in stores, you should not buy the first one you see! At first you should carefully read its description and only after that make a decision about purchase. So, when choosing a particular sealant, you should pay attention to the following factors.
Temperature operating range
This is one of the most important indicators. Theoretically, the higher the maximum allowable operating temperature – the better. This means that the sealant will not lose its properties for a long time even if it works for a long time and at high temperatures. However, in reality, this is not entirely true. Many manufacturers deliberately mislead consumers by specifying the maximum allowable temperature at which the sealant can handle only a short time. Naturally, this value will be higher. Therefore, it is necessary to look not only at the maximum allowable temperature value, but also at the time the sealant is designed at this temperature.
Aggregate condition.
In particular, heat-resistant muffler and exhaust pipe sealants are divided into silicone and ceramic.
Silicone sealant remains slightly mobile after curing, and it does not lose its properties under vibration or minor shifts of machined parts. These are used on gaskets when joining elements of the exhaust system.
Ceramic sealants (also called pastes or cements) become completely immobile (stone) after curing. Because of this it is used to seal up cracks or corroded holes. Accordingly, they may crack when vibrations occur.
There are always small shifts and vibrations between the elements of the car exhaust system. All the more so, and in motion, the car is constantly vibrating on its own. Accordingly, it is advisable to use a silicone-based muffler sealant paste. Muffler cement is only suitable for the treatment of the muffler body itself.
Type of sealant
Sealing materials used to repair the elements of the exhaust system, are divided into several types, which differ in their performance characteristics.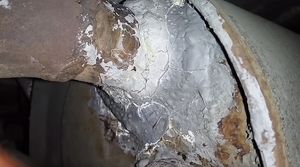 Glue to repair the exhaust system . Such compositions are designed to seal small holes and/or cracks in the exhaust pipe and other parts. It is usually created on the basis of fiberglass and additional additives. It is characterized by the fact that it hardens quickly (about 10 minutes). It is resistant to thermal stress, but may also crack under severe mechanical stress.
Mounting Paste . Typically used for machining flange and sleeve connections. Generally used when mounting new parts or when repairing and installing repaired parts. Under the influence of high temperatures it hardens quickly and keeps its properties for a long time.
Muffler sealant . This is one of the most common options. It is made on the basis of silicone with thermal additives. It can be used both as a preventive and repair means. Silicone sealant can be used directly in the muffler, pipes, resonator, exhaust manifold. It does not cure immediately.
Muffler cement . These compositions have a very high hardness and withstand the highest temperature. However they can be used for repair of fixed parts only – silencer housings, resonator, and also for processing of joints. Cement dries very quickly under the influence of high temperature.
Rating of the best sealants for a muffler
Despite all the variety of samples presented in the sale, there are still seven of the best and most popular sealants, which are used not only domestic, but also foreign car enthusiasts. Below is detailed information about them. If you have used any other – write about it in the comments below.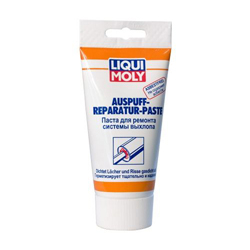 Liqui Moly
Liqui Moly Auspuff-Reparatur-Paste exhaust system sealant . It is positioned as a paste for sealing damage. It does not contain asbestos or solvents, and is resistant to high temperatures and mechanical stress. With the help of liquid moth paste you can easily seal small holes and cracks in the elements of the exhaust system. Temperature resistance – +700 ° C, pH value – 10, odorless, color – dark gray. Liqui Moly Auspuff-Reparatur-Paste 3340 is sold in 200 ml tubes. The price of one package as of summer 2019 is about 420 Russian rubles.
Before using the paste to repair the muffler, the surface on which you plan to apply the product, must be thoroughly cleaned of debris and rust. Apply the product to a warm surface
Liqui Moly Auspuff-Montage-Paste 3342 . It is designed for mounting of exhaust pipes. Parts assembled with it do not stick and if necessary they can be easily dismantled. Heat resistance is +700 ° C. As a rule, paste is used for processing of flange joints, clamps and similar elements.
It is sold in a bottle of 150 ml. The price of a package for the above period is about 500 rubles.
Muffler Repair Kit LIQUI MOLY Auspuff-bandage gebreuchfertig 3344 . This set of products is designed to eliminate large cracks and damage in the exhaust system of the car. It provides an airtight seal.
The kit includes one meter of fiberglass reinforcing tape, as well as individual gloves for the job. The bandage tape is applied to the damaged area with the aluminum side facing outward. The inner layer is impregnated with sealant, which hardens when heated, making the system airtight.
Muffler assembly paste LIQUI MOLY KERAMIK-PASTE 3418 . Used for lubrication of heavily loaded sliding surfaces including those operating at high temperatures. The paste is used for the fastening elements of muffler bolts, splines, pins, spindles. It can be used for treatment of elements of car braking system. Working temperature range – from -30°C to +1400°C.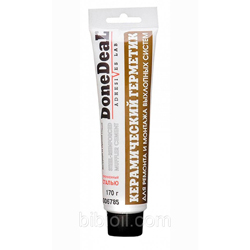 Done Deal
The DoneDeal brand also produces several sealant compounds that can be used to repair an element of an exhaust system.
DoneDeal ceramic sealant for repair and installation of exhaust systems. It is a high-temperature, can withstand the maximum temperature up to +1400 ° C. Setting time – 5 … 10 minutes, curing time – 1 … 3 hours, full polymerization time – 24 hours. The sealant can be used for treatment of cracks and damages on mufflers, pipes, manifolds, catalysts and other elements. Withstands mechanical loads and vibrations. Can be used with both steel and cast iron parts.
Feedback suggests that it is easy to work with the sealant, it is well smeared and spread. The surface on which it will be applied must be prepared in advance – cleaned and degreased.
The disadvantages are that the heat-resistant ceramic sealant DoneDeal is very fast drying, so you must work with it quickly. In addition, it is quite harmful, so it is necessary to work in a well-ventilated room, and to wear gloves.
The sealant is sold in a can of 170 grams. The package has the article number DD6785. Its price is about 230 rubles.
DoneDeal heavy-duty repair sealant heat sealant under part number DD6799 is also heat-resistant, withstanding temperatures up to 1400 ° C, it can be used to repair holes in steel and cast iron parts, including those working under significant mechanical stress and in conditions of vibration and stress.
Sealant can be used to repair: exhaust manifolds, cast-iron engine block heads, mufflers, catalytic converters, and not only in automotive engineering, but also in everyday life.
The sealant should be applied on a prepared (cleaned) surface, after the application it is necessary to give it about 3 … 4 hours so it would dry. After that, start heating the part to ensure drying and normalization of its characteristics.
It is sold in a package of 85 grams, the price of which is 250 rubles.
Done Deal ceramic tape for muffler repair. Has the article number DD6789. Tape bandage is made of fiberglass, which is impregnated with a solution of liquid sodium silicate and a complex of additives. The temperature limit is +650°C, pressure – up to 20 atmospheres. Tape size 101 × 5 cm.
The tape should be applied on a cleaned surface. At a temperature of +25°C the tape hardens after 30 … 40 minutes. Such tape can be further processed – sanded and heat-resistant paints can be applied. The price of the package is 560 rubles.